A Genuine Dedication To Charity
Bieksa's Buddies will see NHLPA members lacing up the blades in support of three Vancouver charities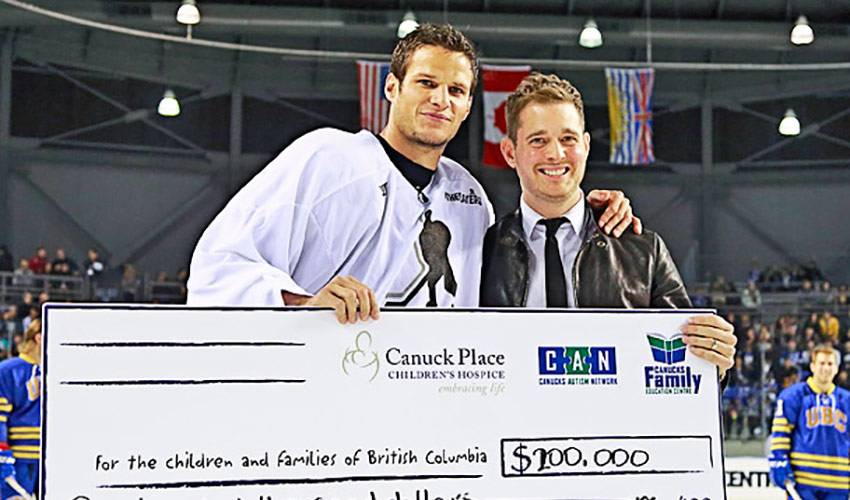 Although it wasn't the type of game he was expecting to play in October, NHLPA member Kevin Bieksa can't wait to get out on the ice for his upcoming charity event.
It's only right the name of the game, set for October 17, has been dubbed Bieksa's Buddies, one that will see several NHLPA members face-off against the UBC Thunderbirds.
Proceeds of the game, which takes place at UBC's Doug Mitchell Thunderbird Arena, will go to Canuck Place Children's Hospice, Canucks Autism Network and the Canucks Family Education Centre.
Bieksa, along with Henrik and Daniel Sedin, Dan Hamhuis, Manny Malhotra, Maxim Lapierre, Cory Schneider and Willie Mitchell are just some of the players who will be taking part.
"It's going to be a lot of fun," said Bieksa.
"I'm looking forward to it and I know the guys are, too. I'm grateful for their support, but I'm certainly not surprised they would step up. Above all else, I'm happy that we can raise some money for three very important causes."
For Bieksa, lending his time and support to the community is a privilege.
"My family has been in Vancouver for eight years and this is our community," said the Ontario native, who has appeared in 425 regular season games. "You look at the players on our team and you see a genuine dedication to make a difference. It's never a question of being asked to do something. It's always guys stepping up and wanting to do it."
"Dan Hamhuis and his family recently gave a big cheque to Ronald McDonald House, the Sedins made a huge donation to BC Children's Hospital and Manny Malhotra has been helping build playgrounds.
Even though it won't count in the standings, Bieksa is eager to lace up the skates in game action.
"To be able to be out there and play some meaningful hockey, that's going to be a great feeling," said the veteran defenceman. "It will be great to play in front of the fans, to feel that atmosphere."
Bieksa, like his fellow NHLPA members, is also hopeful he can get back on the ice to play in games that do count.
"Our fans have done a lot for us," he said. "We're lucky. We have very loyal and passionate fans. They have high expectations and they give us a lot of inspiration."
For now, Bieksa will set his sights on Wednesday night.
"It was definitely a lot more work than I ever would have expected in putting something like this together," he admitted. "The planning, the marketing, the meetings – it's very involved. But everyone that is part of this has been on-board since we came up with the idea. I'm grateful to have that support."
Bieksa, however, might not get the same support from one figure in particular when the puck drops on his charity game.
"My father is going to referee," offered Bieksa. "But he won't let me get away with anything out there. He's pretty tough on me. There's no free passes, that's for sure."
What there is, though, is a winning feeling for everyone who takes part and those who benefit from it.