The Players Chat With Fans In An "Ask Me Anything" Session On Reddit.com
David Backes, Kevin Westgarth and Mathieu Schneider take to Reddit.com to interact with hockey fans.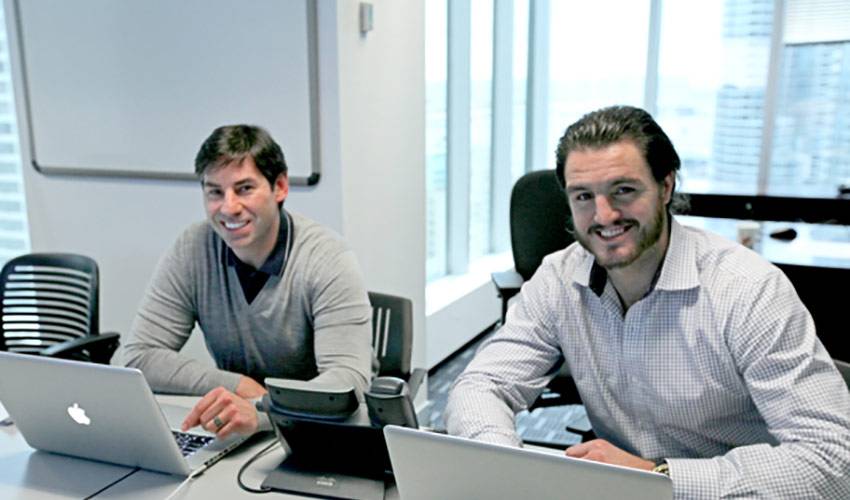 On Monday, November 26th, NHL players David Backes and Kevin Westgarth, along with former player Mathieu Schneider, planted themselves at their laptops for an Ask Me Anything (AMA) session on Reddit.com. Kevin and Mathieu were at the NHLPA offices in Toronto, and David answered questions from his home.
The players enjoyed the opportunity to interact one-on-one with hockey fans. Topics of conversation ranged from the lockout to Mathieu Schneider's teeth! They didn't shy away from answering the tough questions like "Why not take the $200 million Make Whole?" or "Did Kevin Westgarth actually participate in a high school production of Grease?"
Here is a sample of some of the questions that were asked: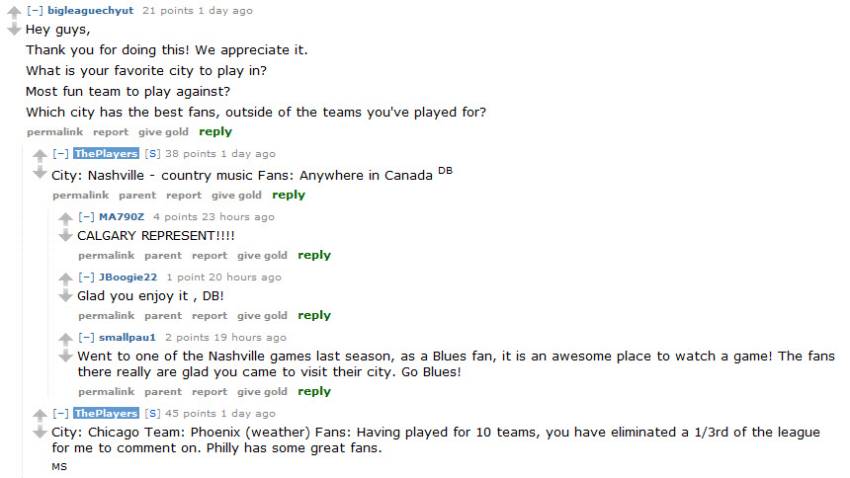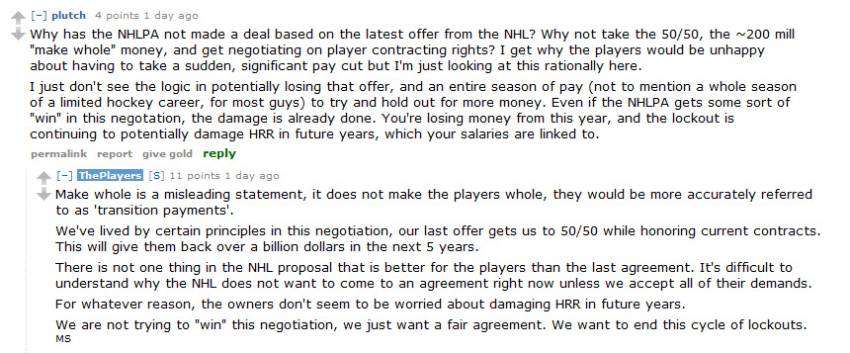 For the full thread of questions and answers, please visit the AMA post on Reddit.com.
#ThePlayers Do A Reddit AMA
Storified by NHLPA · Mon, Nov 26 2012 13:59:10
I just had my question answered in Mathieu Schneider, David Backes and Kevin Westgarth's AMA! Ask yours here http: http://twitpic.com/bgqke2Chad Shepard
OH MY GOD. DAVID BACKES IS DOING AN AMA TODAY. :D :D :D <3 <333333Starla Mint
@KWesty19 thanks for helping the fans understand. Miss ya here in NH.David
I used to just admire @dbackes42 as an American player and hated that he was a Blue, but I respect him a lot more now. Thanks for the AMAChad Shepard
@dbackes42 Well, I'm happy. You answered my question about electrical engineering. Good stuff. Let's go Blues!Ian Ross
Mathieu Schneider on NHLPA Reddit chat: "There is not one thing in the NHL proposal that is better for the players than the last agreement."James Mirtle
@KWesty19 Thanks for Answering my question and thanks for the memories in Manchester and winning the cup! Congrats and good luck!Evan Medici
RT @KWesty19: Thank you all for the questions today on Reddit. I hope it was helpful. Now, to get back to the table, so we can get back on the ice...Matthew Motush
Starting now: Ask @KWesty19, @DBackes, and Mathieu Schneider anything on Reddit: http://www.reddit.com/r/IAmA/ http://pic.twitter.com/U4vyeLDpNHLPA
Ask Me, @kwesty19 and Mathieu Schneider Anything on Reddit at 2pm EST. @NHLPA #ThePlayers #foundaplacetochat http://pic.twitter.com/OAzmyndMDavid Backes