A Friendly Wager
James van Riemsdyk dons full hockey gear to do some shopping after losing bet with Scott Hartnell in support of the Sandy Relief effort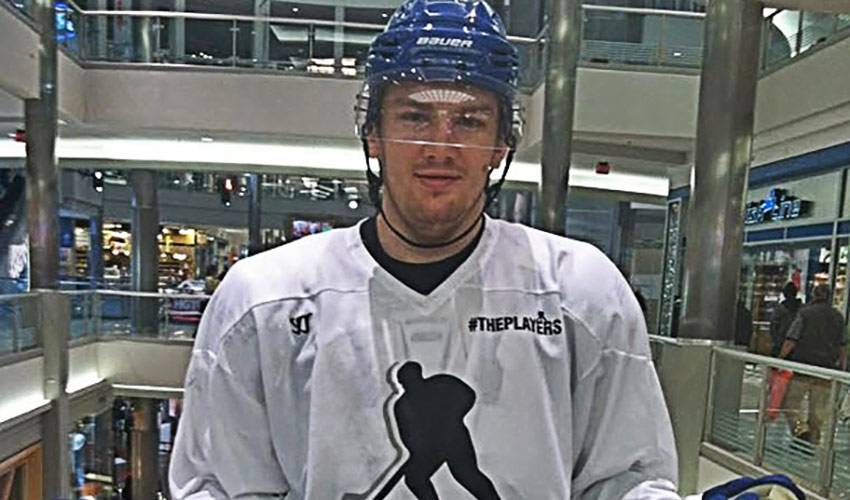 James van Riemsdyk will happily tell you that losing a bet, one that had him dressing up in hockey gear to do his Christmas shopping, certainly wasn't the worst thing he's had to do in his life.
On December 19, the strapping forward, traded from Philadelphia to Toronto this past June, kept up his end of the bargain while looking for bargains at Minnesota's monster-sized Mall of America, donning all his hockey equipment, with the exception of skates, after losing a wager to former teammate Scott Hartnell.
The Maple Leaf left-winger was one of the players who helped organize a charity hockey game for victims of Hurricane Sandy. From there, van Riemsdyk and Hartnell joined forces for the 'Power of 2' campaign, which saw both go head-to-head in an effort to raise money for Hurricane Sandy Relief in the states of New Jersey and New York.
In the end, Hartnell reigned victorious, raising nearly $23,000 to van Riemsdyk's $17,000-plus.
No matter, admitted a gracious van Riemsdyk.
"First off, we were both hoping to raise some much-needed money for people affected by Sandy," he told NHLPA.com. "That was obviously the most important thing. The more money, the better. As for keeping up my end of the bargain, that was okay, too. I went into it knowing there was a possibility I wouldn't top him. He has way more Twitter followers than me, so I was up against it."
As for the actual shopping experience itself, van Riemsdyk said it wasn't as awkward as it could have been.
"To be honest, it was actually fun," said the 23-year-old. "I think what made it easier was that there were cameras and media people following me around. I can imagine it would have been more embarrassing if no one was around me. I just kind of went with it."
At least van Riemsdyk got a kick out of the stares he received throughout his excursion.
"There were definitely some odd looks thrown my way," he said. "People that had no clue what was going on were likely thrown for a bit of a loop. There were some weird looks, for sure. I guess I can say that this was the first time and the last time I'll have do it. I'm okay with that."
For footage of James' shopping excursion, click here for a video segment from TSN's 'That's Hockey'
Meanwhile, Hartnell is continuing to revel in his victory.
"I'm just about to step on the ice, but you've got to call me back so I can talk about it," said Hartnell, one day after can Riemsdyk's mall walk. "Please tell me you saw the pictures. I love it."
When he had more time to chat, Hartnell spoke about how thrilled he was to see his friend follow through on their bet.
"I started out with a $500 lead, but then he got some early donations," he said. "I had to pull out some heavy hitters in my back pocket to get the job done. But it was a lot of fun and he seemed to be okay with it. The bottom line is that people who were affected by this natural disaster will get some help."
Hartnell did, however, make sure van Riemsdyk made one stop in particular during his Mall of America experience.
"I had him go to Lululemon," laughed Hartnell, in reference to the athletic apparel company. "He's a big workout guy and I like their stuff, too. Plus, there's usually a cute girl or two working at their stores, so I wanted him to be seen wearing all that hockey gear."
van Riemsdyk managed to make it through his ordeal unscathed.
"I had a lot of people I know affected by Sandy, so I just wanted to do something about it," he said. "With hockey, you are able to work with your teammates or other players to give back to people. That's what I've always tried to do. For this bet, we just wanted to do a little something else. I can laugh at myself. I don't mind what I had to do."
Just don't expect van Riemsdyk to don the same outfit for any New Year's Eve festivities.
On that day, all bets are off.