NHL Players Raise Over $1.8 Million for Charity During the Lockout
Players give back through charitable activities over the course of the NHL lockout.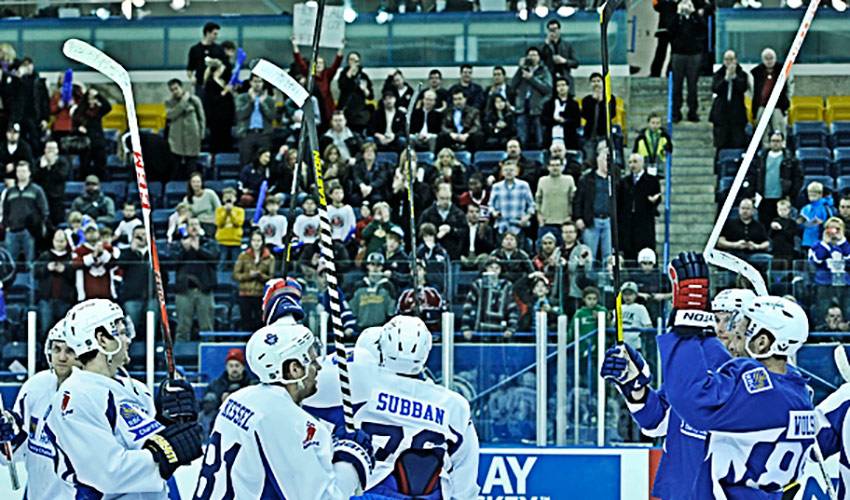 With the NHLPA and NHL reaching a new CBA agreement, players will be heading back to the ice soon for the 2012-13 season. While the owner-imposed lockout resulted in 539 lost games and prohibited hockey fans from watching the players and the game they love, there was a small silver lining. Dozens of NHLPA members used their time away from NHL action to support initiatives around North America and, in the process, connect with fans through surprise visits to minor hockey teams, several charity games, and through numerous hospital visits, a longstanding tradition largely unpublicized.
Here is a recap of a few of the activities players participated in during the lockout.
SURPRISE VISITS
Over the course of the CBA negotiations, over 125 players #foundaplacetoskate, surprising 100 minor hockey teams by showing up unannounced to participate in their practices.
More than 1,800 young hockey players across North America were given the rare opportunity to skate with their favourite NHL players. In total, NHLPA members spent more than 200 hours at various rinks, chatting with parents, answering questions in the locker rooms, and training with the young players on the ice, while often leading the aspiring hockey stars in NHL-caliber drills.
For more information, photos, and videos from these practice skates, see our #foundaplacetoskate page here.
HOSPITAL VISITS
In December, more than 100 players visited 20 hospitals across North America to spend time with young patients – and hockey fans - during the holidays. They brought gifts along with them and chatted with the children. Players visited hospitals in their hometowns or in the cities where they would normally be playing. Among the many other cities, numerous players visited children in Anaheim, Buffalo, Calgary, Montreal, New Jersey, Pittsburgh, Toronto, Vancouver, and Winnipeg.
RT @hoosierjm26: Back in TO...had a fantastic day visiting @sickkids hospital w a bunch of the guys @jlupul @pkessel81 @mkomisarek

— NHLPA (@NHLPA) December 17, 2012
Great photo of Crosby, Adams, and Fleury spending time with a patient at @childrenspgh twitter.com/NHLPA/status/2…

— NHLPA (@NHLPA) December 11, 2012
PICKUP GAMES
Players also arranged many casual pickup road hockey games via Twitter in their local communities.
Here are a selection of photos from an impromptu game in Winnipeg with players Andrew Ladd, Jim Slater, and Mike Richards.
CHARITY GAMES
Though the players couldn't suit up for regular NHL games, it didn't stop them from playing the game for some great causes. Players individually organized 10 charity hockey games and events across Canada and the USA, which raised a total of $1.8 million dollars for charities ranging from Hurricane Sandy relief funds to children's cancer research programs. An entire traveling tournament was organized by NHLPA members and close friends Maxime Talbot and Bruno Gervais to benefit children's charities and hockey programs in Quebec.
Now that the lockout is nearly over, the players are back in their club cities and preparing for the regular season. Training camps are open and a 48-game-season is slated to begin on January 19th. As the 2012-13 season gets underway, the players will continue to volunteer in their communities with the NHLPA, through their teams, as well as on their own throughout the season, supporting local charities, schools, and grassroots hockey programs.
Keep tabs on how the players are giving back here.