Early Season Success in SoCal
Dan Winnik is adjusting well to playing in Anaheim and is helping the Ducks to a strong start in 2013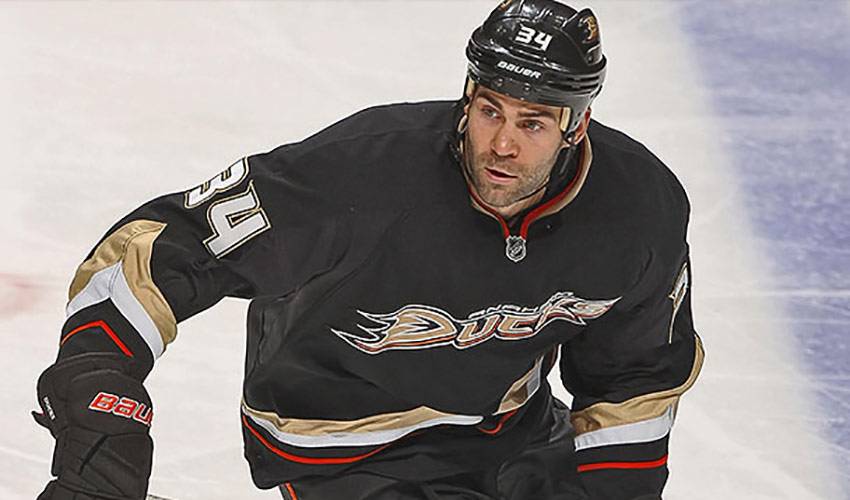 He didn't look into a crystal bar or utilize the services of a psychic, but something told Dan Winnik that he and his Anaheim teammates might be in store for a memorable 2012-13 season.
Perhaps most pundits and hockey experts weren't calling for the Ducks and Winnik to have seven points after their first five games, but that's precisely what has happened for both.
Winnik, for one, isn't completely surprised at the strong start for the team or for himself.
"There was something, I can't say exactly what it was, that made me think we would have a strong year," said the forward, who has five goals and two assists on the campaign. "I talked to some friends before the season got underway and I told them I had a feeling it could be a good year for me, too." - Daniel Winnik
His predictions have proved to be correct, at least early on, in the lockout-shortened 48-game season.
"There was a lot of talk that this was a team that was on a downward slide and I just didn't see it that way," said the Toronto native. "One look at the lineup, the veteran guys we have, like Saku Koivu and Teemu Selanne, the talented forwards, like Bobby Ryan, Corey Perry and Ryan Getzlaf, along with great goaltending and a solid defensive corps, all of it made me believe we have what it takes to be a very good, competitive team."
Winnik was reminded of such after a recent 3-2 road shootout loss to San Jose.
"You never like to lose and you don't like to lose a rival," said the 265th overall selection of the Phoenix Coyotes in 2004. "But we could also take a lot out of that game. Not many teams can hold San Jose to under 20 shots, but we were able to do that. We also were able to outplay them at key moments, too. We can use that as a major confidence boost."
As for his play so far, Winnik, who was traded by the Coyotes to the Colorado Avalanche for a fourth-round pick in 2010, is simply happy to be contributing to the team's success.
Known primarily for his strong forechecking skills and penalty killing abilities, the left-winger is hoping his good offensive fortunes continue.
"It's one of those things where the puck is just bouncing my way and I've been able to finish the chances that I'm getting," noted Winnik. "I also think playing on a line with Andrew Cogliano and Saku Koivu has really been a boost for me. Both guys are very intelligent with the puck, very creative and that's been great."
Yet it's not just one line that has made Anaheim a tough opponent.
"I think the speed we have, especially up front, can really create some trouble for other teams," suggested Winnik, who joined several other players for the RBC Charity Challenge game in December, which raised funds for grassroots hockey through NHLPA Goals & Dreams and RBC Play Hockey. "Bruce (head coach Boudreau) likes that up-tempo, pressure-style approach. I think we've adapted well to that system."
And Winnik, who signed as a free agent two-year deal with the Ducks on July 20, 2012, only sees things getting better.
"I certainly hope it does," he said. "I like what we have here."
He also likes the way things have gone so far on a personal level.
"The bottom line is always to see the team succeed. It's no fun if you're doing well and the team isn't."
As for the precise reason behind his quick start, Winnik, to this day, still is unsure.
"Well, I was in a lot of the CBA negotiations, so maybe it made me a smarter player," he laughed.
Enough to make him the NHLPA's Player of the Week from January 18-25.
"Really? I didn't know that. I don't mind that at all. I'm just hoping this is a good year for us."
Dan Winnik is definitely doing his part to make it a reality.