Rocking It in Raleigh
Jay Harrison swapped skates for headphones recently as a guest DJ on a local rock radio station in the North Carolina capital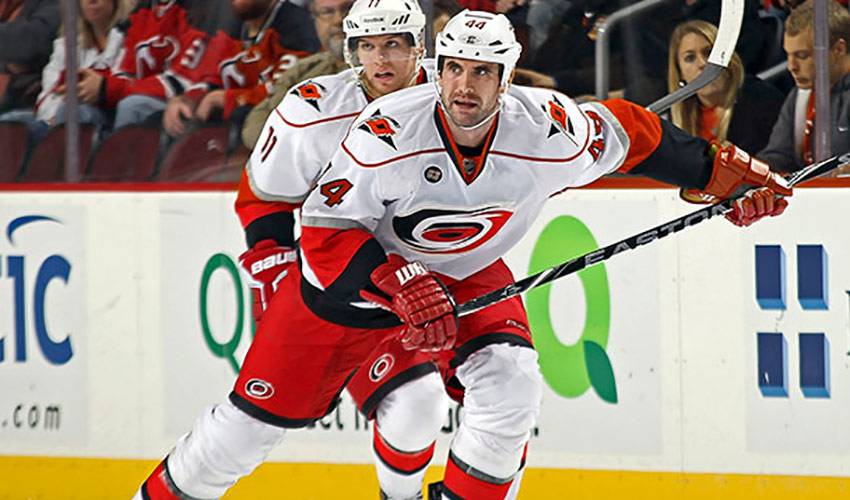 Playing his favourite tunes during a guest-role gig as a radio disc jockey was an appropriate experience for a dialed-in and dependable big-league defenceman.
Jay Harrison is a man who loves his music. So, when the Carolina Hurricanes' media office recently asked if he wanted to hit the airwaves on local Raleigh station 95X FM, the blueliner happily traded in his hockey stick for a microphone for a few hours.
"It was as simple as our media guy throwing out the idea of doing it," said Harrison, now in his third season with the Hurricanes. "I thought it would be fun to pick out some tunes and share them. I really enjoyed it. It was very laid-back."
Harrison put a lot of thought behind his playlist selection.
"I chose songs that have personal meaning, ones that I've enjoyed in the past and some that I'm listening to now," offered the native of Oshawa, Ontario. "I also chose some Canadian artists, like Arcade Fire and Big Wreck, just to give them some exposure to people who maybe haven't heard their music. I really wanted the songs to be a reflection of me and where I'm from."
Check out Jay Harrison playing some of his favourite tunes at 95X in Raleigh by clicking here.
The 82nd pick of the Toronto Maple Leafs in 2001 was simply happy to have had the chance to call the shots, musically speaking, something he doesn't often get to do in the dressing room.
"I'm the third oldest guy on the team, so I didn't even bother trying to get my hands on the stereo," said the 30-year-old. "I guess you age quickly in this game. It's all in the eye of the beholder, so to speak. It all depends on if you look at it negatively or positively."
For a player who has 400-plus minor-league games to his name, a hockey career carved out through patience and perseverance, Harrison has opted for the latter.
The first overall selection of Brampton in the 1998 Ontario Hockey League Priority Selection, Harrison skated four seasons with the Battalion from 1998-2002.
He then spent four campaigns in the American Hockey League (AHL) with Toronto's farm team, making his NHL debut on January 27, 2006, against the Montreal Canadiens, recording an assist.
In June of 2008, Harrison signed a one-year contract with EV Zug of the Swiss National League A, but in March of the next year, he returned to the Toronto Maple Leafs and played the rest of the 2008-09 season.
It was the deal he signed with Carolina in 2009, however, that led to a stable NHL career, one highlighted by a strong 2011-12 that saw Harrison score nine goals, along with 14 assists, in 72 games.
"It just happened to really click here in Carolina," said Harrison, who signed a three-year contract extension with the club in 2012. "They've allowed me to do what I am capable of doing. I've been given the ice time and they have stayed true to that to this day."
Harrison is rightfully proud that he stuck to his goal of being a full-time NHL player.
"In many ways, it's in your hands as to how your NHL career goes," he said. "But there are also intangibles. You have to bring consistency to your game and hopefully, you get that break you are looking for. There have been peaks and valleys, long bus rides and roads travelled, but I can say that I stayed with it over this years."
That's no doubt music to the ears of Carolina's full-time defenceman and part-time disc jockey.