Luck On His Side
Logan Couture recently got a chance to meet and chat with NFL quarterback Andrew Luck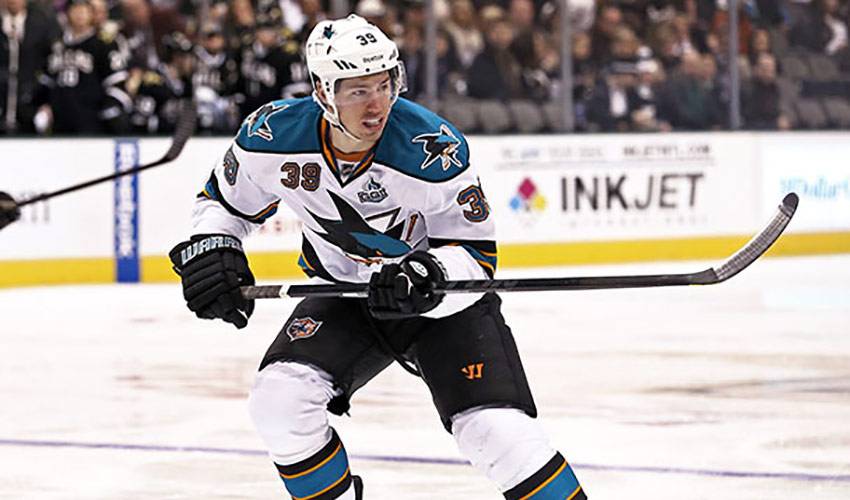 When Logan Couture, was told star NFL quarterback Andrew Luck was going to be at a recent San Jose Sharks home game, the forward jumped at the chance to meet with the Indianapolis Colts' pivot.
"He was a really cool guy," said Couture, who posted a picture of himself and Luck on Twitter. "When our PR guy said he was coming to the game, I definitely wanted the chance to say hello and hang out for a bit. He's a hockey fan and he's been to games before, so I was pretty excited to talk to him."
Had to win with this guy in the building!! twitter.com/Logancouture/s…

— Logan Couture (@Logancouture) March 15, 2013
Despite his big star status, Luck, the first overall NFL pick in 2012, didn't bring along a big ego.
"Not even close," said Couture, who was selected the Sharks ninth overall in 2007. "That's the one thing that really stood out to me. Here is a guy who has had plenty of success and just as much press, and he was very down to earth."
What surprised Couture the most?
"He was very quiet, very soft-spoken," said the two-time 30-goal scorer. "It kind of caught me off-guard a bit because you see him in the huddle and before the ball is snapped and he's very loud."
Couture has certainly made some noise since hitting the NHL scene in 2009-10 when he appeared in 25 games, scoring nine goals.
The 6'1, 195-pounder followed it up with a 31-goal, 65-point campaign in 2011-12.
"What you really want is playoff success," offered Couture, who has 22 points in 38 NHL post-season games. "That's what truly drives you."
It's something he saw in his brief time with Luck.
"One thing that every athlete has in common is that shared desire to be at your best when the games mean the most," said Couture, "You want to be counted on when the big games are on the line. It's what we all strive for."