EA SPORTS AND NHL.COM LAUNCH NHL 14 COVER VOTE
Last Year's Inaugural EA SPORTS NHL Cover Vote Generated More Than 25 Million Fan Votes and Landed Philadelphia Flyers' Captain Claude Giroux on the Cover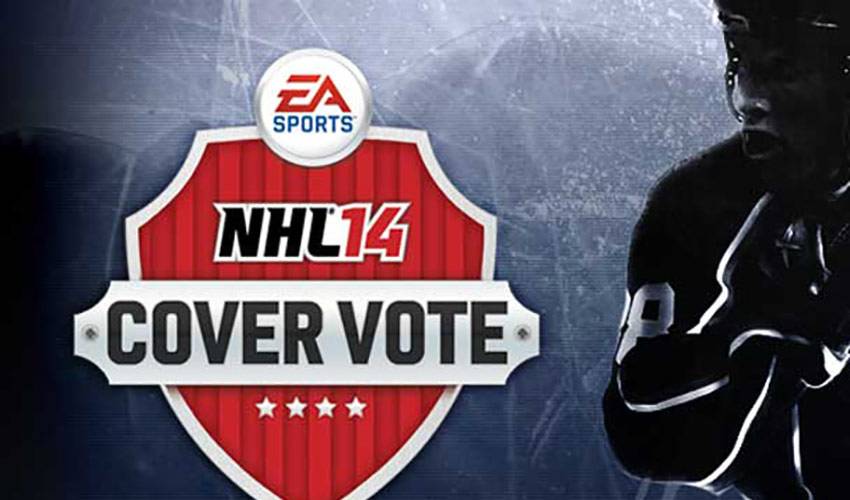 REDWOOD CITY, Calif. – April 22, 2013 – Electronic Arts Inc. (NASDAQ: EA), the National Hockey League (NHL®) and the National Hockey League Players' Association (NHLPA®) announced today that fans can once again shape the face of the world's hockey video game franchise with the launch of the 2nd annual EA SPORTS NHL® Cover Vote Campaign on NHL.com/CoverVote.
"After last year's record setting campaign where more than 25 million votes were cast, this is another tremendous opportunity for our fans to once again show their support for their team and selected players by voting in this second installment of the EA SPORTS NHL Cover Vote Campaign," Dave McCarthy, NHL Vice President Consumer Products Marketing. "We look forward to our fans' creativity and incomparable passion in driving another record setting vote count and ultimately determining who will grace the cover of NHL 14 worldwide."
"These 60 NHL stars are excited to be finalists in the vote campaign that will see the fans ultimately select the EA SPORTS NHL 14 cover athlete. Following an impressive level of fan and player engagement shown in the cover vote last year, we are looking forward to seeing how the bar will be raised this year," said Adam Larry, NHLPA Director of Licensing.
"Players who have graced the EA SPORTS NHL cover in the past have historically had banner years in the season that followed," said Dean Richards, General Manager, EA SPORTS NHL. "Patrick Kane scored the Stanley Cup winning goal in 2010, Steven Stamkos notched a league-leading 60 goals in 2012 and Claude Giroux becoming the Captain of the Philadelphia Flyers this season. We're looking forward to see which fans step up to get their player on the cover of NHL 14."
The voting process will consist of two preliminary rounds, followed by a 16-player bracket as a field of 60 NHL players is narrowed down to one. The winning player will be revealed as the EA SPORTS NHL 14 Cover Athlete during the 2013 Stanley Cup® Final*. Fans worldwide are encouraged to vote as often as possible at NHL.com/CoverVote to ensure their favorite player advances through the rounds.
This year fans can double their voting power by using these player specific hash tags on "Twitter Vote Thursdays." Each player specific hash tag used on Twitter on Thursdays will be counted as two official votes. Fans can join the conversation about the cover vote every day by using #NHL14CoverVote on Twitter and Instagram.
NHL 14 Cover Vote Schedule:
Round of 60 – April 22-28: Teammate vs. teammate. One representative from each team plus two wild card selections advance. **
32-Player Leaderboard – April 29-May 5: Fans vote for their favorite 16 candidates; top 16 vote-getters advance.
16-player Bracket – May 6 - May 26: Weekly round-by-round, single-elimination playoff bracket decides finalists.
The Finals – May 27- June 2: Winner takes the NHL 14 Cover.
NHL 14 Cover Athlete Candidates
Eastern Conference

Bruins

Tyler Seguin, Zdeno Chara

Lightning

Teddy Purcell, Victor Hedman

Canadiens

PK Subban, David Desharnais

Maple Leafs

Joffrey Lupul, James van Riemsdyk

Capitals

Nicklas Backstrom, John Carlson

Panthers

Kris Versteeg, Brian Campbell

Devils

Martin Brodeur, Adam Henrique

Penguins

Evgeni Malkin, Kris Letang

Flyers

Wayne Simmonds, Jakub Voracek

Rangers

Carl Hagelin, Ryan Callahan

Hurricanes

Eric Staal, Jordan Staal

Sabres

Ryan Miller, Tomas Vanek

Islanders

John Tavares, Michael Grabner

Senators

Craig Anderson, Milan Michalek

Jets

Evander Kane, Andrew Ladd
Western Conference

Avalanche

Matt Duchene, Gabriel Landeskog

Kings

Anze Kopitar, Dustin Brown

Blackhawks

Patrick Sharp, Duncan Keith

Oilers

Ryan Nugent-Hopkins, Taylor Hall

Blue Jackets

Brandon Dubinsky, Sergei Bobrovsky

Predators

Brandon Yip, Mike Fisher

Blues

Alex Pietrangelo, David Perron

Red Wings

Jimmy Howard, Pavel Datsyuk

Canucks

Ryan Kesler, Alex Burrows

Sharks

Joe Thornton, Logan Couture

Coyotes

Keith Yandle, Shane Doan

Stars

Kari Lehtonen, Jamie Benn

Ducks

Andrew Cogliano, Matt Beleskey

Wild

Mikko Koivu, Niklas Backstrom

Flames

Dennis Wideman, Lee Stempniak
Assets:
To download assets, please visit the EA press site at http://info.ea.com. Visit the EA SPORTS NHL 14 website for more details.
NHL 14 is in development at EA Canada in Vancouver and has not yet been rated by the ESRB or PEGI; visit www.esrb.org and www.pegi.info for more information. Become a fan of EA SPORTS NHL on Facebook and follow us on Twitter.
EA SPORTS is one of the leading sports entertainment brands in the world, with top-selling videogame franchises, award-winning interactive technology, fan programs and cross-platform digital experiences. EA SPORTS creates connected experiences that ignite the emotion of sports through industry-leading sports videogames, including Madden NFL football, FIFA Soccer, NHL® hockey, NBA LIVE basketball, NCAA® Football, Tiger Woods PGA TOUR® golf, SSX, and Fight Night boxing. For more information about EA SPORTS, including news, video, blogs, forums and game apps, please visit www.easports.com.