The Chase For the Cup Begins
With the dance cards drawn, 16 teams get ready to take a run at capturing the Stanley Cup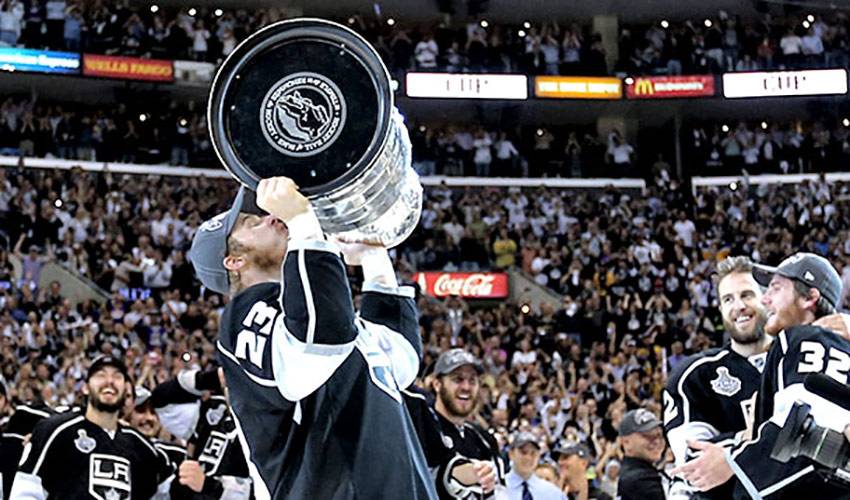 After an action packed, lockout-shortened regular season that gave hockey fans highlight reel goals, game-saving stops, and momentum changing hits, the post-season is now upon us. Players train year-round to have a chance at competing for the Stanley Cup, and now the top eight teams in each conference will get that chance. Now that the 16 teams have been determined, NHLPA.com takes a look at what should be a memorable first round.
Eastern Conference
Pittsburgh Penguins (1) versus New York Islanders (8)
The league leader in goals scored by a team, the Penguins have successfully managed to overcome injuries to key contributors to claim the East's top spot. Boasting eight double-digit goal scorers, expect the Penguins to throw significant shots the Islanders way, while committing to a defensive game plan to counter the Islanders' speedy offense. Trade deadline acquisitions Jarome Iginla and Brenden Morrow, both captains on their former teams, will be leaned on for veteran leadership as current captain Sidney Crosby battles back from injury.
The Islanders are a team already in playoff mode, having battled hard down the stretch to secure a post-season berth. Offensively gifted players are not hard to find on this roster, led by standouts John Tavares, Matt Moulson, Michael Grabner and Kyle Okposo. Mark Streit and Lubomir Visnovsky anchor the Isles group on the backend and they will be looking to help minimize the Penguins chances. Facing a very deep Pittsburgh roster, look for goaltender Evgeni Nabokov to be busy between the pipes.
Montreal Canadiens (2) versus Ottawa Senators (7)
After overcoming the Boston Bruins in a seesaw battle for the division lead throughout the season, the Canadiens will face their geographic rivals from Ottawa in the first round. All-Star goalie Carey Price will lead the way between the pipes, with defencemen Andrei Markov and PK Subban, who were the highest scoring defenders among any pair league-wide, counted on to continue to produce points and run the power-play. A combination of youth and experience will keep the Canadiens fresh but prepared up front, as demonstrated with young guns like Lars Eller and Max Pacioretty and leaders like Brian Gionta and Tomas Plekanec.
If any roster knows how to overcome adversity, it is this year's Senators group. The team has played without marquee players like goalie Craig Anderson, defenceman Erik Karlsson and forward Jason Spezza for extended periods throughout the year. It has been the emergence of young forwards like Cory Conacher, Jakob Silfverberg, Kyle Turris, and Mika Zibanejad among others, who have stepped up to replace these top stars by committee. With Anderson and Karlsson back healthy, look for them and playoff veterans Daniel Alfredsson, Chris Neil and Chris Phillips to lead the team both on and off the ice.
Washington Capitals (3) versus New York Rangers (6)
Washington comes into this series as one of the league's hottest teams, on an 8-1-1 tear over their last ten games. The Southeast Division winner boasts this year's Maurice Rocket Richard Trophy winner in Alex Ovechkin, as well as fellow point-per-game offensive threats Mike Ribeiro and Nicklas Backstrom. Trade deadline addition Martin Erat will lend his playoff experience to an already offensively gifted roster. Defenseman Karl Alzner will counter the top Ranger forwards throughout this series.
The Capitals will face an experienced New York Rangers team, one who advanced to the Eastern Conference Finals last season. Led by 2012 Vezina Trophy winner Henrik Lundqvist in goal, the Rangers are known as a stingy defensive team that plays especially well at home in the historic Madison Square Garden. Look for defensive stalwarts Dan Girardi and Ryan McDonagh to take regular shifts against Washington's biggest offensive threats. Gritty forwards Aaron Asham, Ryane Clowe and Taylor Pyatt are among the Rangers new to the team this season who will be counted on to contribute over this series. Expect Rick Nash and Brad Richards to draw attention from the Capitals blueline.
Boston Bruins (4) versus Toronto Maple Leafs (5)
With what is shaping up to be a punishing physical battle, the Maple Leafs know they face a tough challenge in the Bruins, winners of the Stanley Cup just two seasons ago. Goalie James Reimer will partake in his first playoff action after a stellar regular season, while the Toronto offense will quickly be reminded of the tough Boston defenders. Leading scorers Nazem Kadri and Phil Kessel will have their work cut out for them, with Joffrey Lupul and James van Riemsdyk being counted on to continue their timely goal scoring.
Boston will rely on a "scoring by committee" approach to the playoffs, with Canadian-born names like Bergeron, Horton, Lucic, Marchand and Seguin joining forces with Czech stars Jaromir Jagr and David Krejci. On the back end, the big, bruising defence corps led by captain Zdeno Chara will do their best to keep the speedy Leafs forwards in check. Toronto will work to throw a lot of pucks at Bruins goalie Tuukka Rask, but, after a career best regular season, the Finnish netminder seems up to the task.
Western Conference
Chicago Blackhawks (1) versus Minnesota Wild (8)
Winners of the President's Trophy as the league's top regular season team, the Blackhawks are an offensive juggernaut. Patrick Kane, Jonathan Toews and Marian Hossa lead the relentless attack, with players like Bryan Bickell, Dave Bolland and Andrew Shaw determined to help create opportunities for the offensive stalwarts. Chicago boasts one of the best goaltending tandems in the NHL, with Corey Crawford and Ray Emery having won the William M. Jennings Trophy for the lowest combined goals against average during the regular season. Look for blueliners, and seasoned playoff performers, Duncan Keith and Brent Seabrook to play a big part in this series.
After landing two of hockey most coveted free agents last summer, the Wild face a daunting task in defeating the top-seeded Blackhawks, but certainly have the tools to get the job done. The aforementioned free-agent scores of Zach Parise and Ryan Suter have contributed on a team flush with experience with the likes of captain Mikko Koivu, Devin Setoguchi and Pierre-Marc Bouchard. The physical presence of Cal Clutterbuck, Zenon Konopka and Mike Rupp will also be something to keep an eye on.
Anaheim Ducks (2) versus Detroit Red Wings (7)
Anaheim has enjoyed resurgence this season in sunny California, with offensive stars Ryan Getzlaf, Corey Perry and Bobby Ryan having another great season. The seemingly ageless Finnish combo of Saku Koivu and Teemu Selanne simply does not disappoint and provides the leadership every team looks for in the post-season. Adding physical defencemen like Bryan Allen and Sheldon Souray in the offseason certainly helped lead this team in 2013, while the terrific combination in net of Viktor Fasth and Jonas Hiller have been critical to the team's success.
It just wouldn't be the same without the Red Wings in post-season play. Detroit will skate in their 22nd straight playoffs, a run that has cemented names like Pavel Datsyuk and Henrik Zetterberg as guys who know what it takes to get the job done. After losing one of the best defenceman in the history of the game, and their long-time captain, Nicklas Lidstrom to retirement, defencemen Jonathan Ericsson, Jakub Kindl and Niklas Kronwall, and among others, have stepped up to lead by committee. Tied for the second-lowest goals against among Western Conference playoff teams, the Wings will count on goalie Jimmy Howard to help suppress the Anaheim offence.
Vancouver Canucks (3) versus San Jose Sharks (6)
Two teams that are no strangers to playoff competition will meet up in this clash of Western foes. As offensively gifted as they come, Swedish twins Daniel and Henrik Sedin will once again be counted on to lead the Canucks against the Sharks. Late-season acquisition Derek Roy joins a supporting cast of many capable scorers up front. The back-end is reinforced with a deep group, stabilized by Kevin Bieksa, Alex Edler and Dan Hamhuis. With a late injury to star goalie Cory Schneider, expect their other star between the pipes, Roberto Luongo, to lead the way out of the gate.
The Sharks, again, are a constant when it comes to spring hockey. With countless veterans leading the way, the emergence of young star Logan Couture has eased some of the pressure from leaders Patrick Marleau, Joe Thornton and Dan Boyle. Brent Burns will be looking to grow a beard similar to the one he had early this season with a deep playoff run. Of course, whatever beard he is able to grow will be raising money for charity through the annual NHLPA Beard-a-thon.
St. Louis Blues (4) versus Los Angeles Kings (5)
One of the hottest Western teams headed into the playoffs, the Blues made a big splash at the trade deadline bringing in defencemen Jay Bouwmeester and Jordan Leopold. Adding those two players to a blueline already equipped with young stars Alex Pietrangelo and Kevin Shattenkrik, and defensive pillars Barret Jackman and Roman Polak makes the job easier for the savvy St. Louis goaltenders. Captain David Backes, built for playoff hockey, will lead the deep forward group against last year's Stanley Cup champions from Los Angeles.
The Kings enter the playoffs attempting to be the first team since the Detroit Red Wings in 1998 to win back-to-back Stanley Cups. Gritty playoff performers like Trevor Lewis, Mike Richards and Jarret Stoll will be back to support the run-and-gun forwards Jeff Carter, Anze Kopitar and Justin Williams. Captain Dustin Brown will again lead by example with his relentless physical play. Blueliners Drew Doughty and Slava Voynov will chip in offensively, with stay-at-home d-men Robyn Regehr and Rob Scuderi lending support to 2012 Conn Smythe Trophy winner, goalie Jonathan Quick.