Focused on the task at hand
Matt Beleskey puts all distractions aside as hockey reigns supreme during Ducks' playoff run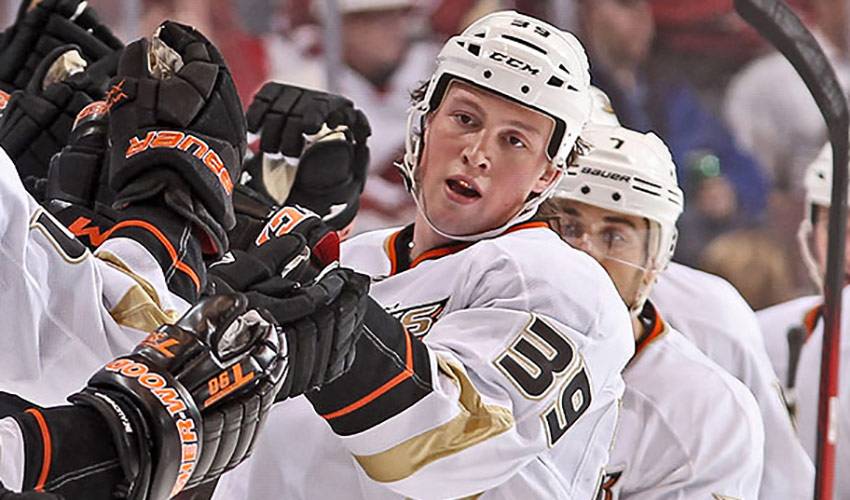 Sun, sand, surf and temperatures hovering around the 80-degree mark are not normally things that come to mind when thinking about hockey. For Matt Beleskey and his Anaheim teammates, the beautiful California backdrop is nothing more than a bonus, while their concentration remains firmly on the ice.
Before the conversation turned to the Stanley Cup playoffs, namely the Ducks opening-round matchup against the Detroit Red Wings, Beleskey, Anaheim's energetic left-winger, got in a good-natured jab about the weather.
"It's pretty nice again," said the 24-year-old, drafted 112th overall by the Ducks in 2006. "Can't complain about that."
So, just how does he focus on hockey with all those distractions?
"Honestly, hockey is always on your mind, even more so at this point of the season," said Beleskey, who had eight goals and 13 points in 42 regular season games in 2012-13. "Of course, it's a great city to play in, but it's all about hockey these days."
That would include early-morning carpools with his teammates.
"It can be hot, a perfect day, and we'll start talking hockey as soon as everyone's in the car," offered Beleskey, who'll often head to practice with teammates Brad Staubitz, David Steckel and Kyle Palmieri. "It always dominates the conversation."
The Ducks have been one of the league's most talked-about teams this season. After missing out on the playoffs last year, Anaheim had one of their best campaigns in franchise history, finishing second in the West and first in the Pacific Division with a 30-12-6 record.
A surprise to some, but not to Beleskey.
"I saw it right from the start," he said. "Last year, we just didn't get it done. But when you have a first line of (Ryan) Getzlaf, (Corey) Perry and (Bobby) Ryan, you have to think you can compete against anyone in this league. But when you look at the lineup as a whole, that's even more reason to believe."
"We're lucky to have such great veterans in guys like Saku (Koivu) and Teemu (Selanne)," he continued. "They are always positive, always helping the young guys out. Teemu has to be one of the most positive guys I've ever been around. He's always happy, always upbeat. I think all of that added up to us having a good year."
For his part, Beleskey has provided a consistent energy boost for his team, an industrious competitor whose primary focus paid dividends for the Ducks throughout the season.
"It's all about forechecking when it comes to my game," said the former Ontario Hockey League graduate, who played four campaigns with the Belleville Bulls from 2004-08. "Putting pressure on the defencemen, battling to get the puck in the corners, disrupting the start of a rush, those are all things I work hard to accomplish throughout the course of the game."
Beleskey always knows where he stands once the game is over.
"With Bruce (head coach Boudreau), there are never any mixed messages," he noted. "If you play well, you hear that. If you don't, you hear that, too. It's what any player wants, that honest communication with your coaches."
Beleskey doesn't need to read between the lines when it comes to their first-round opponent either.
"Twenty-two straight years in the playoffs and some of the best players in the game," offered Beleskey, of a Red Wings squad who owned a 2-0-1 record against the Ducks in the regular season. "We know we have to be focused. We've played each other enough. We know just how tough they are."
And if they hadn't already, Detroit has certainly found out just how impactful Beleskey is. He had an assist in Game One and a goal in Anaheim's 4-0 Game Three triumph.
"I just always want to play the way I know I can," he said. "It's been a good year for us. You hope it gets even better now."
Playing in Anaheim, how can he not have anything but a sunny outlook?