A road well-travelled
Perseverance and an unwavering desire to continue his NHL career have led Wade Redden back to the postseason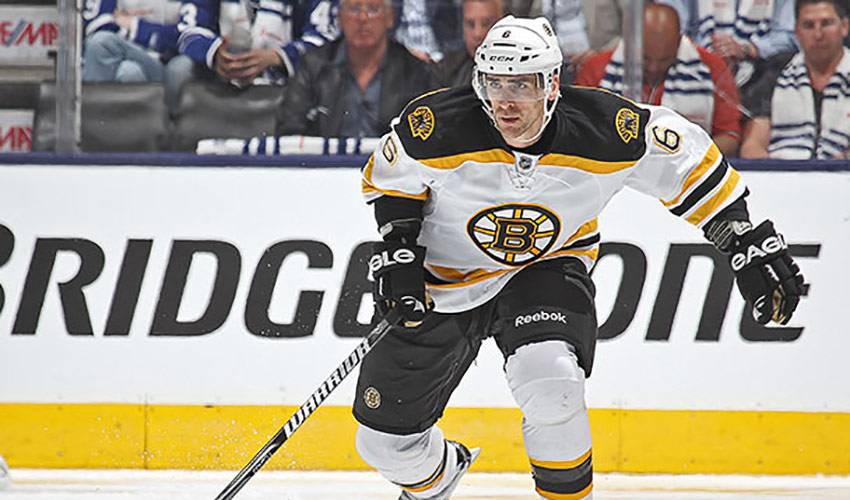 Of the 122 goals Wade Redden has scored over his 14-year NHL career, the most meaningful one, on a personal level, came almost two weeks ago in front of a raucous TD Bank Garden crowd in Boston.
When Redden turned on the red light at 16:20 of the first period in the Bruins eventual 4-1 win over Original Six rival Toronto in their Eastern Conference quarterfinal playoff series, it represented his first post-season tally since 2007.
For the soft-spoken veteran defenceman, who also added an assist, it was an ideal outcome in his return to the playoff scene.
"A lot of things go through your mind after it all sinks in," Redden told NHLPA.com. "I think the one thing that made it special was having my wife in the stands and knowing all the support I had from my friends and family."
It's been quite the hockey journey for Redden, the second overall pick of the New York Islanders in 1995, who was dealt to the Ottawa Senators in 1996.
After playing with the Sens from 1996-2008, Redden signed as a free agent with the New York Rangers. He was waived by the Blueshirts in September of 2010 and went on to spend the next two seasons in the American Hockey League (AHL) before signing with St. Louis in January of this year. At the 2013 Trade Deadline, he was dealt to the Bruins.
Throughout his time in the AHL, there were no tirades or tantrums, no complaints or criticisms from Redden. Instead, he became an instant hit with his teammates, revered for his leadership and unselfish attitude.
He also never gave up on his desire to return to the NHL ranks.
"I still wanted to get back and I was focused on doing what it took to get that shot again," recalled Redden, who had 62 points in his two AHL campaigns. "A lot of things had to fall into place in order for it to happen, but the one thing I could do was work hard and believe in myself."
On January 24, against Nashville, Redden played his first NHL game since April 11, 2010. Two days later, he scored his first goal back against Dallas. He reached a career milestone on February 7 when he skated in his 1,000th career NHL game.
All meaningful moments for Redden, experiences he is glad to share with others.
"There have been ups and downs, obviously, but I've been extremely fortunate to have had so many people there for me. My family, my wife and a lot of guys I played with have been great sources of support. I'm very lucky."
Now 35, Redden isn't preoccupied by long-term goals. He never has been. Rather, he'll take things as he always has.
"In hockey, it's tough to look beyond the next game," he said. "So many things can happen from one day to the next."
Wade Redden certainly knows all about that.