Bringing the Heat
Brooks Laich recently took the mound at Camden Yards in Baltimore to toss his best fastball for the ceremonial first pitch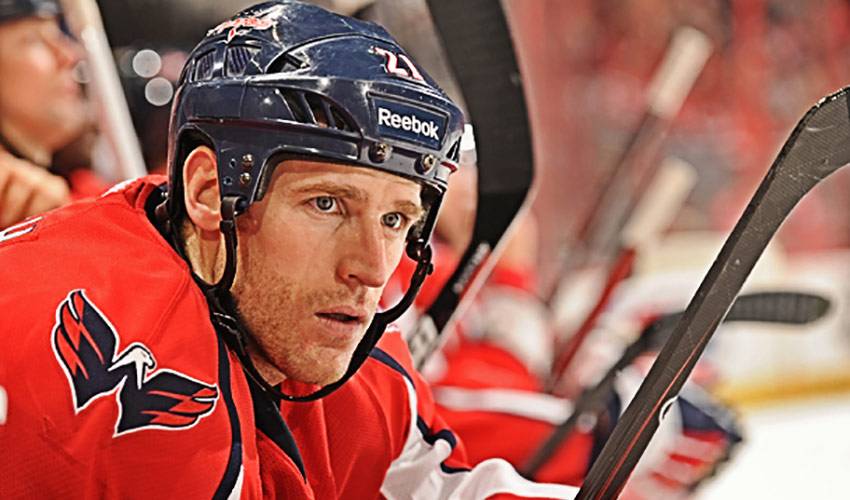 When it came to throwing a ceremonial first pitch at Camden Yards, Brooks Laich delivered on his major league promise.
In the days leading up to his moment on the mound in Baltimore, Laich, the Washington Capitals veteran forward, insisted he wasn't going to play it safe and simply lob the ball to Orioles outfielder Chris Dickerson.
He was going to bring some heat.
"Some people thought I was going to bounce it," said Laich. "But I just wanted to go out there and throw it hard. It was a very cool experience."
The opportunity came about after Laich, along with several other star athletes, including Washington Redskins quarterback Robert Griffin III, signed autographs for fans at a recent event in Virginia.
It was there where Laich met Baltimore's Hall of Fame third baseman Brooks Robinson, the man he was named after, a two-time World Series champion who won 16 consecutive Gold Gloves over 23 seasons.
Days after the pair spoke, Laich posted a picture of himself and the man dubbed 'The Human Vacuum Cleaner.' It eventually led to the Capitals' media department being contacted by the Orioles' media office asking if the centreman would like to take to the mound on May 20.
Donning a white Orioles jersey with his name and No. 21 on it, the alternate captain got a rousing ovation after his pitch.
His only regret?
"I wish I could have thrown it harder."
Named for Brooks Robinson, Washington Capitals Forward @brookslaich threw out tonight's ceremonial 1st pitch! twitter.com/Orioles/status…

— Baltimore Orioles (@Orioles) May 20, 2013
Laich, who also got a tour of the O's clubhouse from All-Star pitcher Jim Johnson (a fan of Caps' rival New York Rangers), is no stranger to baseball.
Growing up in Wawota, Saskatchewan, he played the game until he was 16, part of a perennial championship team in the small town located a little less than three hours from Regina.
"We have about 600 people, so you find ways to make your own fun," recalled Laich, who was joined at the Orioles game by his longtime friend Kurt Ketcheson. "A lot of kids played baseball and we always did well, even in the provincial tournaments."
Ketcheson gave his friend a pat on the back for his efforts on Monday night.
"It's really different when you get down on the field," noted Ketcheson, who grew up 'a short bike ride' from Laich. "I was behind home plate, about 20 feet back. Brooks did an awesome job. It's not an easy thing to do."
But one both will remember for a long time.
"It's like when we played against Pittsburgh in the 2011 Winter Classic," recalled Laich, of the outdoor game at Heinz Field which Washington won 3-1. "You have that genuine excitement leading up to it and once it's over, you have a smile on your face you can't seem to lose."