2013 NHL Playoff Moments – Week 4 Top Ten Recap
The 10 best moments from the week that was.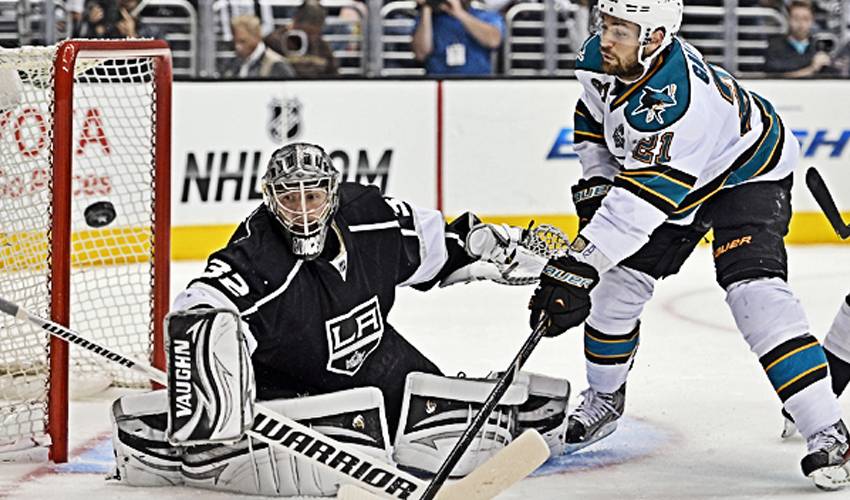 Fourth Line Kicks off Fourth Week
1. The playoffs continued this past week with more goaltender duels and tight checking games. In Boston's 2-1 win at Madison Square Garden in Game 3 of their Eastern Conference semi-final, bothTuukka Rask of the Bruins and Henrik Lundqvist of the Rangers were stellar once again. It was ultimately Boston's fourth line that stepped up and earned the victory, with the trio of Gregory Campbell, Daniel Paille and Shawn Thornton recording five of the six Bruins points. Paille was the game's first star with his goal and assist effort.
More Goalies Stealing the Show
2. Across the country in California, two of the Pacific Division's top goalies were again dominant in San Jose's 2-1 Game 4 victory. The Sharks' Antti Niemi and the Kings' Jonathan Quick continued to make some big and timely saves, leaving many opposing forwards frustrated throughout the game. Niemi is a nominee for this year Vezina Trophy, awarded to the League's top goaltender, while Quick is the reigning Conn Smythe Trophy winner as last year's playoff MVP.
Veteran Presence
3. Game 4 in the Ottawa-Pittsburgh series was a high-scoring affair, and it was the veteran leaders on both teams that each side rallied behind. Trade deadline acquisition Jarome Iginla scored two goals for Pittsburgh, while Ottawa captain Daniel Alfredsson had a goal and an assist for the home side. With over 2,500 career regular season and playoff games between the two, young players on both sides have been learning what it takes to be a pro from these two veterans.
Playmaker Extraordinaire
4. Game 4 in Ottawa was also a showcase for one of the game's best defencemen in Pittsburgh's Kris Letang. Now tied for second in playoff scoring with teammate Evgeni Malkin, Letang recorded 4 assists in the Penguins' win. His 4 point effort has him leading the playoffs with 13 assists.
Kid Kreider
5. In New York for Game 4, the Rangers and Bruins gave the home crowd a thrilling contest, capped with the Rangers' Chris Kreider's overtime winner. The goal was Kreider's sixth career postseason goal, impressive considering he only recently turned 22 years old.
Motown Shutout
6. Detroit's Jimmy Howard put together one of his best games of the year on Thursday, making 28 saves to give the Red Wings a 3-1 series lead with his shutout performance. Over 20,000 exuberant fans packed Joe Louis Arena to witness another low-scoring, back-and-forth battle between the two Original Six rivals.
Pacific Playoff Performance
7. It was another gritty effort from the Kings that same night. The team was led by character performances from the likes of defencemen Robyn Regehr (six hits) and Rob Scuderi (three blocked shots), as well as forwards Dustin Brown and Dustin Penner (seven and six hits respectively). The 3-0 victory was a total team effort and a template for success in the NHL playoffs.
Steel City Trick
8. Penguins forward James Neal lead the offensive powerhouse from Pittsburgh with a hat trick in Game 5. The Steel City fans were treated to three highlight reel goals, ending with this dandy toe-drag effort to complete the hat trick.
Elimination Showdown
9. Down 3-1 in their series against the Red Wings, the Blackhawks faced a tough test coming back against Detroit. Fortunately for the 'Hawks, the Madhouse on Madison was rocking for Game 5, encouraging a highly motivated team to give their fans a 4-1 victory. They then carried that momentum back to the Motor City and came away with a 4-2 win, sending the series back to their beloved United Center for a decisive Game 7.
Sharks Send it to Seven
10. TJ Galiardi scored his first career playoff goal on Sunday night, one that would end up being the winner in a 2-1 victory. The Game 6 win forced a seventh and deciding game, to be played Tuesday night in Los Angeles.