Leave Dupuis A Message
Pascal Dupuis is looking to keep his playoff themed voicemail message for as long as possible this spring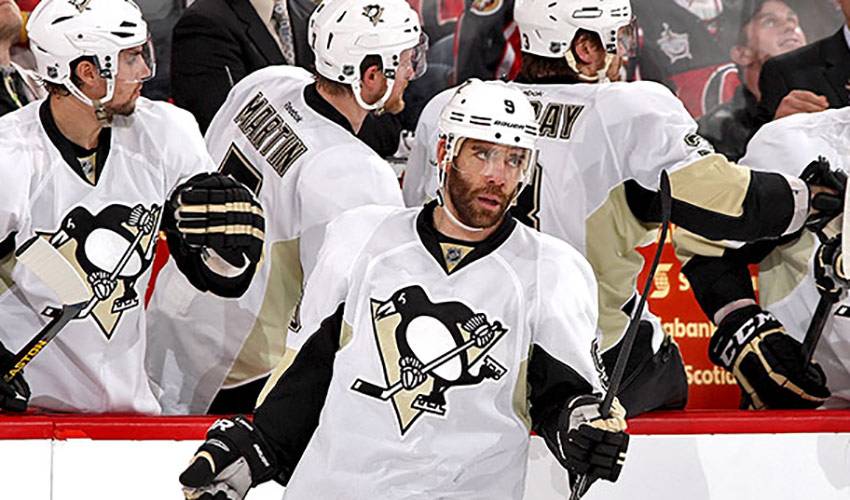 When the call goes to voicemail on Pascal Dupuis' iPhone, it's not the Pittsburgh forward's voice you hear, but rather a priceless hockey-themed message courtesy of his two oldest kids.
Sorry, but our dad can't come to the phone right now. He's busy playing in the Stanley Cup Playoffs.
Maeva and Kody Dupuis recently took it upon themselves to take brief command of their father's cell phone and deliver that special message.
Pascal, one of the Penguins top performers both in the regular season and the playoffs, is hoping it doesn't have to be replaced any time soon. "I can see how excited my kids are, just like everyone in the city," said Dupuis, who came to Pittsburgh via a trade from Atlanta in February of 2008. "I consider myself very lucky. I love my wife and kids. It's such a steady household, a safe little haven. Whenever I head to the rink, my mind is clear. "
The veteran forward, who had four strong seasons in the Quebec Major Junior Hockey League but went undrafted, will need to focus those energies on helping the Penguins claw back into their Eastern Conference final clash with the Bruins.
Boston dominated Pittsburgh in the first two games, earning a 3-0 win in the curtain-opening contest, and followed that up with a 6-1 triumph, giving the Bruins a 2-0 series edge heading back to Beantown.
With some of the game's top stars in their lineup, including 2013 Ted Lindsay finalist Sidney Crosby, perennial all-star Evgeni Malkin, Norris Trophy nominee Kris Letang and offensive catalyst Chris Kunitz, Pittsburgh will no doubt need Dupuis, who excels at both ends of the ice, to help turn things around.
"It's really the best of both worlds," said Dupuis, of his dual roles. "To be able to play on the first line and create scoring chances has been a great opportunity. But I'm also fortunate to get time on the penalty kill, too. Regardless of when you are out there and what circumstance you find yourself in, the first thought is to do something positive to help get the win."
From 105 points in 61 contests over his final season of junior hockey, to a defence-first assignment when he was with the Minnesota Wild, Dupuis worked hard to attain an ideal balance in his game.
"I changed my style when I made the jump from junior to playing in Minnesota," recalled Dupuis, who had 20 goals for the Wild in 2002-03. "I was an offensive guy when I played in Quebec and that shifted to defence under (head coach) Jacques Lemaire in Minnesota. Playing with guys like Sid (Crosby) and Geno (Malkin), you see every day what they do and you learn a lot."
Dupuis, who won the Stanley Cup in 2009, is hoping his experiences pay off with a change of fortune versus the Bruins and another trip to the finals.
One change he isn't hoping for?
"I don't want to have to change that voicemail on my phone," offered Dupuis. "The longer it's still there, the better it is for us."