Kane Able to Deliver When Needed
Patrick Kane has been a catalyst for the Blackhawks in the Stanley Cup Final & will be looking to make an impact again in Game 6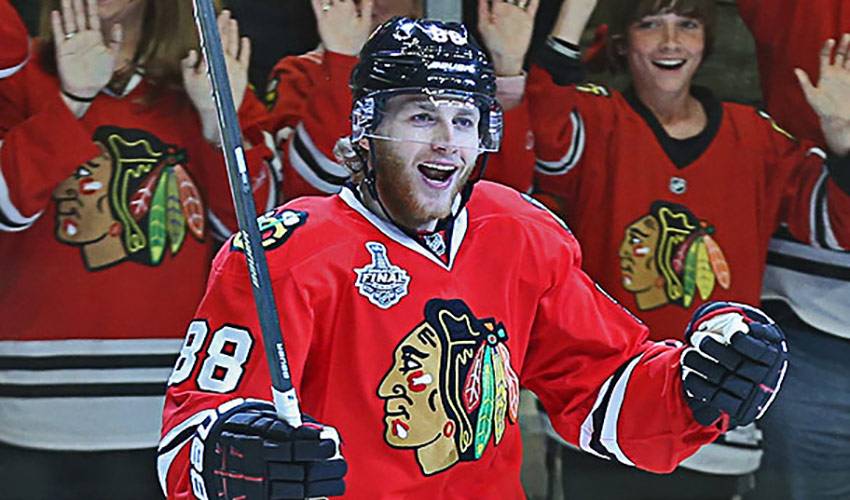 When it comes to making a statement in key Stanley Cup playoff games, Patrick Kane always finds a way to take his best shot.
Three years ago, it was Kane who delivered the Chicago Blackhawks their first championship since 1961, and fourth overall, when he scored the overtime winner in game six against Philadelphia.
This past Saturday night, he provided a one-two punch, tallying twice in a 3-1 'Hawks victory over the Boston Bruins, in game five, leaving Chicago just one win from their second Stanley Cup in four seasons.
"This is what you work for all year, all summer, when you're training throughout the year at training camp, whatever it may be," said Kane, who has nine goals and 19 points in this year's post-season. "This is what you work for, this opportunity. We've got to seize the moment and take advantage of it."
Just like he did against the Flyers in 2010.
"I just remember we were up 3-2, they scored a late goal, and then I had a couple more chances," recalled Kane. "We got ourselves to overtime and I think it was five minutes in that I just kind of threw it on net, got a lucky break, and I think the biggest thing most people remember is that you didn't know whether it was in the net or not. It was a great moment."
The 24-year-old Buffalo native is hoping he can help create another memorable one against a quality opponent, a team with their backs against the wall, who'll play Game Six on their home ice.
Kane was called on to go up against Boston's No.1 defensive unit throughout Game Five. On Monday night, he can expect more of the same.
"I think that's the biggest thing when you're out there with them, just play fast, play what your strengths are and try to take it to them," noted Kane. "The last few games have been pretty good in that area. But they had a good third period there with some chances, so hopefully we can rebound from that."
Chicago was able to rebound from the loss of captain Jonathan Toews, who left the game with an undisclosed injury.
And it was Kane who stood up and delivered.
"I just try to play my game," offered the forward. "I don't think about the outside distractions or pressure on me or whatever it may be. You're in this situation, there's going to be a lot of pressure on you."
A challenge Kane seems to have no problem succeeding at.
"I think everyone wants to be that guy in big-time games, and I've been lucky enough in a couple to step up."