Open Market in the NHL
Players will be the focal point as clubs enter the free agent marketplace looking to improve for the 2013-14 season and beyond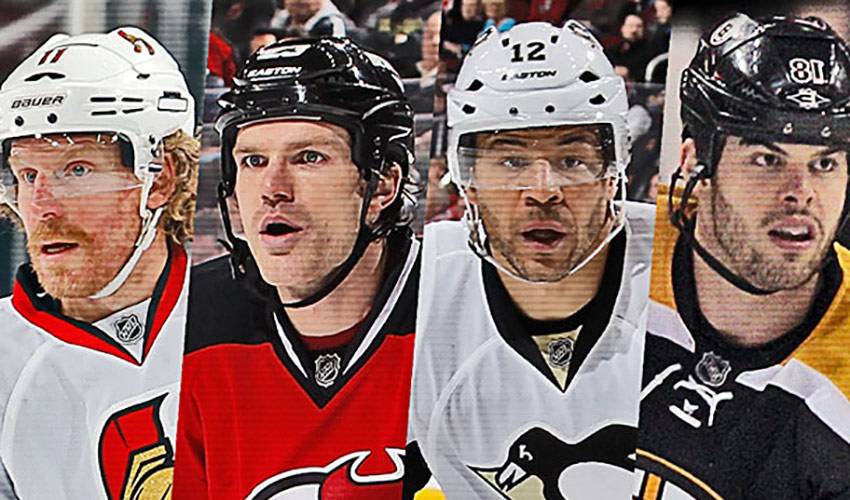 With the Stanley Cup Playoffs and the 2013 NHL Draft now in the rearview mirror, the focus of the hockey world has now turned to the free agency period, which got underway on Friday, July 5th at 12:00pm EST.
General Managers of the 30 NHL clubs will be working the phones with agents and players today as clubs rush to sign the player(s) they believe to be the best fit for their club as we enter the 2013-14 NHL season.
Fans will no doubt be tuned into their televisions, computers and smart-phones for the latest updates of where players are signing and with whom.
As is the case every year, there are some impressive, impact players on the list of available free agents this season. Following the compliance buyout period, which was stipulation that was part of the newly agreed upon CBA, the dynamic nature of the free-agent market place has become even more fluid.
Players like Vincent Lecavalier, Daniel Briere, Ilya Bryzgalov, Mikhail Grabovski and Rick DiPietro recently have seen their names added to the list of available players (with Lecavalier and Briere already agreeing to deals with Philadelphia and Montreal respectively), thus altering the landscape of the free-agent marketplace for both players and clubs.
With the marketplace now open, the signings will begin to flow in, changing the NHL landscape, creating a tonne of discussion amongst the hockey media and fans and ultimately setting up the storylines and competition for the 2013-14 NHL season.
Stay tuned.
For a listing of all the up-to-date free agent signings, check out the NHLPA.com Free Agency Tracker.
OFFICIAL 2013 LIST OF AVAILABLE FREE AGENTS
NOTE: Below is a list of players, who, effective July 5, became free agents.
The National Hockey League today released a list of players who are restricted free agents under Group 2, unrestricted free agents under Group 3 and Group 6 and unrestricted free agents by virtue of not receiving a qualifying offer.
Some of these players may recently have signed with their respective Clubs; however, their contracts had not yet been filed with the NHL and NHLPA.
ANAHEIM DUCKS
Group 2 FAs: Matt Beleskey, Mat Clark, Alex Grant, Kyle Palmieri.
Group 3 UFAs: Troy Bodie, Stephen Dixon, Radek Dvorak, Nate Guenin, Jordan Hendry, Saku Koivu, Pierre-Luc Letourneau-Leblond, Matthew Lombardi, Toni Lydman, Geoff Platt, Teemu Selanne, Matt Smaby, David Steckel, Kyle Wilson, Petteri Wirtanen.
Group 6 UFAs: None.
UFAs: Josh Brittain, Marco Cousineau, Matt Kennedy, Ryan Parent.
BOSTON BRUINS
Group 2 FAs: Carter Camper, Jordan Caron, Kevan Miller, Tuukka Rask.
Group 3 UFAs: Garnet Exelby, Andrew Ference, Christian Hanson, Nathan Horton, Jaromir Jagr, Aaron Johnson, Anton Khudobin, Jay Pandolfo, Wade Redden, Jamie Tardif, Trent Whitfield.
Group 6 UFAs: None.
UFAs: Colby Cohen, Kaspars Daugavins, Michael Hutchinson.
BUFFALO SABRES
Group 2 FAs: Luke Adam, Nick Crawford, Brian Flynn, Matt Hackett, Cody Hodgson.
Group 3 UFAs: Jochen Hecht, David Leggio, Mark Mancari, Adam Pardy, Alexander Sulzer, Paul Szczechura, Nick Tarnasky.
Group 6 UFAs: Alex Biega.
UFAs: Jacob Lagace, Drew Schiestel.
CALGARY FLAMES
Group 2 FAs: Mikael Backlund, Carter Bancks, Christopher Breen, T.J. Brodie, Chris Butler, Paul Byron, Mark Cundari, Greg Nemisz.
Group 3 UFAs: Anton Babchuk, Steve Begin, Brett Carson, Roman Cervenka, Krys Kolanos, Brian McGrattan, Daniel Taylor, Ben Walter.
Group 6 UFAs: Leland Irving, Mike Testwuide.
UFAs: Akim Aliu, Bryan Cameron, Brady Lamb, Gaelan Patterson.
CAROLINA HURRICANES
Group 2 FAs: Zach Boychuk, Zac Dalpe, Riley Nash, Jared Staal.
Group 3 UFAs: Marc-Andre Bergeron, Tim Brent, Joe Corvo, Dan Ellis, Chad LaRose, Tim Wallace.
Group 6 UFAs: Jerome Samson, Bobby Sanguinetti.
UFAs: Marc-Andre Gragnani, A.J. Jenks, Justin Krueger, John Muse, Andreas Nodl, Lukas Pither, Joseph Sova.
CHICAGO BLACKHAWKS
Group 2 FAs: Kyle Beach, Marcus Kruger, Shawn Lalonde, Ryan Stanton.
Group 3 UFAs: Ray Emery, Michal Handzus, Carter Hutton, Henrik Karlsson, Jamal Mayers, Michal Rozsival, Viktor Stalberg.
Group 6 UFAs: Alec Richards.
UFAs: Joe Lavin, Maxime Sauve.
COLORADO AVALANCHE
Group 2 FAs: Brad Malone, Tomas Vincour, Luke Walker.
Group 3 UFAs: Milan Hejduk, Chuck Kobasew, Thomas Pock, Sean Sullivan, Bill Thomas.
Group 6 UFAs: None.
UFAs: Joel Chouinard, Mike Connolly, Aaron Palushaj, Geoff Walker.
COLUMBUS BLUE JACKETS
Group 2 FAs: Cody Goloubef, Spencer Machacek, Blake Parlett, David Savard.
Group 3 UFAs: Adrian Aucoin, Matthew Ford, Andrew Joudrey, Michael Leighton, Vaclav Prospal.
Group 6 UFAs: Nick Drazenovic, Nick Holden, Ryan Russell.
UFAs: Steven Delisle, Colton Gillies, Patrick Killeen, Theo Ruth, Allen York
DALLAS STARS
Group 2 FAs: None.
Group 3 UFAs: Maxime Fortunus, Eric Nystrom, Tyler Sloan.
Group 6 UFAs: Carl Sneep.
UFAs: Richard Bachman, Tyler Beskorowany, Jace Coyle, Mathieu Tousignant, Tom Wandell
DETROIT RED WINGS
Group 2 FAs: Joakim Andersson, Tom McCollum, Gustav Nyquist, Brendan Smith.
Group 3 UFAs: Damien Brunner, Daniel Cleary, Valtteri Filppula, Daniel Larsson, Ian White.
Group 6 UFAs: Jan Mursak, Francis Pare, Jordan Pearce.
UFAs: Brent Raedeke.
EDMONTON OILERS
Group 2 FAs: Sam Gagner, Teemu Hartikainen, Niko Hovinen, Magnus Paajarvi, Antti Tyrvainen.
Group 3 UFAs: Yann Danis, Mark Fistric, Darcy Hordichuk, Tanner House, Ryan Jones, Nikolai Khabibulin, Lennart Petrell, Liam Reddox, Jerred Smithson, Garrett Stafford, Andy Sutton, Ryan Whitney.
Group 6 UFAs: Chris Vande Velde.
UFAs: Philippe Cornet, Theo Peckham, Alex Plante, Colten Teubert
FLORIDA PANTHERS
Group 2 FAs: Michael Caruso, Jacob Markstrom, Shawn Matthias, Jonathan Rheault, Colby Robak, Scott Timmins.
Group 3 UFAs: Andre Deveaux, Dov Grumet-Morris, Martin Lojek, Greg Rallo, Sergei Shirokov, Tyson Strachan, Jose Theodore, Stephen Weiss, Nolan Yonkman.
Group 6 UFAs: None.
UFAs: Brian Foster, Zach Hamill, Peter Mueller, Brendon Nash, Jack Skille
LOS ANGELES KINGS
Group 2 FAs: Andrew Bodnarchuk, Kyle Clifford, Martin Jones, Trevor Lewis, Alec Martinez, Jake Muzzin, Jordan Nolan, Brian O'Neill.
Group 3 UFAs: Dustin Penner, Brad Richardson, Rob Scuderi, Anthony Stewart.
Group 6 UFAs: David Meckler.
UFAs: David Kolomatis, Stefan Legein
MINNESOTA WILD
Group 2 FAs: Tyler Cuma, Justin Fontaine, Carson McMillan, Kyle Medvec, Jared Spurgeon.
Group 3 UFAs: Drew Bagnall, Pierre-Marc Bouchard, Brett Clark, Matt Cullen, Jeff Deslauriers, Dennis Endras, Jarod Palmer.
Group 6 UFAs: David McIntyre.
UFAs: Joel Broda, Benn Ferriero
MONTREAL CANADIENS
Group 2 FAs: Gabriel Dumont, Robert Mayer, Dustin Tokarski, Ryan White.
Group 3 UFAs: Colby Armstrong, Jason Desantis, Jeff Halpern, Kyle Klubertanz, Petteri Nokelainen, Michael Ryder, Frederic St. Denis.
Group 6 UFAs: Blake Geoffrion.
UFAs: Ian Schultz, Joe Stejskal, Yannick Weber
NASHVILLE PREDATORS
Group 2 FAs: Daniel Bang, Juuso Puustinen, Nick Spaling.
Group 3 UFAs: Scott Ford, Linus Klasen, Chris Mason, Mike Moore, Chris Mueller, Brandon Yip.
Group 6 UFAs: None.
UFAs: Jonathon Blum, T.J Brennan, Matt Halischuk, Jack Maclellan, Chet Pickard, Ben Ryan, Jeremy Smith
NEW JERSEY DEVILS
Group 2 FAs: Adam Henrique, Mike Hoeffel, Jacob Josefson, Dan Kelly, Keith Kinkaid, Harri Pesonen, Mike Sislo.
Group 3 UFAs: Matt Anderson, David Clarkson, Cam Janssen, Tom Kostopoulos, Jay Leach, Nathan Perkovich, Alexei Ponikarovsky, Tim Sestito, Steve Sullivan, Chad Wiseman, Marek Zidlicky.
Group 6 UFAs: Matthew Corrente, Jeff Frazee, Steven Zalewski.
UFAs: Jean-Sebastien Berube, Matt D'Agostini
NEW YORK ISLANDERS
Group 2 FAs: Josh Bailey, Cal Clutterbuck, Travis Hamonic, Thomas Hickey, Kevin Poulin, David Ullstrom.
Group 3 UFAs: Keith Aucoin, Sean Backman, Brad Boyes, Jon Landry, Radek Martinek, Nathan McIver, Evgeni Nabokov, Marty Reasoner, Blair Riley, Tim Thomas.
Group 6 UFAs: Jesse Joensuu, Matt Watkins, Ty Wishart.
UFAs: Brandon Defazio, Shane Harper
NEW YORK RANGERS
Group 2 FAs: Justin Falk, Carl Hagelin, Brandon Mashinter, Ryan McDonagh, Derek Stepan, Mats Zuccarello.
Group 3 UFAs: Ryane Clowe, Sean Collins, Steve Eminger, Matt Gilroy, Roman Hamrlik, Brandon Segal, Mike Vernace.
Group 6 UFAs: Logan Pyett.
UFAs: Jyri Niemi, Nick Palmieri, Michael Sauer
OTTAWA SENATORS
Group 2 FAs: Mark Borowiecki, Erik Condra, Jared Cowen, Corey Cowick, Stephane Da Costa, Dave Dziurzynski, Mike Hoffman, Patrick Wiercioch.
Group 3 UFAs: Daniel Alfredsson, Andre Benoit, Hugh Jessiman, Geoff Kinrade, Guillaume Latendresse, Mike Lundin, Peter Regin, Roman Wick.
Group 6 UFAs: None.
UFAs: Louie Caporusso
PHILADELPHIA FLYERS
Group 2 FAs: Erik Gustafsson, Oliver Lauridsen, Eric Wellwood.
Group 3 UFAs: Brian Boucher, Ruslan Fedotenko, Kurtis Foster, Simon Gagne, Adam Hall, Kent Huskins, Mike Knuble, Andreas Lilja, Jody Shelley, Matt Walker.
Group 6 UFAs: None.
UFAs: Blake Kessel, Mitch Wahl
PHOENIX COYOTES
Group 2 FAs: Mikkel Boedker, Mathieu Brodeur, Maxim Goncharov, Brett Hextall, Lauri Korpikoski, Mark Louis, Brandon McMillan, Andy Miele, David Rundblad.
Group 3 UFAs: Alexandre Bolduc, Kyle Chipchura, Matt Clackson, Chris Conner, Boyd Gordon, Chad Johnson, Nick Johnson, Jason LaBarbera, Alexander Nikulin.
Group 6 UFAs: Chris Summers
UFAs: Scott Arnold
PITTSBURGH PENGUINS
Group 2 FAs: Robert Bortuzzo, Brian Gibbons, Riley Holzapfel, Dustin Jeffrey, Zach Sill, Paul Thompson, Harry Zolnierczyk.
Group 3 UFAs: Craig Adams, Matt Cooke, Philippe Dupuis, Mark Eaton, Jarome Iginla, Chad Kolarik, Brenden Morrow, Douglas Murray, Warren Peters, Dylan Reese, Trevor Smith, Brad Thiessen.
Group 6 UFAs: None.
UFAs: Keven Veilleux
ST. LOUIS BLUES
Group 2 FAs: Jake Allen, Cade Fairchild, Evgeny Grachev, Philip McRae, Alex Pietrangelo, Kris Russell, Tyler Shattock, Chris Stewart.
Group 3 UFAs: T.J. Hensick, Jamie Langenbrunner, Andy McDonald, Mike McKenna, Andrew Murray, Scott Nichol, Jeff Woywitka.
Group 6 UFAs: None.
UFAs: Jay Barriball, Stefan Della Rovere, Paul Karpowich, Jani Lajunen, Anthony Nigro, Brett Sonne
SAN JOSE SHARKS
Group 2 FAs: Tyler Kennedy, Nick Petrecki.
Group 3 UFAs: Scott Gomez, Thomas Greiss, Danny Groulx, Scott Hannan, Bracken Kearns, Tim Kennedy.
Group 6 UFAs: Jon Matsumoto, Matt Pelech, Alex Stalock.
UFAs: Tommy Grant, Thomas Heemskerk
TAMPA BAY LIGHTNING
Group 2 FAs: Mark Barberio, Dan Sexton.
Group 3 UFAs: Mathieu Garon, Johan Harju, Jean-Francois Jacques, Martins Karsums, Mathieu Roy, J.T. Wyman.
Group 6 UFAs: Evan Oberg.
UFAs: Alex Hutchings, Brendan Mikkelson, Pat Nagle, Benoit Pouliot
TORONTO MAPLE LEAFS
Group 2 FAs: Spencer Abbott, Jonathan Bernier, Joe Colborne, Cody Franson, Mark Fraser, Carl Gunnarsson, Nazem Kadri, Leo Komarov, Kevin Marshall, Frazer McLaren.
Group 3 UFAs: Tyler Bozak, Tim Connolly, Ryan Hamilton, Michael Kostka, Clarke MacArthur, Mike Mottau, Ryan O'Byrne.
Group 6 UFAs: Simon Gysbers, Jussi Rynnas, Greg Scott.
UFAs: Tyler Brenner, Mark Owuya
VANCOUVER CANUCKS
Group 2 FAs: Kellan Lain, Anton Rodin, Yann Sauve, Jordan Schroeder, Bill Sweatt, Chris Tanev, Dale Weise.
Group 3 UFAs: Andrew Alberts, Cam Barker, Guillaume Desbiens, Andrew Ebbett, Andrew Gordon, Maxim Lapierre, Manny Malhotra, Steven Pinizzotto, Mason Raymond, Derek Roy, Jim Vandermeer.
Group 6 UFAs: None.
UFAs: Derek Joslin, Prab Rai, Stefan Schneider
WASHINGTON CAPITALS
Group 2 FAs: Karl Alzner, Nicolas Deschamps, Marcus Johansson, Peter LeBlanc.
Group 3 UFAs: Dane Byers, Joey Crabb, Matt Hendricks, Tom Poti, Ryan Potulny, Mike Ribeiro, Dany Sabourin, Wojtek Wolski.
Group 6 UFAs: Mike Carman, Patrick McNeill.
UFAs: Danick Paquette, Mattias Sjogren, Dustin Stevenson
WINNIPEG JETS
Group 2 FAs: Zach Bogosian, Alexander Burmistrov, Patrice Cormier, Tomas Kubalik, Arturs Kulda, Bryan Little, Edward Pasquale, Anthony Peluso, Paul Postma, Zach Redmond, Eric Tangradi, Blake Wheeler.
Group 3 UFAs: Nik Antropov, Mark Dekanich, Brett Festerling, Aaron Gagnon, Ron Hainsey, Jason Jaffray, Derek Meech, Antti Miettinen, Mike Santorelli, Kyle Wellwood.
Group 6 UFAs: Ben Maxwell.
UFAs: Christopher Carrozzi, Jason Gregoire, Maxime Macenauer, Will O'Neill.