A Generous Knight in London
Habs forward Brandon Prust continues to give time and support to the Children's Hospital in his hometown of London, Ontario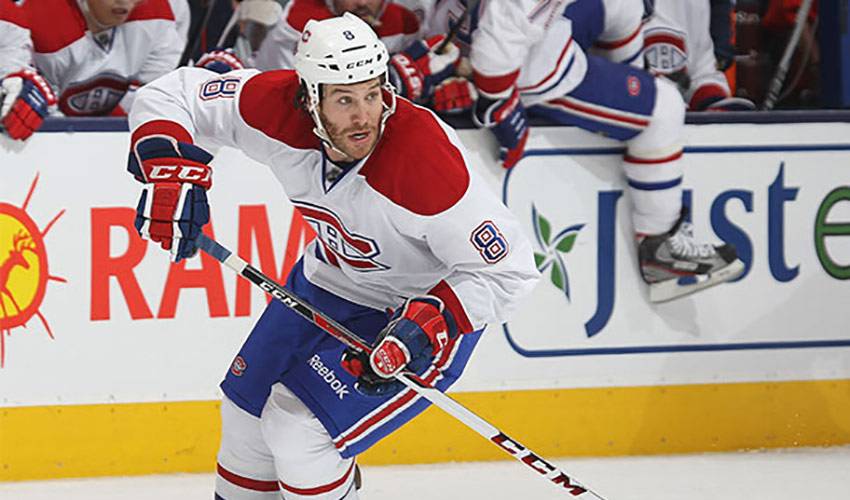 When Brandon Prust walked through the doors of the London Health Sciences Centre Children's Hospital for a special visit in mid-June, he recalled the values his parents instilled in him at a young age.
A former member of the Ontario Hockey League's (OHL) London Knights, Prust, who was born in the city and calls it home during the off-season, helped launch Kids Kicking Cancer. The program teaches children mind and body techniques found through martial arts that can help ease their pain.
Tough as nails on the ice, Prust, who played with the Knights from 2002-05, shows a softer side when he meets with kids and their families.
"You put a lot of things into perspective when you walk in and see young kids struggling," said the Montreal forward. "It's easy for everyone to take things for granted at times. But to this day, I remember growing up in a house where we were always reminded of what generosity meant. Even the smallest of gestures were important. I never forgot that."
During his OHL days, Prust would often make hospital visits, an instant hit with the children he would meet.
Last summer, he hosted the Prusty4Kids charity golf event. Several players, past and present, helped raise nearly $130,000, which helped bring the Kids Kicking Cancer program to the hospital.
Helping raise awareness and funds, Prust will tell you, is the easy part.
"I've been really fortunate to meet a lot of good people and to have a lot of fellow players step up and help out," said the 29-year-old. "And I really do enjoy getting to meet a lot of great kids through this. Every kid is different. Every situation is different. But, there are times when it's very tough to see them in this battle. It's so tough on their parents, too."
Despite the warm welcome he receives, converting those he speaks with into Canadiens fans hasn't been easy.
"That hasn't gone as well as I hoped," he laughed. "You meet a lot of Maple Leafs fans. Some kids know who you are, others don't. None of that matters. You always end up taking a lot away when you meet these kids."
Prust will once again spend the summer in London, catching up with old friends and family. He'll also train for the 2013-14 NHL season. You can also bet he'll be making a few more special trips to the hospital.
"If you can put a smile on someone's face, why wouldn't you do it? What you see a lot of the time is that there is hope. That puts a smile on your face."
For Brandon Prust, it's also a wonderful reminder that a little generosity goes a long way.