The Hall Comes Calling
Chris Chelios, Scott Niedermayer & Brendan Shanahan join Geraldine Heaney & Fred Shero as the HHOF Class of 2013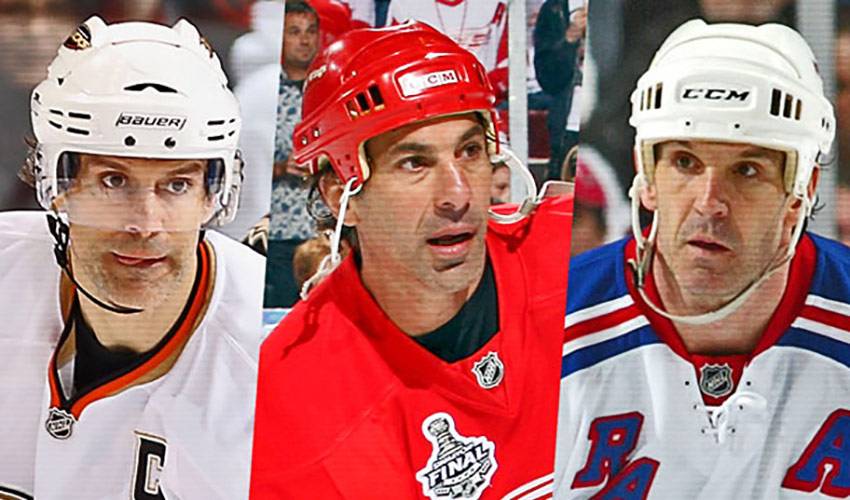 On Tuesday afternoon, the Hockey Hall of Fame Selection Committee announced that former NHLPA members Chris Chelios, Scott Niedermayer & Brendan Shanahan will highlight the induction class of 2013.
The three former NHL star players will enter the Hall of Fame alongside former Canadian women's national team star, Geraldine Heaney, as well as longtime NHL coach, Fred Shero in the builders category.
Chris Chelios suited up in 1,651 NHL games with the Montreal Canadiens, Chicago Blackhawks, Detroit Red Wings & Atlanta Thrashers, capturing the Stanley Cup and the Norris Trophy three times each over the course of his career. The native of Chicago, Illinois was also a decorated international player, helping lead the USA to victory in the 1996 World Cup of Hockey and also bringing home a silver medal from the 2002 Salt Lake City Olympic Games.
Off the ice, Chelios was also a highly involved member of the NHLPA, remaining actively involved in the Players' Association until his retirement from the game in 2010.
Scott Niedermayer, also a defenceman, produced a stellar resume over the course of his career, one that includes four Stanley Cups; two Olympic gold medals; IIHF World Junior gold; IIHF World Men's Hockey Championship; a World Cup of Hockey and a Memorial Cup.
The native of Edmonton, Alberta suited up in the NHL with the New Jersey Devils and the Anaheim Ducks, playing in 1,263 games in 17 seasons.
Brendan Shanahan is one of the players that helped define the role of the power forward in the modern NHL. The native of Mimico, Ontario enjoyed an illustrious 21-year career, one that included 3 Stanley Cups, an Olympic gold medal in 2002, as well as top honours in the 1991 Canada Cup, and the 1994 IIHF World Men's Hockey Championships.
Shanahan was a dynamic point producer, scoring 656 career goals and adding 698 assists in 1,524 games with the New Jersey Devils, St. Louis Blues, Hartford Whalers, Detroit Red Wings and New York Rangers.
All five players will be officially inducted into the Hockey Hall of Fame during the annual formal ceremony which will take place at the Hall's downtown Toronto location on November 11th.