Jonathan Quick Is A Proud Dad
The Kings star netminder relishes his role as a father of his two young children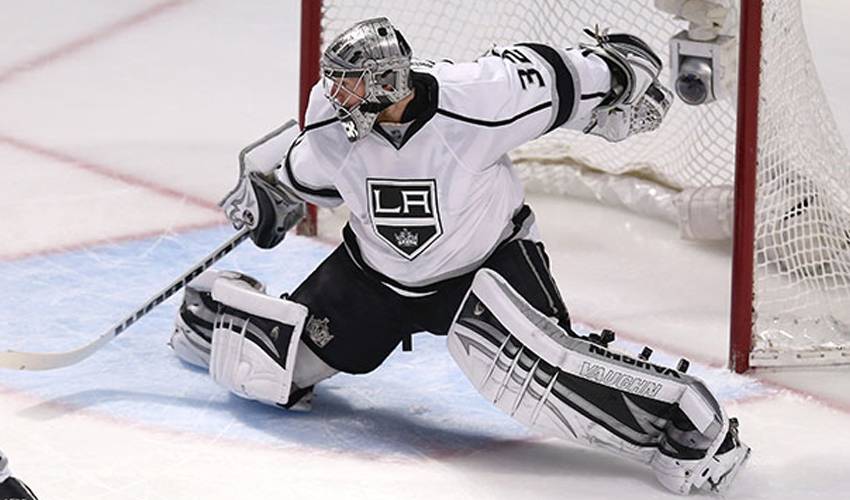 He's one of the best goaltenders on the planet. He's a Stanley Cup winner. He's also an MVP. But for Jonathan Quick, his most cherished accomplishment has nothing to do with hockey.
In the midst of this year's NHL playoffs, just one day after the Los Angeles Kings had eliminated the San Jose Sharks in the Western Conference semifinals, there were any number of things, hockey-wise, Quick could have talked about.
So, when the offer went out as to what he'd like to discuss, he paused momentarily, then said, 'Well, I'm pretty thrilled to be a dad again. But you make the call.'
Carter Quick was born on April 9. It was the second child for Jonathan and his wife, Jaclyn. Their daughter Madison was born on March 12, 2010.
"It's obviously a lot of work for my wife, especially when you're on the road," said the 27-year-old, who was part of the Kings 2012 Cup-winning squad, a year in which he also won the Conn Smythe Award as playoff MVP. "There are times when you think you're missing out and you wish you could be there, but you're also reminded the kids are in good hands. When I get home, everything is organized and there's a great routine in place."
Where does Quick fit in to that routine?
"I just listen and follow along," he laughed.
The Connecticut-born backstopper has found the perfect balance between home life and his hockey career, a proud father and a primetime performer on the sport's biggest stage.
And while this season didn't turn out the way he and his teammates had anticipated, Quick expects the Kings, who lost in the West finals to eventual champion Chicago, to learn from the experience of being eliminated from Cup competition.
"It's one of the toughest trophies to win in all of sport and just as tough to defend," said the 72nd overall pick of Los Angeles in 2005. "It's the greatest feeling to win it. It's a long, tough road to get there. When you get knocked out, it's deflating. But it fuels you to come back and work harder to get where you want to be."
Now, Quick will take the summer months to spend quality time with his young family while also training in preparation for the 2013-14 NHL season.
All of that suits one of the game's best just fine.
"It's always nice to be around at home and do those things that you miss out on," said Quick. "I'm looking forward to it."