Player of the Week - Jonathan Toews
Blackhawks captain, and Winnipeg native recently took the Stanley Cup to the Manitoba capital on his day with the iconic trophy.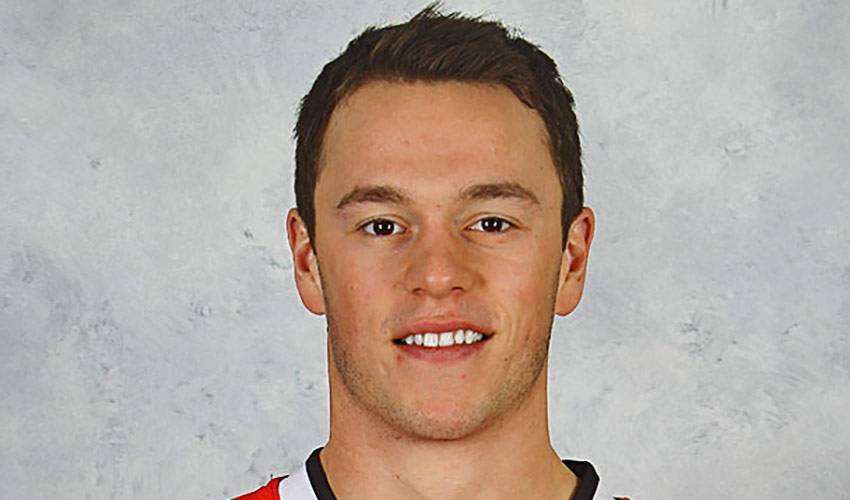 NEED TO KNOW
Some players are naturals when it comes to leadership, and Jonathan Toews is, without a doubt, one of those players. Only 25 years old, Toews is the undisputed captain of the Blackhawks and his age does nothing to diminish the respect that he is shown by his teammates in the Blackhawks dressing room. Toews brings a consistent work-ethic, and a decorated history of winning, with him to the rink on a daily basis, something that only bolsters the way he is viewed by teammates and opponents alike. After some seasoning at Shattuck-St. Mary's, a prep school in Minnesota, Toews took his skills to the University of North Dakota, becoming a key member of the Fighting Sioux for two seasons, where he helped the team to the NCAA Frozen Four in both years. While at UND, Toews was selected third overall by the Chicago Blackhawks in the 2006 NHL Entry Draft. He would leave school after the 2007 season to make the jump to pro and he has never looked back. After stepping immediately into the Hawks everyday lineup and announcing himself to the hockey world with some highlight reel goals, it was easy to see that Chicago had found its franchise player and leader of the future. Toews has continued to grow as a superstar in the league and the Blackhawks have benefited from his growth and exceptional play. With their second Stanley Cup in four seasons, Toews and the Hawks' have proven themselves to be amongst the elite in today's NHL and look to be a lock to continue to be a contending team for the foreseeable future.
- Jonathan recently had his day with the Stanley Cup recently, arriving in his hometown of Winnipeg to the delight of his friends, family and fans
BIOGRAPHY
 Born in Winnipeg, Manitoba, CAN on April 29, 1988
 Drafted by the Chicago Blackhawks in the first round, third overall in the 2006 NHL Entry Draft
 Played two years of college hockey at the University of North Dakota for the Fighting Sioux
 Has represented Canada at numerous international events, and is a member of the distinguished Triple Gold Club, which is representative of players who have won IIHF World Championship Gold (2007), Olympic Gold (2010) and the Stanley Cup (2010)
 Named the Best Forward and was selected as an All-Star at the 2010 Olympics men's hockey tournament for his exceptional play that saw him tally eight points in seven games
 Awarded the 2010 Conn Smythe Trophy as the Most Valuable Player over the course of the NHL playoffs, after leading the Blackhawks to the Stanley Cup
 Captained the Blackhawks to their 5th Stanley Cup in franchise history in the 2012-13 season