Off To Olympic Summer Camp
With the agreement for NHLPA members to participate in the Sochi Games finalized, national teams continue with their Olympic camps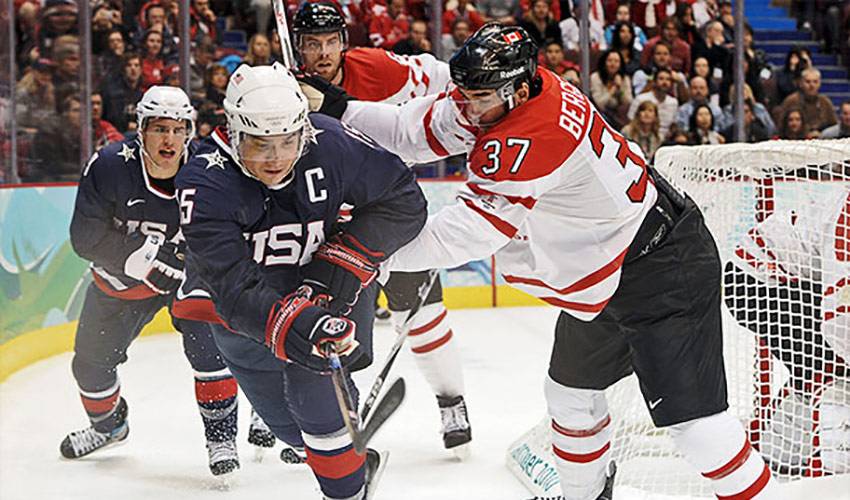 With just about 200 days remaining until the opening ceremonies of the 2014 Sochi Winter Olympic Games, athletes and sporting federations around the world are deep in preparation to attempt to claim glory in February on the world stage.
NHLPA members can now officially be included in this group.
Following the announcement late last week of the agreement to allow NHL players to represent their home nations at the Games, many of the national federations have begun to set their management and coaching staff's, as well as release the roster lists for their individual Olympic orientation camps to be held later this summer.
While national teams in the Czech Republic, Finland, Slovakia and Switzerland have already had initial meetings this summer with their potential Olympians, Canada, the United States, Russia and Sweden are some of the highly ranked nations scheduled to gather their Olympic hopefuls for orientation meetings in the next month.
These expanded lists contain some of the top hockey names from around the world. Following the summer orientation camps, the players will continued to be evaluated over the course of the first half of the 2013-14 season, and will ultimately comprise the various national teams that compete for gold in Sochi.
Can the Canadians assemble a team to compete on the larger ice-surface and defend their gold medal from 2010 in Vancouver? Will the Russians find the chemistry needed to claim the gold medal on home soil? Can Sweden bounce back from a disappointing quarter-final exit in 2010? Will Finland's balance of veteran presence and youth, combined with stellar goaltending, lead them to Olympic glory. Are the Czech's ready for an international hockey renaissance on the largest of stages?
With questions like these, and so many more yet to be answered, there is no doubt that the Olympic discussion is only now just beginning. One thing that is already certain though, is that with the top hockey talent from around the world preparing to gather for another shot at Olympic glory in Sochi, the story will be one all hockey fans will be eager to see unfold.
OLYMPIC ORIENTATION CAMP ROSTERS

CANADA MEN'S NATIONAL TEAM ORIENTATION CAMP ROSTER
FORWARDS
*Patrice Bergeron (Boston) Jeff Carter (Los Angeles) Logan Couture (San Jose) *Sidney Crosby (Pittsburgh)Matt Duchene (Colorado) Jordan Eberle (Edmonton) *Ryan Getzlaf (Anaheim) Claude Giroux (Philadelphia) Taylor Hall (Edmonton) Chris Kunitz (Pittsburgh) Andrew Ladd (Winnipeg) Milan Lucic (Boston) Brad Marchand (Boston) *Rick Nash (NY Rangers) James Neal (Pittsburgh) *Corey Perry (Anaheim) *Mike Richards (Los Angeles) Patrick Sharp (Chicago) *Eric Staal (Carolina) Jordan Staal (Carolina) Martin St. Louis (Tampa Bay) Steven Stamkos (Tampa Bay) John Tavares (NY Islanders) *Joe Thornton (San Jose) *Jonathan Toews (Chicago)
DEFENSEMEN
Karl Alzner (Washington) Jay Bouwmeester (St. Louis) *Dan Boyle (San Jose) *Drew Doughty (Los Angeles) Mike Green (Washington) Dan Hamhuis (Vancouver) Travis Hamonic (NY Islanders) *Duncan Keith (Chicago) Kris Letang (Pittsburgh) Marc Methot (Ottawa) Dion Phaneuf (Toronto) Alex Pietrangelo (St. Louis) *Brent Seabrook (Chicago) Marc Staal (NY Rangers) P.K. Subban (Montreal) Marc-Edouard Vlasic (San Jose) *Shea Weber (Nashville)
GOALIES
Corey Crawford (Chicago) Braden Holtby (Washington) *Roberto Luongo (Vancouver) Carey Price (Montreal) Mike Smith (Phoenix)

*- played on 2010 Olympic team
RUSSIA MEN'S NATIONAL TEAM ORIENTATION CAMP ROSTER
FORWARDS
Artem Anisimov (Columbus) *Pavel Datsyuk (Detroit) Denis Kokarev (KHL) *Ilya Kovalchuk (KHL) Nikolai Kulemin (Toronto) Evgeny Kuznetsov (KHL) *Evgeni Malkin (Pittsburgh) *Alex Ovechkin (Washington) Alexander Perezhogin (KHL) Alexander Popov (KHL) *Alexander Radulov (KHL) *Alexander Semin (Carolina) Vadim Shipachev (KHL) Vladimir Tarasenko (St. Louis) Alexei Tereshchenko (KHL) Viktor Tikhonov (KHL) Mikhail Varnakov (KHL) Nail Yakupov (Edmonton)
DEFENSEMEN
Evgeny Biryukov (KHL) Denis Denisov (KHL) Alexei Emelin (Montreal) *Sergei Gonchar (Dallas) *Andrei Markov (Montreal) Evgeny Medvedev (KHL) Nikita Nikitin (Columbus) *Ilya Nikulin (KHL) Evgeny Ryasensky (KHL) *Fedor Tyutin (Columbus) *Anton Volchenkov (New Jersey) Slava Voynov (Los Angeles)
GOALIES
Konstantin Barulin (KHL) Sergei Bobrovsky (Columbus) Vasily Koschechkin (KHL) *Evgeni Nabokov (N.Y. Islanders) *Semyon Varlamov (Colorado)
*- played on 2010 Olympic team
SWEDEN MEN'S NATIONAL TEAM ORIENTATION CAMP ROSTER
FORWARDS
Patrik Berglund, (St. Louis) *Nicklas Backstrom, (Washington) Jimmie Ericsson, (Skelleftea (SHL) *Loui Eriksson, (Boston) *Johan Franzen, (Detroit) Carl Hagelin, (N.Y. Rangers) *Patric Hornqvist, (Nashville) Marcus Johansson, (Washington) Marcus Kruger, (Chicago) Gabriel Landeskog, (Colorado) Oscar Lindberg, (N.Y. Rangers) Joel Lundqvist, (Frolunda (SHL) Gustav Nyquist, (Detroit) Niklas Persson, (Rapperswil (Switzerland) *Daniel Sedin, (Vancouver) *Henrik Sedin, (Vancouver) Alexander Steen, (St. Louis) *Henrik Zetterberg (Detroit)
DEFENSEMEN
Jonas Brodin, (Minnesota) Alexander Edler, (Vancouver) Oliver Ekman-Larsson, (Phoenix) Jonathan Ericsson, (Detroit) Nicklas Grossmann,(Philadelphia) Erik Gustafsson, (Philadelphia) Victor Hedman, (Tampa Bay) Niklas Hjalmarsson, (Chicago) Erik Karlsson, (Ottawa) *Niklas Kronwall, (Detroit) *Douglas Murray, (free agent) *Johnny Oduya, (Chicago) *Henrik Tallinder, (Buffalo)
GOALIES
Jhonas Enroth, (Buffalo) Viktor Fasth, (Anaheim) Robin Lehner, (Ottawa) *Henrik Lundqvist, (N.Y. Rangers)
*- played on 2010 Olympic team

U.S. MEN'S NATIONAL TEAM ORIENTATION CAMP ROSTER
FORWARDS
Justin Abdelkader (Detroit) *David Backes (St. Louis) Beau Bennett (Pittsburgh) Nick Bjugstad (Florida) *Dustin Brown (Los Angeles) *Ryan Callahan (N.Y. Rangers) Alex Galchenyuk (Montreal) *Patrick Kane (Chicago) *Ryan Kesler (Vancouver) *Phil Kessel (Toronto) Trevor Lewis (Los Angeles) Kyle Okposo (N.Y. Islanders) T.J. Oshie (St. Louis) Max Pacioretty (Montreal) Kyle Palmieri (Anaheim) *Zach Parise (Minnesota) *Joe Pavelski (San Jose) *Bobby Ryan (Ottawa) Brandon Saad (Chicago) Craig Smith (Nashville) *Paul Stastny (Colorado) Derek Stepan (N.Y. Rangers) James van Riemsdyk (Toronto) Blake Wheeler (Winnipeg)
DEFENSEMEN
Zach Bogosian (Winnipeg) Dustin Byfuglien (Winnipeg) John Carlson (Washington) Danny DeKeyser (Detroit) Justin Faulk (Carolina) Cam Fowler (Anaheim) Jake Gardiner (Toronto) *Erik Johnson (Colorado) *Jack Johnson (Columbus) Seth Jones (Nashville) Nick Leddy (Chicago) Paul Martin (Pittsburgh) Ryan McDonagh (N.Y. Rangers) *Brooks Orpik (Pittsburgh) Kevin Shattenkirk (St. Louis) *Ryan Suter (Minnesota) Jacob Trouba (Winnipeg) Keith Yandle (Phoenix)
GOALIES
Craig Anderson (Ottawa) John Gibson (Anaheim) Jimmy Howard (Detroit) *Ryan Miller (Buffalo) *Jonathan Quick (Los Angeles) Cory Schneider (New Jersey)
*- played on 2010 Olympic team

FINLAND OLYMPIC EVALUATION CAMP ROSTER
FORWARDS
Juhamatti Aaltonen (free agent) Aleksander Barkov (Florida) Sean Bergenheim (Florida) *Valtteri Filppula (Tampa Bay) Mikael Granlund (Minnesota) *Niklas Hagman (free agent) Teemu Hartikainen (KHL) Juha-Pekka Hytonen (Lausanne, SUI) Jarkko Immonen (KHL) Jesse Joensuu (Edmonton) Jussi Jokinen (Pittsburgh) *Olli Jokinen (Winnipeg) *Niko Kapanen (free agent) *Mikko Koivu (Minnesota) *Saku Koivu (Anaheim) Leo Komarov (KHL) Petri Kontiola (KHL) Lauri Korpikoski (Phoenix) Jarno Koskiranta (KHL) Jori Lehtera (Sibir Novosibirsk, KHL) Ville Leino (Buffalo) *Antti Miettinen (Gotteron, SUI) Janne Pesonen (Ak Bars Kazan, KHL) Lennart Petrell (Edmonton) Antti Pihlstrom (KHL) *Jarkko Ruutu (Jokerit, SM-liiga) *Tuomo Ruutu (Carolina) Sakari Salminen (KHL) Veli-Matti Savinainen (KHL) *Teemu Selanne (Anaheim)
DEFENSEMEN
Juuso Hietanen (KHL) Topi Jaakola (KHL) Joonas Jarvinen (Nashville) Jere Karalahti (KHL) *Lasse Kukkonen (Karpat, SM-liiga) Teemu Laakso (KHL) *Sami Lepisto (KHL) *Toni Lydman (free agent) Tuukka Mantyla (KHL) *Janne Niskala (KHL) Petteri Nummelin (Lukko, SM-liiga) *Joni Pitkanen (Carolina) *Sami Salo (Tampa Bay) *Kimmo Timonen (Philadelphia) Sami Vatanen (Anaheim) Ossi Vaananen (Jokerit, SM-liiga)
GOALIES
*Niklas Backstrom (Minnesota) Kari Lehtonen (Dallas) Antti Niemi (San Jose) Antti Raanta (Chicago) Tuukka Rask (Boston) Pekka Rinne (Nashville) Karri Ramo (Calgary) Petri Vehanen (KHL)
*- played on 2010 Olympic team