Parros Feeling The Love
The rugged winger has been welcomed by the Habs' passionate fans and is excited to be a part of the storied franchise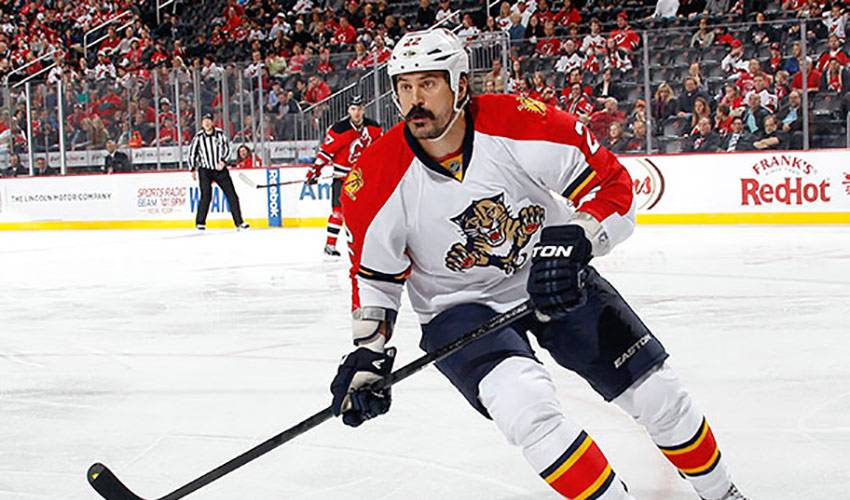 George Parros hasn't played a game in a Montreal uniform yet, but the rough and tumble right-winger can already feel the love from Canadiens' fans and players.
He's one of the elite enforcers in the game today. His facial hair, more specifically, his moustache, has garnered widespread attention. He has over 80,600 followers on Twitter.
Suffice to say, Parros is a popular man, including with those who support the Habs, the team he was traded to on July 5.
"It's been great, unbelievable," said Parros, of the response he's received since the deal was announced. "I feel very lucky to have had people reach out and welcome me to the team. You really appreciate those kind words."
The 33-year-old has more than his share of high praise for all things Montreal, taking to Twitter to express his excitement.
Would also like to say BONJOUR to @CanadiensMTL and all of the Habs fans out there! Very excited to play for such a great Franchise!!!

— George Parros (@GeorgeParros) July 5, 2013
"I'm just really looking forward to it," said the Princeton Tigers alumnus, who majored in economics. "It's such an outstanding city in so many ways. I can't wait to get started. I've received a warm reception. It's nice to go to a place where you are wanted."
Parros, who has played with Los Angeles (the team that drafted him), Colorado, Anaheim and most recently, Florida, recently got to know one of his new teammates, forward, Daniel Briere, who signed with the Original Six team on July 4.
"I've been working out (in California) and I met Daniel there," noted the 6'5", 220-pounder. "I know he's excited. He'll get the chance to play in front of lot of people he knows and you can tell he's really looking forward to it.
He also heard from a former teammate.
"Travis Moen was a good buddy when we played together in Anaheim and he got in touch with me when the news came out," continued Parros. "It's been nice, all-round, to have people be so welcoming."
One of the sport's most charitable citizens won't be the same way to the opposition, however. Last season, the forward eclipsed the 1,000-minute mark in career penalty minutes.
"The biggest thing for me in coming into this situation is to fit in with my new teammates and work with them to make it a successful season," said Parros, who takes part in the NHLPA's annual Movember campaign (read more here) "I remember playing in Montreal and you notice very quickly what a special environment it is. If it's not the loudest arena in the league, it's definitely one of them."
Parros wants to do his part in giving the city plenty of reason to shout in 2013-14.
"I'm excited about this opportunity," said the man who won the Stanley Cup with the Ducks in 2007. "I'm here to contribute in whatever way I can."
With words like that, it's easy to see why the man known as The 'Stache grows on people wherever he plays.