Bieksa Has Made An Impression
From his nerve-riddled first game to the bond he has developed with the city of Vancouver, Kevin Bieksa is making his mark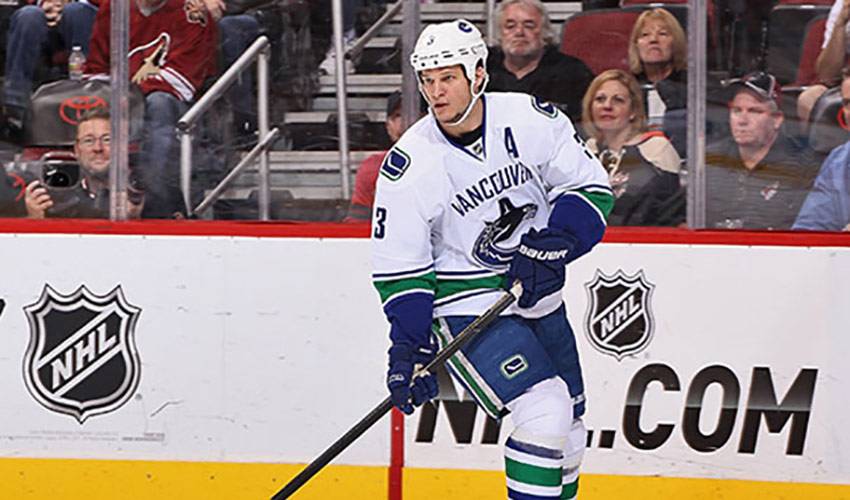 Kevin Bieksa wanted to make an impression in his first NHL shift, seeing it as an opportunity to make his coaches and teammates take note of his desire to be a big-league player. And he did. Just not quite in the way he had envisioned.
Before the puck dropped between Vancouver and Los Angeles on the night of December 19, 2005, the kid from Grimsby, Ontario, was both nervous and excited. It was the chance he had hoped for, to play at hockey's elite level.
Ten seconds into his first shift, he caught the attention of the referees. The result? One bad pass and two minutes in the penalty box.
"Funny that you ask about that because I was just talking to (former Vancouver teammate) Brendan Morrison and his kids about it," said Bieksa, who was on his way to the annual NHLPA charity golf tournament on Tuesday. "I wasn't sure I was going to play, but I got the nod after warm-up. The nerves kicked in then.
"I'm playing with Mattias Ohlund and up front we have Todd Bertuzzi, Markus Naslund and Brendan. We win the face-off, the puck goes to Mattias and he passes it to me. I just wanted to get rid of it, like it was a hot potato. I fire a suicide pass to Brendan and Jeremy Roenick just destroys him. Like a donkey, I just go and hit the first guy I can. Two minutes in the box for roughing. I still remember everything about it."
Thankfully, for Bieksa, there have been far more memorable moments since then. He has more penalty minutes than games played, 698 versus 461, but the Canucks blueliner worked overtime to become a major contributor at both ends of the rink.
"In my first year, I was pretty cautious, just hoping to stay in the lineup," he recalled. "It was about taking small steps and wanting to stay with the team. I was focused on being good enough at my job to achieve that. You know you can play, but you need to develop confidence and trust in yourself."
In his second campaign, Bieksa found his groove.
"About six or seven games into the season, I scored my first goal," he recalled. "I went on a nice streak after that and everything kind of came together. It takes time to get that confidence, but when you do get it, you feel comfortable in what you can contribute."
Injuries, including three serious ones, have kept Bieksa from playing more games than he should have. But it hasn't dampened his enthusiasm or desire.
"You learn a lot about yourself when you can't play for 4-6 months on two occasions," admitted Bieksa, who missed 47 games in 2008 with a calf laceration, 27 games in 2010 with a lacerated leg and 15 games in 2011 with a broken foot. "It's mentally draining. But I really do believe it makes you stronger in the end."
So, nearly 500 games into his career, what is Bieksa most proud of?
"I suppose there are a few things. I always wanted to play in the NHL and it happened. To be able to play my whole career with one team, to have a bond with our fans and play in a city that truly feels like home, I feel very fortunate."