Off To Summer Camp
Karl Alzner is ditching the tents & bonfires for Hockey Canada's 2014 Olympic orientation camp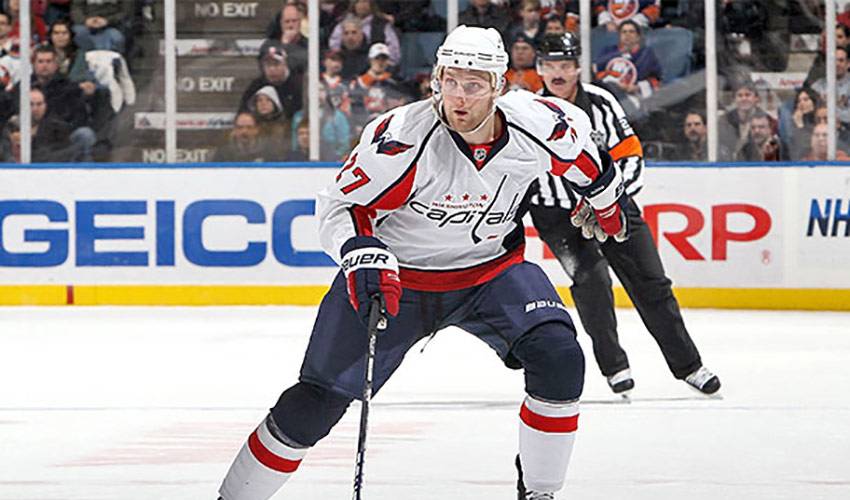 For a few hours that seemed much longer, a recent camp experience left Karl Alzner a little rattled. Another upcoming camp, however, has the talented young defenceman feeling quite the opposite.
A trip to the tiny town of Scotch Creek, British Columbia, was a largely uneventful one for Alzner and his friends. One night, however, the group had to face-off against less than ideal elements.
"It got pretty insane," recalled the Washington blueliner and B.C. native. "There was wind, rain and lightning. We managed to get through it."
Alzner's next camp outing will involve ice, but the 24-year-old isn't complaining. He's one of 47 players that have been invited to participate in Hockey Canada's Olympic orientation camp, set for August 25-27 in Calgary.
Has it sunk in yet?
"I think so," admitted Alzner, who won gold with Canada at the 2007 and 2008 World Junior Championships. "It's pretty awesome. It was never expected, but it's a huge pat on the back."
And, perhaps most importantly, it's a huge confidence boost.
"Definitely," said the fifth overall pick in 2007. "It gives you tons of confidence. Who knows what will come out of it? I'm just feeling excited about the chance to be alongside some of the greatest players in the game."
Aside from a shot at skating in the 2014 Sochi Olympics, Alzner also sees it as a chance to gear up for the upcoming NHL season, one that he hopes yields a serious Stanley Cup run.
Last year, the Capitals endured a bizarre campaign, one that didn't appear early on to suggest a post-season berth. After picking up momentum in the middle and late stages of the 48-game schedule, Washington solidified themselves as a prime contender for all the spoils.
The New York Rangers had other plans, taking out the Southeast Division champs in seven games in round one of the Eastern Conference finals.
"Through it all, there were definitely some positives," offered Alzner. "We stuck with a new system and we showed signs of coming together. 'Ovi' (star forward Alexander Ovechkin) was really great at the end. We thought we had a good chance when the playoffs started. But we've struggled with New York and lost. We've got the players. We have to find a way."
Does Alzner view it as unfinished business?
"I think it's been unfinished business for us for three or four years," he said with a laugh. "Our coaches have every confidence in us and they are okay with us making mistakes. They just want us to be confident in what we do."
Playing with someone of Mike Green's caliber certainly doesn't lower his comfort level.
"He just sees everything so well," said Alzner of his fellow defenceman. "You can learn a lot from him. I think the key is to always work at making something happen, to know that you can do your part in creating something that will contribute to a win."
Which is why Karl Alzner has every right to be one happy camper these days.