Leader of the Pack
Sam Gagner enjoys the responsibility of moving into a role of leadership with the young, dynamic Oilers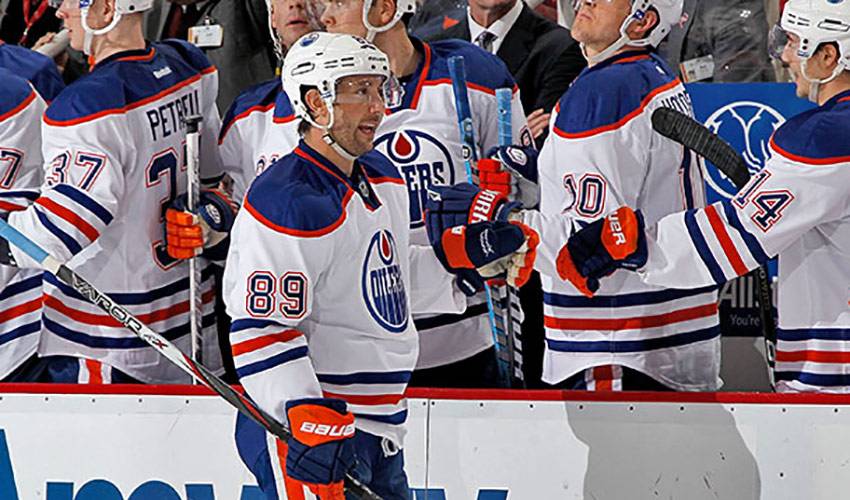 Of all the significant contributions Sam Gagner makes to the Edmonton Oilers, the most meaningful one won't be found on the scoresheet.
His playmaking skills are undeniable. Need a timely goal? He can do that, too. Over his 414-game NHL career, Gagner, who hails from London, Ontario, has proven to be a quality offensive performer.
But, on a team loaded with young and promising talent, it's Gagner's emergence as a leader that makes him one of the most respected and important players on the Western Conference club.
"To be in that role, it's a lot of responsibility, but it's something you enjoy and take seriously," said Gagner, who has played his entire big-league career with the Oilers. "I think one of the keys of good leadership is being a professional on and off the ice, to carry yourself in a way that shows you are committed to doing the right things."
Gagner, who had 49 points in 79 games in his NHL rookie season of 2007-08, points to a former Edmonton captain as the ideal role model when it comes to leadership.
"I look to Shawn Horcoff as someone who I was fortunate enough to play with and learn about what it takes to be a respected leader," offered Gagner, of the veteran who was traded to the Dallas Stars this off-season. "Every day, you saw his professionalism. He carried himself in a manner that everyone looked up to. He showed what it meant to work even in the hardest of times, to never take your foot off the gas regardless of the situation."
With Horcoff's departure, Gagner doesn't need to be reminded of just how impactful he can be, especially in light of Edmonton's recent playoff struggles.
The Oilers, who were expected to be in the Western Conference's top eight in 2012-13, failed to qualify for a post-season berth, the seventh straight campaign they were on the outside looking in.
Enough is enough, admitted Gagner.
"I think we're all fed up with the way things gave gone," said the player who shares the record of most points in one game (eight) by an Oiler with Wayne Gretzky and Jari Kurri. "It eats at you. You need to have that fire when you come to training camp. We know what we can do."
Gagner spent a majority of the summer in Muskoka (north of Toronto), reconnecting with family and friends, while also training for the start of the new campaign.
Now, he's eager to get back out on the ice with the goal of a playoff spot front and centre in his mind.
"You imagine what it would be like to deliver a Cup to our fans," said the 24-year-old. "They've been very supportive of us, selling out games. They could have turned on us, but they haven't. We all appreciate that."
It didn't Gagner long to meet one of the team's fans upon his arrival to Edmonton last Thursday.
"The taxi driver," laughed Gagner. "As soon as I got in the cab from the airport, he recognized me. But that shows how lucky we are to play here. The support we get is fantastic."