HOCKEY FIGHTS CANCER™ CELEBRATES 15th ANNIVERSARY WITH AWARENESS MONTH IN OCTOBER
Donations by NHL and NHLPA's Joint Initiative Poised to Reach $13 Million by Oct. 31; St. Louis Blues Host Chicago Blackhawks And Season's First Hockey Fights Cancer Awareness Night Oct. 9; NBCSN's Wednesday Night Rivalry (8 p.m. ET) To Spotlight Initiative in Game Broadcast; Online Charity Auction to Feature Game-Used Player Sticks; EA SPORTS to Feature Hockey Fights Cancer in NHL 14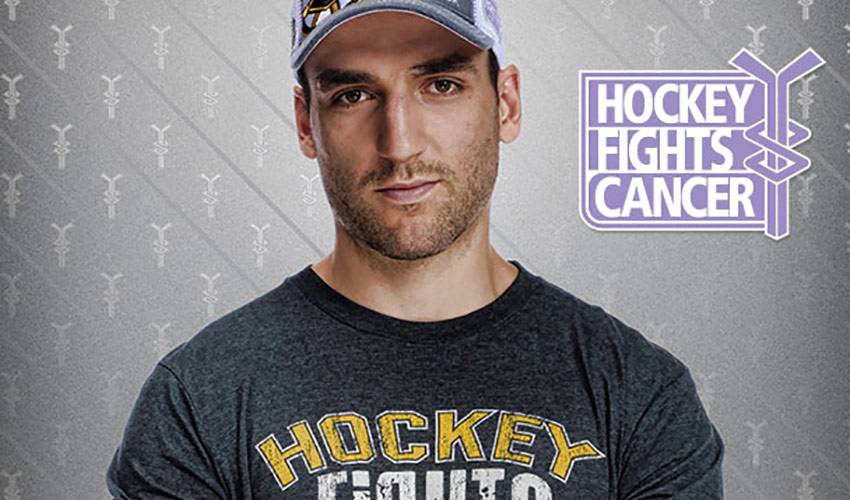 FOR IMMEDIATE RELEASE OCTOBER 9, 2013
HOCKEY FIGHTS CANCER™ CELEBRATES 15th ANNIVERSARY WITH AWARENESS MONTH IN OCTOBER
Donations by NHL and NHLPA's Joint Initiative Poised to Reach $13 Million by Oct. 31
St. Louis Blues Host Chicago Blackhawks And Season's First Hockey Fights Cancer Awareness Night Oct. 9; NBCSN's Wednesday Night Rivalry (8 p.m. ET) To Spotlight Initiative in Game Broadcast
Online Charity Auction to Feature Game-Used Player Sticks
EA SPORTS to Feature Hockey Fights Cancer in NHL 14
NEW YORK / TORONTO (Oct. 9, 2013) – The 2013-14 season marks the 15th anniversary of Hockey Fights Cancer™, the National Hockey League (NHL) and the National Hockey League Players' Association (NHLPA) joint charitable initiative dedicated to raising awareness for national and local organizations involved in cancer care and research. This month, the NHLPA and the NHL will mark this milestone with the annual Hockey Fights Cancer Awareness Month campaign. Over the course of 31 days this month, the NHL and NHLPA will distribute more than $200,000 in grants to national and local cancer organizations in all 30 NHL® markets, bringing the total amount Hockey Fights Cancer has donated to this important cause to approximately $13 million since its inception in 1998.
This year's efforts will include successful staples like Hockey Fights Cancer Awareness Nights in all 30 NHL markets and commemorative merchandise as well as new initiatives from NHL players and EA SPORTS. Tonight's edition of Wednesday Night Rivalry on NBCSN at 8 p.m. ET will feature the season's first Hockey Fights Cancer Awareness Night when the St. Louis Blues host the Chicago Blackhawks at Scottrade Center. The game broadcast will showcase the Blues' in-market Hockey Fights Cancer activities and NBCSN talent will be featured in items from the Hockey Fights Cancer collection.
"Fifteen years ago, the hockey community united to create Hockey Fights Cancer," said Kenneth Martin Jr., NHL Vice President of Cause Marketing. "Our commitment to this cause is unwavering and is most evident every October when we celebrate the start of a new season with a spotlight on Hockey Fights Cancer. The NHL is honored to continue our work with the NHLPA and the entire hockey community."
"Hockey Fights Cancer represents a very important cause that the Players are proud to continue being a part of, together with the NHL, the teams, the fans and the entire hockey community, for the past 15 years" said Devin Smith, NHLPA Director of Marketing & Community Relations. "The NHLPA is excited about the fundraising efforts surrounding this year's Hockey Fights Cancer Awareness Month, as we surpass $13 Million raised in the fight against cancer."
Partnership with Five Cancer Organizations
Hockey Fights Cancer partners with five cancer organizations to help fund and raise awareness about new and existing cancer-fighting programs. Hockey Fights Cancer will donate to The Leukemia & Lymphoma Society to fund an LLS portfolio of pediatric and young adult blood cancer research grants. A grant to Prostate Cancer Canada will be used to help fund its Graduate Studentship in Prostate Cancer Research Program, which provides financial support for junior prostate cancer researchers. ZERO – The End of Prostate Cancer will use its Hockey Fights Cancer donation to provide free mobile testing in select markets. Movember has earmarked its Hockey Fights Cancer grant to fund its men's health initiatives, specifically in the areas of prostate and testicular cancer and mental health. Pancreatic Cancer Action Network will allocate its donation to its Community for Progress program for one of its 2013 pancreatic cancer research grantees. In addition, Hockey Fights Cancer will distribute $5,000 to each NHL Club to support local cancer organizations in their respective markets.
Hockey Fights Cancer Awareness Nights
All 30 NHL clubs will once again enlist its players, management and fans to join the fight. Each NHL Club will designate one home game as its Hockey Fights Cancer Awareness Night and feature a wide range of selected events and activities which, in the past, have included on-ice presentations, 50/50 raffles, promotional giveaways, contests, discount ticket offers and ticket donations to local children's hospitals and cancer-affiliated programs. Young cancer patients from NHL Club communities will have a chance to be involved with in-game opportunities, including rides on the ice resurfacer, puck-drops and player meet-and-greets. NHL clubs will hold online, live and silent auctions of signed items and continue to promote awareness by participating in local hospital visits and fundraising runs and walks.
NHL Players
NHL players will once again take their support to the ice. In addition to wearing the Hockey Fights Cancer decals on the back of their helmets, players will have the opportunity to use lavender tape on game sticks during their NHL Club's Hockey Fights Cancer Awareness Night. Lavender, which represents awareness for all forms of cancer, returns as the designated color for this year's initiative and following each Hockey Fights Cancer Awareness Night game, sticks from select players will be available for auction on Auctions.NHL.com.
Commemorative Merchandise
The Hockey Fights Cancer tie, the signature item in the line of commemorative merchandise for this worthy cause, will once again be worn by the hockey community throughout October. The lavender tie, manufactured by Vineyard Vines, is custom woven, 100% silk with a hockey stick pattern throughout. NHL coaches, broadcasters and team personnel will wear the commemorative tie during their NHL Club's Hockey Fights Cancer Awareness Night games in October.
The full array of NHL-licensed commemorative and one-of-a-kind Hockey Fights Cancer items available for purchase include men's caps by Reebok; ladies' caps by New Era; skinny ties made by Sportin' Styles; men's, ladies' and kids' tees by Old Time Sports; and a ladies' charm bracelet by LogoArt. The commemorative products will be available at Shop.NHL.com, select NHL Club stores and the NHL Powered by Reebok Store in New York City. For more information, visit hockeyfightscancer.com.
EA SPORTS
EA SPORTS is proud to partner with the NHL and the NHLPA to drive awareness for the Hockey Fights Cancer initiative. Hockey Fights Cancer will be featured in NHL 14 throughout the month of October, and will be prominently integrated into the game's Hockey Ultimate Team game mode. Players in NHL 14 will be able to collect rare Hockey Fights Cancer player items to help boost their Hockey Ultimate Team and participate in exclusive Hockey Fights Cancer tournaments. In addition, EA SPORTS will donate $10,000 to Hockey Fights Cancer.
NHL.com, NHL Network and NHL Social Media
NHL.com will deliver original content, including profiles on team and player Hockey Fights Cancer initiatives, created by a team of reporters, writers and videographers. NHL Network™ will feature interviews with Hockey Fights Cancer supporters within the hockey community. NHL Social™ will encourage fans to join the conversation across social media platforms, including Twitter (@NHL) with the official hashtag #hockeyfightscancer; Facebook (facebook.com/NHL); Instagram (instagram.com/NHL); Pinterest (pinterest.com/NHL); and Google+ (google.com/+NHL).
Below is a schedule of Hockey Fights Cancer Awareness Nights:
October 9
Chicago @ ST. LOUIS
October 11
New Jersey @ CALGARY
October 12
Ottawa @ SAN JOSE
October 15
Vancouver @ PHILADELPHIA
Dallas @ COLORADO
Chicago @ CAROLINA
October 17
Minnesota @ TAMPA BAY
October 19
Toronto @ CHICAGO
Columbus @ WASHINGTON
Detroit @ PHOENIX
October 20
Dallas @ ANAHEIM
October 22
Washington @ WINNIPEG
Nashville @ MINNESOTA
October 24
Phoenix @ LOS ANGELES
San Jose @ BOSTON
Vancouver @ NEW JERSEY
Calgary @ DALLAS
Washington @ EDMONTON
October 25
Buffalo @ FLORIDA
Toronto @ COLUMBUS
October 26
NY Rangers @ DETROIT
Philadelphia @ NY ISLANDERS
Pittsburgh @ TORONTO
St. Louis @ NASHVILLE
San Jose @ MONTREAL
October 27
San Jose @ OTTAWA
October 28
Washington @ VANCOUVER
Dallas @ BUFFALO
October 30
Boston @ PITTSBURGH
November 4
Anaheim @ NY RANGERS
# # # (10/9/13)
National Hockey League Players' Association, NHLPA and the NHLPA Logo are registered trademarks of the NHLPA. All Rights Reserved. NHL and the NHL Shield are registered trademarks and Hockey Fights Cancer name and logo, NHL Network and NHL Social are trademarks of the National Hockey League.
© NHL 2013. All Rights Reserved.