Biron Calls It A Career
Always a popular personality around the league, Martin Biron is moving on from the NHL after 16 seasons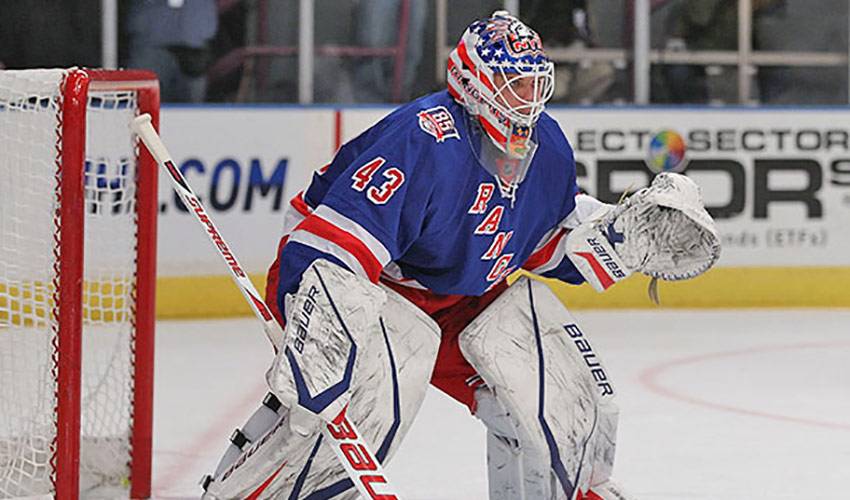 After 16 NHL seasons, goaltender Martin Biron, a popular personality with both his teammates and peers, announced his retirement on Sunday.
A native of Lac-Saint-Charles, Quebec, the 36-year-old Biron appeared in 508 regular season games with five different NHL teams, notching 230 wins along the way, including 28 shutouts. In 23 playoff contests, he won 11 times with two shutouts.
Selected 16th overall by Buffalo in the 1995 NHL Entry Draft, Biron would go on to suit up with the Sabres, Philadelphia Flyers, New York Islanders and New York Rangers.
Prior to his lengthy NHL tenure, Biron played three seasons in the Quebec Major Junior Hockey (QMJHL) from 1994 to 1997. In 1995, he was a member of the QMJHL All-Rookie Team and Canadian Major Junior First All-Star Team while earning honours as Canadian Major Junior Goaltender of the Year.
He took to Twitter to share news of his retirement.
After thinking about it it with my family, I've decided to retire as a player and move on to a new chapter. Thank you all for your support.

— Martin Biron (@martybiron43) October 20, 2013
I wanna thank players, coaches, reporters, friends and mostly all the fans for their great support by emails, text and tweets today. MERCI!!

— Martin Biron (@martybiron43) October 20, 2013
"There are so many people to thank," said Biron. "Even now, in the days after I retired, I'm still trying to sort through all the texts, emails and tweets. I'm trying my best to respond. I really want to be able to tell everyone thank you, personally."
His announcement prompted widespread positive reaction from several players, including former and current teammates.
"It's been amazing, really," offered Biron. "I feel very lucky to have the guys I played with and against wish me well."
Of all those he was tasked with stopping, Biron selected a veteran forward as his toughest opponent.
"I would have to say there was one guy, thankfully he played in the West, so I didn't have to see him a lot, that was a real challenge," noted Biron. "It would be Ryan Smyth and I know he'll take what I'll say as a compliment. He was a pain in the butt because he was always in your face when he was in front of the net. I got to play with him for Team Canada and I told him that. It was great to finally play with him."
A fan favourite in Buffalo, Biron was dealt to Philadelphia in February of 2007. Two and a half years later, he signed as a free agent with the Islanders. After one season on Long Island, he inked a two-year contract in New York with the Rangers, the last stop on his NHL career.
"I think if I could narrow it down to one thing that I am most proud of it's that I was able to play different roles over the years," said Biron. "At first, I was a young guy breaking into the league, hoping to have an NHL career. I was able to do that. Then, I wanted to work towards getting the No. 1 role. I was able to do that, too. I also wanted to go deep in the playoffs and that happened. The most important thing was I wanted to be a good teammate."
As for his post-NHL life, don't expect to see him as a fashion consultant for a former teammate and one of sport's most stylish athletes.
"I don't think Hank needs any fashion advice from me," said Biron, of Henrik Lundqvist, his Rangers goaltending partner. "But, a couple of weeks ago, I went shopping with him in Los Angeles when we were there playing and I managed to get him some pretty sweet discounts. He'll be fine. He's a great guy."
Which is precisely how the hockey world happens to view Martin Biron.
For more on Martin Biron's career on and off the ice, check out these videos.