Murphy Looking Over His Shoulder
With all four coaches having played 1,000+ NHL games, rookie Ryan Murphy is quickly learning the NHL game in Carolina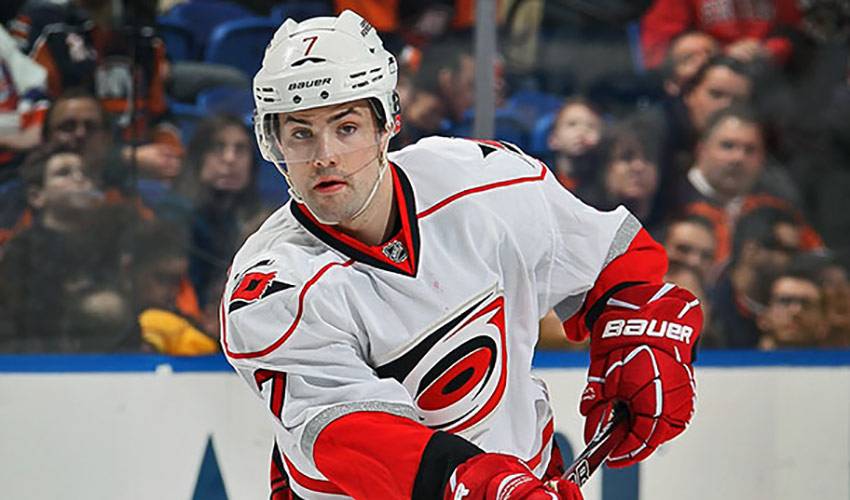 Motivation for a long and prosperous NHL career isn't hard to come by for Ryan Murphy. In fact, all he has to do is look over his shoulder. Literally.
He's yet to play 20 big-league games, but four of his coaches each have the distinction of skating in over 1,000 NHL contests. For a rookie blueliner, it certainly provides plenty of inspiration.
"I actually did know they all played in over 1,000 games," said Murphy, of Carolina head coach Kirk Muller (1,349) and assistants, Rod Brind'Amour (1,484), John MacLean (1,194) and Dave Lewis (1,008). "I think for any young player, to be in the position to have that much experience around you, is extremely fortunate."
Of the coaching quartet, only Lewis was a defenceman.
Murphy has already gained valuable insight from the former Detroit Red Wings bench boss.
"The main message he has given me is to keep things simple, to not overthink my game," he noted.
While he's been the beneficiary of useful advice from both the 'Canes coaching staff and veteran players, Murphy, who recorded his first NHL goal on October 17 (against Toronto), has managed to succeed at maintaining his top priority in 2013-14.
Tasked with neutralizing the game's most prolific offensive talents, the 20-year-old continues to work hard to keep pace with his opponents.
"I suppose if you could boil it down to one thing I try to do every time I'm out there, it's a mindset of 'Don't let them get by me,'" Murphy said with a chuckle. "When you are on the ice against a guy like Sidney Crosby, Alexander Ovechkin, or John Tavares, you know what you have to do. It's not an easy challenge, but's it's one you get up for and one you welcome."
It also prompts the12th overall selection in the 2011 NHL Entry Draft, recall one particular conversation with Lewis.
"He told me that once I make a rush to get back into the defensive mode as soon as possible," recalled Murphy. "And that's great advice. You never want to get caught out of position. Just like anything, you learn more about the game at this level and about yourself every day."
It also hasn't hurt Murphy's transition to NHL life in having a new teammate happening to be one of his old ones.
Murphy skated alongside Carolina forward Jeff Skinner for one season (2009-10) when they played their junior hockey with the Kitchener Rangers of the Ontario Hockey League.
"Jeff's been great to me," said the native of Aurora, Ontario. "It's nice to have a familiar face in the room."
And just one more reason why life couldn't be finer in Carolina for Ryan Murphy.