Trading Places
Following the Matt Moulson & Thomas Vanek trade teammates on both sides give some insight into the impact on both teams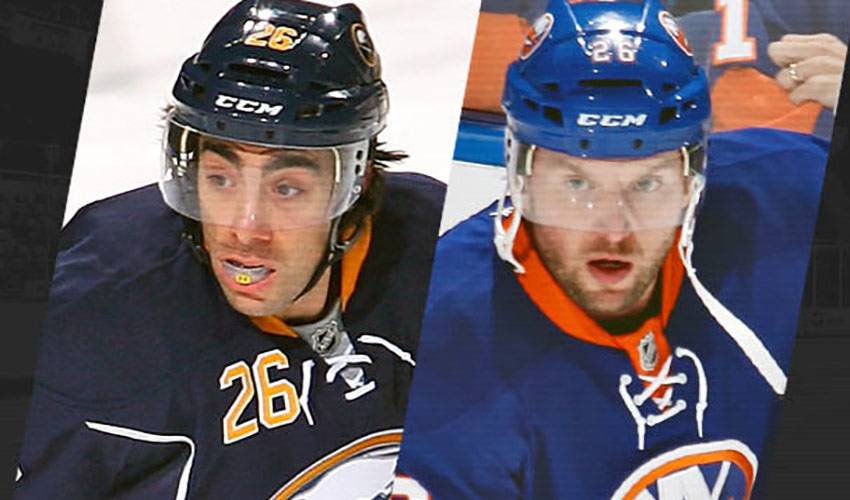 When two of hockey's top offensive performers, namely, Thomas Vanek and Matt Moulson, recently traded places, it brought about conflicting emotions for their new teammates.
With 380 career goals combined and the ability to change the face of a game with one flick of their sticks, Vanek, now a member of the New York Islanders, and Moulson, now with the Buffalo Sabres, were highly respected in their respective dressing rooms.
Thank you Buffalo! I really enjoyed my time here, my wife and I got to raise our family in a great community.. Excited to join @NYIslanders

— Thomas Vanek (@T_Vanek26) October 28, 2013
Would like to thank all the great people and fans I was able to meet in NY..I will miss you all..this is the beginning of a new chapter

— Matt Moulson (@MMoulson) October 28, 2013
"In one way, it's tough to say goodbye to a guy who is a great friend, great teammate and a fantastic player," said Islanders forward Josh Bailey, in regard to fellow forward Moulson, who was dealt to the Sabres for Vanek and a 2014 first-round draft pick and 2015 second-round draft pick, on October 27. "Everyone here will miss him. On the flipside, you gain a great player who can help our team a lot."
What's the best thing about having a four-time 30-goal scorer in the fold?
"We don't have to play against him anymore," said Bailey with a laugh. "Thomas is one of the best natural goal scorers in the game. When I think about the times we had to face him, the one key was to not give him any time at all. All he needs is a split-second when he gets the puck and it can end up in the net. You know you'll pay for it."
Bailey is hoping Vanek, who played 598 NHL games with the Sabres prior to the trade, can bring his offensive savvy to Long Island, as New York looks to return to the playoffs after grabbing the eighth seed in the Eastern Conference last season.
"Last year was a step in the right direction for us," offered Bailey. "The key then is to build on that and move forward this year. I do thing we learned a lot, even though we were out after the first round (Pittsburgh took the quarter-final 4-2). We have to find our way back. You realize very early on how much harder it is to achieve that.
"We all know what Thomas is capable of doing," continued Bailey. "We have a good group here. A lot of us have grown up here together and been through the tough times and the good. Like I said before, I think we have someone who can help our team a lot."
Moulson wasted little time in making a good impression on his new Buffalo teammates in his Sabres debut on Monday night. The 29-year-old, who has reached the 30-goal mark on three occasions, tallied twice in a 4-3 loss to the Dallas Stars.
Goaltender Jhonas Enroth, who led Team Sweden to gold at the 2013 World Championships, had no shortage of superlatives for Moulson's performance.
"You knew he was a great goal scorer, but that was amazing," Enroth told NHLPA.com the day after. "You're really happy for him to do that in his first game. Before the game, he had a big smile on his face. Then he went out there and was awesome.
"It's always tough to lose a teammate, but I really think it's a fair trade for both teams," offered Enroth. "We've had a tough season, but the guys here have a lot of heart. You can tell Matt really wants to do what he can to help us turn things around."
That was evident in practice on Tuesday morning.
"I knew he could score, but he is so tough to handle when he's in front of the net," noted Enroth. "He's great when it comes to tipping in the puck. His hand-eye co-ordination is amazing."
Centreman Cody Hodgson is equally complimentary of Moulson.
"He's a great guy, that's easy to tell from the first time you meet him," praised Hodgson, who centred a line with Moulson and Tyler Ennis on the wings. "We didn't get the win, but hopefully, we continue to gel as a line and go forward from that first game together."
The Isles and Sabres meet on March 15 in Long Island and April 13 in Buffalo.
You can read more about Bailey, Enroth and Hodgson in upcoming NHLPA.com features.