It's Movember!
It's that time of year again, when moustaches are grown, awareness is spread, and money is raised to benefit men's health initiatives. It's Movember.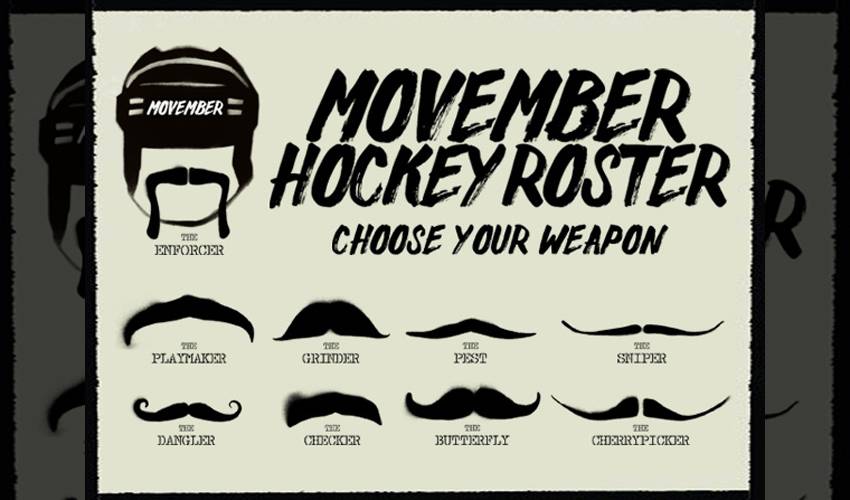 For the month of November, NHL players will be ditching their razors for Movember. Participating players will be shaving off their iconic contributions to the facial hair community at the beginning of the month and will grow their 'staches for a full 30 days. You can take part with your favourite players by joining their respective teams and growing a moustache of your own, wearing a fake moustache (ahem, ladies) or donating to the cause.
If you're not familiar with Movember, it's an annual global campaign that raises money and awareness for men's health (specifically prostate cancer and male mental health). Though rarely discussed, 1 in 7 men are diagnosed with prostate cancer, and 1 in 5 men face a mental health issue each year. Movember aims to raise vital funds that go to supporting several initiatives that benefit these causes.
The players are known to get competitive with the month-long event, so be sure to extend your support to the player you think is growing the best 'mo. You can find all participating players over at the Movember NHL/NHLPA network page. We're barely a week into the month and the Boston Bruins have already set the bar high with over $13,620 raised!
The players are actively sharing their journeys throughout Movember on social media. Here's a look at the action so far:
It's almost that time of the year again folks #movember http://t.co/ebNzsWW5pw

— James van Riemsdyk (@JVReemer21) October 31, 2013
It's that time of year again, please donate and help support and raise awareness for a good cause! http://t.co/wlAQcgbOMd #Movember

— Cam Talbot (@ctalbot33) November 4, 2013
Get on my team and check this link out. http://t.co/un2R3SP3Hs Let me see your muzzy! #movember pic.twitter.com/eDosI8PxRF

— Nathan Thompson (@NateThompson44) November 4, 2013
Movember is here! Anyone interested in helping out and donating money here's the link to do it https://t.co/yaV9HOeom0

— Brendan Gallagher (@BGALLY17) November 4, 2013
It's Movember!!! Time for gr8 mustache ))))) Hahaha.. join me and @Gillette http://t.co/Q5hDIYJzmB

— Alex Ovechkin (@ovi8) November 4, 2013
Happy Movember!!! Now what kind of stache should I grow? #Movember

— Hal Gill (@Skillsy75) November 3, 2013
Supporting movember and growing my peach fuzz. Please donate!! http://t.co/FjaXBU0dIJ #Movember

— Carl Hagelin (@CarlHagelin) November 3, 2013
http://t.co/l1P0bgpqef this is my movember site. Please donate and help raise awareness for a good cause.

— Mats Zuccarello (@zuccarello36) November 3, 2013
That time of year folks ... Looking to have a decent ( or noticeable ) lip sweater this year. Help me out!! http://t.co/5ltDO8sDo7 #Movember

— Matt Beleskey (@Matt_Beleskey) November 2, 2013
The only month of the year where I'll stoop to taking selfies. Happy Movember everyone. Visit http://t.co/BV98uLxeMA to donate. #MensHealth

— Sam Gagner (@89SGagner) November 1, 2013
You kept your word @NHL I kept mine happy growing everyone! https://t.co/aPbnjVglSC pic.twitter.com/xB0RkBGuoA

— George Parros (@GeorgeParros) November 1, 2013
Finally, #Movember is almost here! I will donate 150 dollars for every point I score and for every win the team gets in #Movember!

— Mikael Backlund (@mbacklund11) October 31, 2013
Hope you guys help me raise awareness and some cash again for this years Movember #letsgetitstarted http://t.co/D4VHJNkvyv

— Michael Grabner (@grabs40) October 31, 2013