Let's Go Buffalo!
Enroth and the Sabres have not had the start they wanted but the commitment to getting on-track remains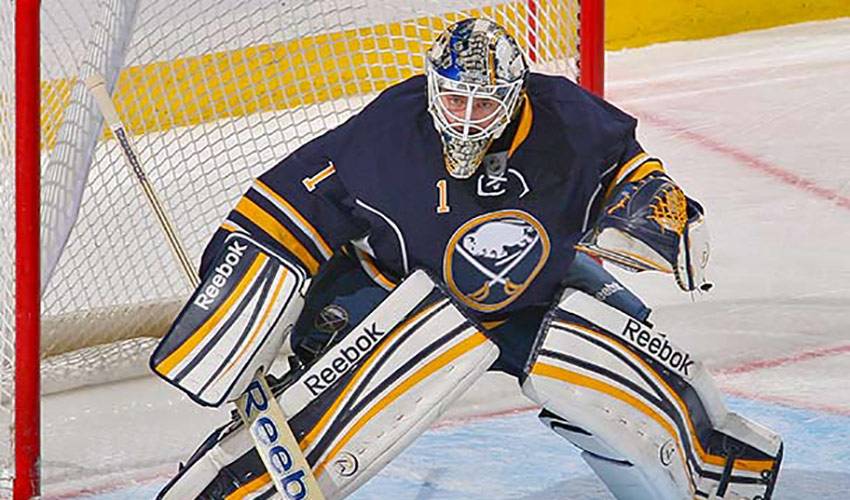 Three wins after the first 17 games of the 2013-14 NHL regular season is hardly reason for optimism, but it hasn't prompted Buffalo Sabres goaltender Jhonas Enroth to give up hope.
Battling to find their form so far this season, there has been little to cheer about if you happen to be a Sabres player or supporter of the Atlantic Division club.
But for all the tough losses and hard times ahead in working themselves back into the playoff picture, no one on the team is waving a white flag.
"It's definitely not how we expected things to go," said the 25-year-old Swede. "It's been extremely frustrating at times, but everyone on this team isn't giving up. There is a lot of heart in this room. We all want to get this turned around."
Maintaining a short-term focus, Enroth admits, is a necessity.
"There are 82 games and for us, we can't start thinking about two weeks from now or beyond," said the 46th overall draft pick in 2006. "That wouldn't help us at all. It has to be looking at each game, focusing on what we can do to win, and then going from there."
While the recent trade of offensive star Thomas Vanek to the New York Islanders in exchange for an equally proficient point producer in Matt Moulson shook up both sides, Enroth believes the swap can provide a boost for the Sabres.
"It's never easy to say goodbye to someone you know well and who is a very gifted player, but we're very lucky to have someone like Matt, who obviously had a huge first game (he scored twice in his Buffalo debut), and really wants to help turn things around."
While one glance at the standings suggests a daunting task for the Sabres, Enroth, who was spectacular in leading Sweden to victory at the 2013 World Hockey Championships this spring, doesn't waver when it comes to his belief in his teammates.
"You can see the commitment to want to get things back on track every time you come to practice," he offered. "You see everyone working hard to find a way to get things to where we want them to be."
Enroth, along with Ryan Miller, have been solid between the pipes.
The latter faced 51 shots, turning 47 of them aside, in a 5-4 road shootout triumph over the San Jose Sharks on November 5.
"We have two great goalies," praised forward Cody Hodgson, who netted the game-winner against the Sharks. "We're very fortunate to have them. They give you reason to believe you can win any game."
And believing is what Enroth is all about.
"Everyone here, they care about winning and wanting success," said Enroth. "All that we can do is take each game as it comes and do everything in our power to get that win."