Hodgson Not A Rattled Sabre
Cody Hodgson is staying positive in Buffalo through what has been a difficult season to date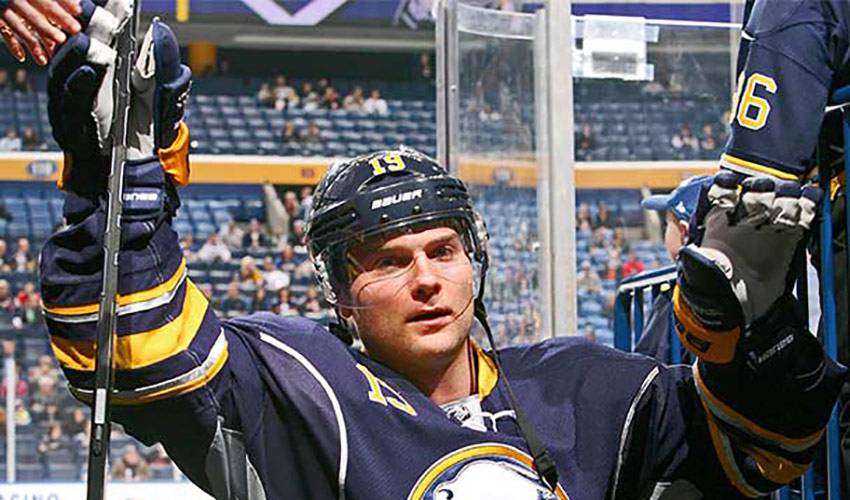 In a season of struggle and change in Buffalo, forward Cody Hodgson is playing some of the best hockey of his career.
It has been a difficult start so far in 2013-14 for the Sabres, with the team sporting a 4-15-1 record, placing them last in the league with just nine points.
A few days ago, hiring's and firings saw Ted Nolan in as interim head coach and former Sabre star and Hall of Fame inductee Pat LaFontaine taking over the reins as president of hockey operations.
Throughout all the turmoil, tough times and trades (Thomas Vanek was dealt to the New York Islanders for Matt Moulson last month), there have been some positives, including the efforts of Hodgson.
Just don't tell him that.
"It's really hard to think about things in individual terms when you're trying to turn things around as a team," said the 23-year-old forward. "If I'm playing well and it leads to wins, that's what I'm looking for. That's what everyone is focusing on."
After Vanek, a four-time 30-goal scorer, was traded to the Isles, Hodgson stepped up his game, recording eight points in seven games since the deal.
He's also had great chemistry with Moulson. In a recent 3-2 home shootout win over the Los Angeles Kings, Hodgson scored twice, with Moulson assisting on both, a game that represented the first home win on the campaign for the Sabres.
Hodgson has no shortage of superlatives for his new teammate.
"Matt's an exceptional player and I thought things went really well right from the start," said Hodgson, of the three-time 30-goal scorer who had two tallies in his Sabres debut on October 28. "When you are able to click like that early on, it gives you a lot of reason to be optimistic going forward. Hopefully, it's able to continue."
Hodgson, the Canadian Hockey League Player of the Year in 2009, has carried over his strong form from 2012-13 into this year.
Last season, he had 15 goals and 34 points in 48 games with Buffalo. Hodgson has five points in his past five games and is on pace for 29 goals and 62 points in 2013-14.
As for what's at the core of Hodgson 's emergence as a legitimate offensive star, the Toronto native chalks it up to confidence.
"When you feel comfortable and don't overthink things, it really makes a difference in how you perform," said the centreman. "When you believe in yourself and you know your teammates do, it takes your confidence to another level."
And as his play suggests, a confident Cody Hodgson could be a win-win situation for the Buffalo Sabres.