Vrbata An Ace In Phoenix
After honing his tennis skills this past summer, Radim Vrbata has been a key element in the Coyotes climb up the standings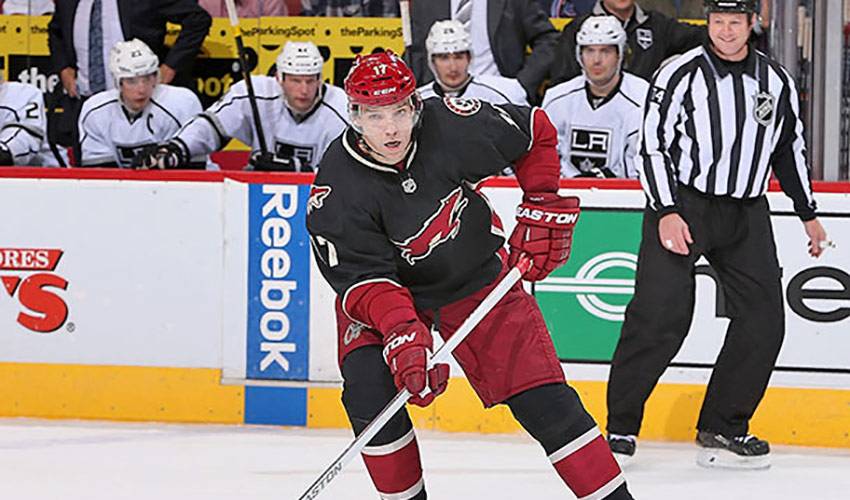 A majority of his year sees him playing in NHL arenas, but when the season is over, a field of dreams awaits Radim Vrbata back in the Czech Republic.
For nearly 750 NHL games, just over half of those coming with the Phoenix Coyotes, the 32-year-old Vrbata has felt right at home competing against the very best in the game.
Prior to the 2013-14 season, before he was garnering first star honours (something the forward did in a recent 5-2 home win over Tampa Bay) or playing a prominent role in the Coyotes' turnaround season, Vrbata could often be found enjoying the sporting life in his very own backyard.
"A few years ago, I built a tennis court in the yard," said the avid sportsman, who hails from Mlada Boleslav, a city 31 miles northeast of the Czech capital of Prague. "I love playing tennis, as a lot of Czech people do. So, I decided to do it."
But it's not all backhands, forehands and aces.
"What I really like about it is that you can do a little bit of everything," said the 212th overall selection of the Colorado Avalanche in 1999. "My son and I will play tennis, soccer and hockey. It's great to be able to walk a few steps and just have some fun."
While Vrbata appreciates the opportunity to spend time in his homeland, catching up with friends and family, it was somewhat bittersweet this off-season after the way the 2012-13 campaign ended.
"It was very disappointing," said Vrbata, of the year that saw Phoenix fail to make the playoffs. "Every one of us expected it to be different. With the season being shorter, it was a little weird. Unfortunately, we just didn't achieve what we wanted to."
For his part, Vrbata didn't let the frustrating campaign dampen his optimism for the upcoming year.
"When things don't go as you plan, it bothers you," said the forward, who played three seasons in the Quebec Major Junior Hockey League from 1998-2001. "But as you get older, you realize that less is more in your approach. You have to stay level headed. Before the season starts, I don't think about how many goals or points I'll have. Of course, you put pressure on yourself, but you need to manage it properly."
At the quarter juncture in 2013-14, things have gone well for both the Coyotes and Vrbata.
The Pacific Division club is one of four teams within two points of the Western Conference lead (three others are one point behind Chicago) and the right-winger has 17 points from 20 games played.
"So far, so good," offered Vrbata. "We rely on everyone and everyone has contributed. Smitty (goaltender Mike Smith) has been fantastic. Our defence and forwards, every guy is playing hard. Even when we have been down two or three goals, we are finding ways to come back. Every point, even if it's a shootout loss, can make a difference."
If everything works out as planned, Vrbata won't have to pack his bags for Mlada Boleslav at the end of this regular season.
And that suits him just fine.
But when he does get back, maybe he'll have a backyard tennis rematch against teammate and fellow countryman Martin Hanzal.
"He was over two summers ago and we played," said Vrbata.
As for who came out on top, it's best to read between the lines.
"I really can't tell you who won," he said with a laugh. "But I was pretty happy with the result."
Radim Vrbata hopes it's a familiar theme throughout 2013-14.
Photo credit: Getty Images Sport