All In The Family
Although in different sports, Seth Jones frequently leans on his dad Popeye for advice on being a pro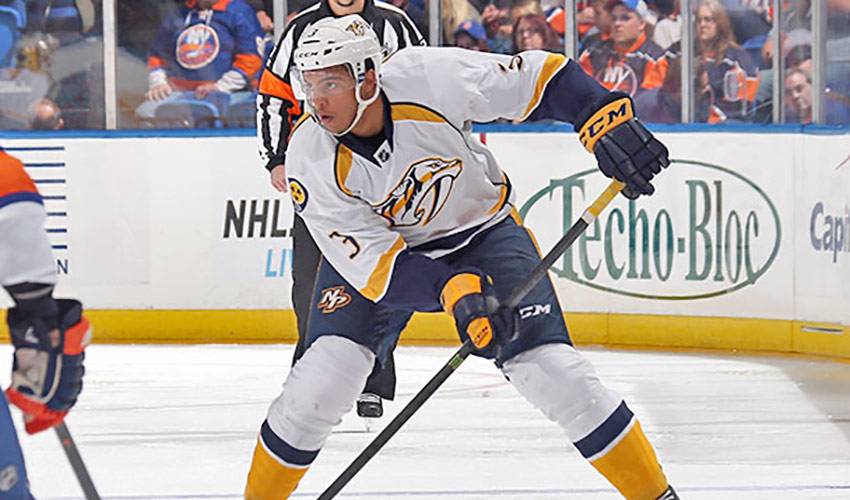 Seth Jones might be making his mark on a different playing surface than his father did, but it's no stretch to say he's a slam dunk for stardom.
When it comes to career assists, former NBA power forward Ronald Jerome "Popeye" Jones leads his son, current NHL defenceman, Seth Jones, by a vast margin, 696-12, to be exact.
It might be a stretch to suggest the 19-year-old will match or best that stat. What is clear, however, is that Seth, in his first year with the Nashville Predators, has all the tools to enjoy a long and prosperous NHL tenure.
"He gives me advice all the time," said Seth, the fourth overall selection of the Preds in 2013. "It's always good advice, and it's always just little stuff. It doesn't have to be something big. It's just something little that he throws out there every once in a while about being a pro."
The imposing blueliner - he stands 6'4" and weighs in at 205 pounds – has obviously heeded his father's words.
Just over 40 games into his NHL life, Seth has been a workhorse on the Nashville defensive corps. As of January 6, he's averaging 20:59 minutes of ice time per game. His season-high mark is 30:46.
While some young athletes take time to show their true potential, Seth, who has three gold medals as a member of Team USA, is already turning heads.
Confident with the puck, last year's Western Hockey League top rookie has shown plenty of poise in year No. 1 of his NHL life.
"I think I can be a solid defenceman, produce a little bit offensively, as well," offered Seth, who was born in Texas. "I know people say it takes time for defencemen to really grow in this league, a couple years at least, so hopefully I can prove that theory wrong."
Early indications are that he already has.
How does he think others view his game?
"Solid game, solid defensively, and I'm able to transition the puck to the forwards quickly, as well as jump in the play and maybe create some offence."
With the NHL and NBA seasons in full swing, father and son are focused on their respective teams (Popeye is an assistant coach with the Eastern Conference-leading Indiana Pacers), but the two always find time to connect.
And when they do talk, both can share stories of sporting success, one's career still rolling along after transitioning from player to coach, the other's full of promise as he continues to turn heads in the hockey world.
"A lot of people have probably heard the story," noted Seth. "I lived in Colorado and saw the Stanley Cup in 2001 when I was there. I knew I wanted to be a hockey player from there when I saw (Peter) Forsberg, (Ray) Bourque, guys like that lift it.
"I've always played D," he continued. "I don't know why. I liked it a little better than forward. I think you can see and read the play a little bit more. It's not always go, go, go, kind of like a forward. But I kind of like seeing the play develop in a defence sense."
And plenty of others, including a proud father, enjoy watching him thrive at his craft.