Wade Redden Retires From NHL After 14 Seasons
Veteran of 1,023 games played with the Ottawa Senators, New York Rangers, St. Louis Blues & Boston Bruins, as well as making his mark internationally with Canada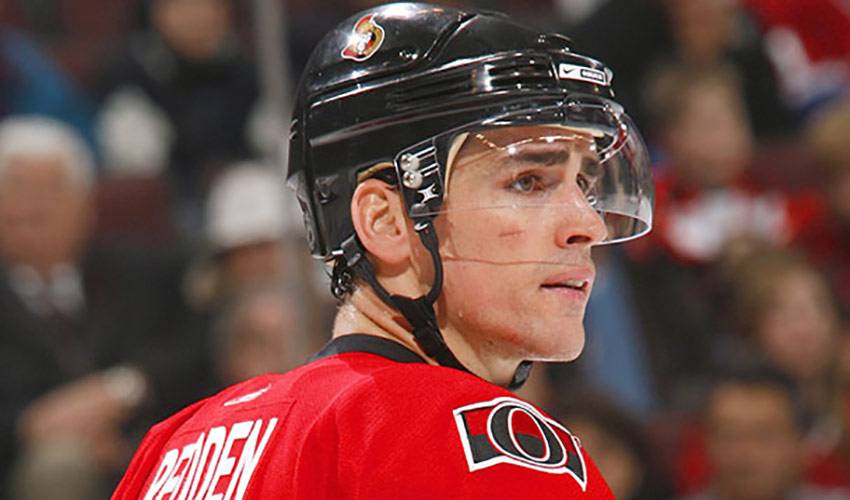 TORONTO (January 9, 2013) – After playing 14 seasons in the National Hockey League (NHL), Wade Redden announced his retirement today.
Redden played a total of 1,023 games with four different NHL teams: the Ottawa Senators, New York Rangers, St. Louis Blues and Boston Bruins. He amassed career totals of 109 goals, 348 assists and 457 points in the regular season, while appearing in 106 career playoff games, recording 49 points. Redden had a career plus-minus of +160 and he played in one All-Star Game (2002).
"I would first and foremost like to thank my family and friends for their unconditional love and support. I would also like to thank my teammates, coaches and staff for all the great memories created throughout the years. To the fans, I appreciate all your support throughout my career," said Redden. "Playing in the National Hockey League has been a dream come true and I feel very proud and privileged to have played more than 1,000 games in 14 NHL seasons."
Throughout his hockey career, Redden accumulated a great deal of international experience playing for Canada. In 2004, he played in the World Cup of Hockey, helping Canada win the Gold Medal, while in 2006 Redden played in the Winter Olympics in Turin, Italy. Twice he helped Canada win the Gold Medal at the World Junior Championships (1995, 1996). He also represented his country three times at the World Championship (1999, 2001, 2005). During the 2005 tournament, Canada earned a Silver Medal and Redden was named Best Defenceman of the Tournament by the Directorate.
Prior to reaching the NHL, Redden played three seasons of junior hockey for the Brandon Wheat Kings of the Western Hockey League (WHL). He helped Brandon reach the Memorial Cup in 1995 and 1996, and he was chosen for the Memorial Cup All-Star Team (1996).
The native of Lloydminster, Saskatchewan was drafted in the first round, 2nd overall, by the New York Islanders in the 1995 NHL Entry Draft, prior to being traded to the Ottawa Senators on January 23, 1996.
Redden played in all 82 games as a rookie with Ottawa in 1996-97, and he scored six goals, 24 assists and 30 points. On October 5, 1996, he scored his first career NHL goal in his first game, and later that season he recorded his first playoff point – an assist – on April 19, 1997. Redden was named an Assistant Captain of the Senators in October of 1999. In 2001-02, he scored 34 points and recorded a plus-minus of +22 while he also played in the 2002 NHL All-Star Game. In the 2002-03 season, Redden scored 45 points and averaged a career-high in ice-time (25:24).
In 2003-04, he set a career-high in goals (17), which tied for the most among all NHL defencemen, and he was selected to his second career NHL All-Star Game. In 2005-06, he recorded his personal best total in plus-minus (+35), which tied for the top mark in the entire league, and he set a career-high in points (50), assists (40) and game-winning goals (4). The 2006-07 season was a memorable one for Redden and the Senators as the team's playoff run took them all the way to the Stanley Cup Final. During the regular season, he led the team in average ice-time (22:54), while in 20 playoff games he averaged 23:37 in ice-time and he topped all Senators defencemen in playoff points (10). In his final season in Ottawa, 2007-08, Redden played 80 games and recorded 38 points and a plus-minus of +11.
After playing the first 11 seasons of his NHL career in Ottawa, where he helped the Senators qualify for the playoffs each season, Redden signed with the New York Rangers as an unrestricted free agent on July 1, 2008.
He played 81 games in 2008-09 – his first season in New York – and he scored 26 points, averaged over 22 minutes in ice-time, while he also played in seven playoff games. In 2009-10, Redden played 75 games and recorded a plus-minus rating of +8. Following the two seasons that he played for the Rangers' AHL affiliate in Connecticut, Redden returned to the NHL with the St. Louis Blues in 2012. He scored two goals, five points and he played 23 games in St. Louis, including his 1,000th game, before he was traded to Boston in April of 2013 where he played six regular season games and five playoff games.
Throughout his career, Redden was a valued, two-way defenceman. He was a strong contributor at both ends of the rink, as evidenced by his career averages of 0.446 points and 23:03 in ice-time per game, as well as a five-season stretch (2000-01 – 2005-06) when he recorded a plus-minus rating of +21 or better. His teams qualified for the playoffs in all but one season of his professional hockey career. He also made important contributions off the ice, through his work with the Children's Hospital of Eastern Ontario and the Ottawa Senators 65 Roses Sports Club.
Redden resides in Kelowna, BC with his wife Danica and their two children.
-30-