Jamie Langenbrunner Retires After 16 NHL Seasons
Two-time Stanley Cup champion played in 1,109 games with the Dallas Stars, New Jersey Devils and St. Louis Blues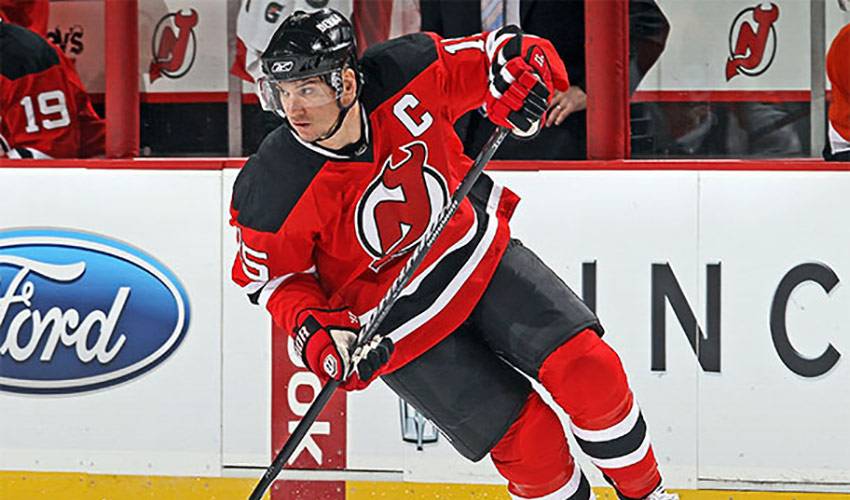 TORONTO (January 15, 2014) – Jamie Langenbrunner announced his retirement today from the National Hockey League (NHL), bringing an end to a decorated career that spanned 16 NHL seasons.
Langenbrunner, 38, a native of Cloquet, Minnesota walks away from the game as a two-time Stanley Cup champion (1999, 2003) and a two-time Olympian with the United States (1998, 2010). The versatile and dependable forward appeared in a total of 1,109 games in his NHL career with three teams: Dallas Stars, New Jersey Devils and St. Louis Blues. Over the course of his career, Langenbrunner scored 243 goals and 420 assists for 663 points, and also recorded a plus-minus rating of +62 to go along with 837 penalty minutes.
He was known as a key contributor throughout his career, supported by the 58 game-winning goals he scored in the regular season, as well as the 34 goals and 87 playoff points he recorded in 146 postseason games.
"It was a dream come true to have the opportunity to play in the NHL for 16 seasons. The friendships I developed with my teammates, and also the people in the communities where I played, will always be cherished by my family and I," said Langenbrunner. "I would like to thank Bob Gainey, Lou Lamoriello and Doug Armstrong for giving me the opportunity to play against the top players in hockey, in the best league in the world. I'd also like to thank my coaches and teammates for helping a kid from Minnesota enjoy a long, fulfilling hockey career. Finally I'd like to thank my truly amazing family for all their sacrifices they made so I could live my dream."
Langenbrunner was drafted 35th overall by the Dallas Stars in the 1993 NHL Entry Draft. After starring in his hometown of Cloquet, MN as a high-school player, including his final season where he scored 27 goals in 27 games, Langenbrunner made the move to Peterborough, ON to continue his junior development with the Petes franchise of the Ontario Hockey League. The sturdy right-winger enjoyed immense personal success in his two seasons in Peterborough, playing in 62 games in back-to-back seasons and notching over 90 points in both campaigns.
After playing the first two NHL games of his career late in the 1994-95 season with Dallas, he would make the full-time jump to the professional ranks in 1995-96. Langenbrunner had a strong season with the Michigan K-Wings of the International Hockey League, scoring 65 points in 59 games, earning him the honours as team's most valuable player and rookie of the year. His strong play also earned him a promotion to the Stars lineup where he saw action in 12 NHL games, which included his first career NHL goal that he scored on October 26, 1995.
Langenbrunner would solidify himself as a full-time NHL player during the 1996-97 season with the Stars, playing 76 regular season games, while notching 39 points to place sixth among all rookies. The versatile forward would continue his strong play in the subsequent season, scoring 23 goals for the Stars in 81 games played in 1997-98. During the 1999 playoffs, Langenbrunner's play would cement his reputation as a clutch-performer, when he registered 10 goals and 17 points in 23 playoff games, helping lead the Stars to the franchise's first Stanley Cup.
After spending parts of eight seasons with the Stars organization, Langenbrunner was traded to the New Jersey Devils on March 19, 2002 in a blockbuster deal that would re-shape both franchises. Langenbrunner and Joe Nieuwendyk were sent to the Devils in exchange for Jason Arnott, Randy McKay and a first-round draft choice in the 2002 Draft. With the Devils in 2002-03, Langenbrunner captured his second Stanley Cup title. He followed-up his strong regular season, which included totals of 22 goals and 33 assists for 55 points in 78 games, with an outstanding playoff performance that saw him contribute 11 goals and seven assists for 18 points – tying teammate Scott Niedermayer for the most among all playoff scorers – to help the Devils hoist the Cup.
Langenbrunner would spend parts of nine seasons with the Devils franchise, a time that would see him become the eighth team captain (2007) in franchise history and where he would put up the strongest statistical season of his career, when he recorded career-highs in goals (29), points (69) and plus-minus (+25) in 2008-09.
After starting the 2010-11 season with the Devils, Langenbrunner was dealt back to the Dallas Stars in January of 2011, where he accumulated 18 points (5 goals, 13 assists) in 39 games with the club that drafted him.
In the summer of 2011, Langenbrunner signed as a free-agent with the St. Louis Blues, playing the 2011-12 season with the Western Conference club, compiling 24 points (six goals, 18 assists) in 70 games played. He played in four games in 2012-13, but an injury forced him to miss the majority of the season.
Aside from his success in the NHL, Langenbrunner also had the opportunity to represent the United States on the international stage during his career. He is a two-time Olympian (1998, 2010), finishing fourth at the 1998 Games in Nagano and bringing home a silver-medal with the 2010 American side in Vancouver, a team that he captained. He also wore the American sweater in the 2004 World Cup and was twice a member of the USA Hockey entry in the IIHF World Junior Championships (1994, 1995).
Throughout his career, Langenbrunner was also an active and involved member of the Players' Association, working off the ice on behalf of his fellow NHLPA members. He served as an NHLPA Player Representative while with the Stars and Devils; he was a member of the NHLPA Search Committee (2009-2010) that would ultimately recommend Don Fehr as NHLPA Executive Director; and he was a was a member of the NHLPA Negotiating Committee during CBA negotiations (2012-2013).
Jamie, his wife Elizabeth and their three children will continue to reside in Minnesota.
-30-