Stadium Love
The Players were on-display outdoors in Los Angeles and New York for the opening weekend of the 2014 Stadium Series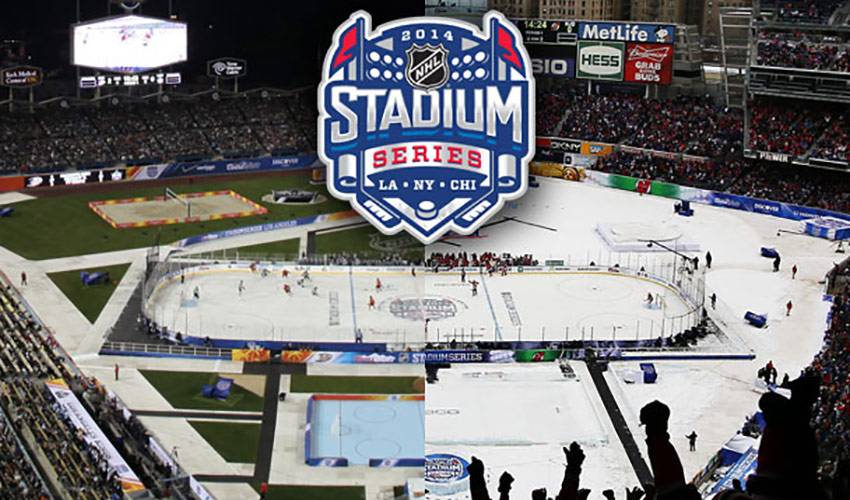 How about a little Stadium (Series) love for four teams, two who are state rivals, the other duo longtime foes, who took things outside over the weekend?
The conditions were vastly different with the temperature gauge reading 63 degrees Farenheit (17 degrees Celsius)for puck drop on Saturday night at Dodger Stadium, featuring Los Angles and Anaheim; and nearly 24 degrees Farenheit (-4 degrees Celsius) Sunday afternoon at Yankee Stadium with New Jersey and the New York Rangers headlining.
Regardless of the temperatures, the intensity displayed by all was very much the same.
Jonas Hiller, who'll be in net for Switzerland at the upcoming Winter Olympics, made 36 saves as the Ducks bested the Kings 3-0 in front of 54,000-plus fans, with Wayne Gretzky dropping the ceremonial face-off.
"It was a really special experience," said Hiller. "Once you're in the game, you're more focused. But, after intermissions and key breaks, you are able to get the whole picture, and it was pretty unbelievable. It was just, for sure an unbelievable experience."
What an amazing night @ dodger stadium! Hope the fans had as much fun as the players did last night.Such a great experience to be a part of!

— Kyle Palmieri (@kylepalmieri) January 26, 2014
Anaheim won their 21st games in 24 contests, while Los Angeles suffered their fifth straight loss.
Corey Perry, who'll suit up for Team Canada, netted his league-leading ninth game-winning tally of the season.
Rick Nash, also on his way to the Olympics (Team Canada), scored for the fifth consecutive game, as the Rangers scored four times in the second period to take the lead for good en route to a 7-3 win.
Mats Zuccarello, who'll play for Norway in Russia, netted a pair of goals in the Rangers triumph.
"It's a pretty special building to play in," offered Zuccarello. "I've never been here, and baseball is not that big in Norway. But, I've lived in the U.S. for quite a while now, so I know it's pretty special. It's special for me too coming from Norway, and to be able to play at this rink and get the win too is pretty amazing. So, we were happy about today."
The Rangers set a regular-season outdoor NHL game record with seven total goals, besting the previous mark of six established by the Detroit Red Wings in the 2009 Winter Classic at Wrigley Field in Chicago.
Henrik Lundqvist, who will represent Sweden in the 2014 Winter Olympic Games, made 19 saves to pick up his second regular-season outdoor NHL game victory, matching Ty Conklin for the most wins.
What a great day at Yankee Stadium! I had a blast and loved the support from you guys! Memory for life! #NYR

— Henrik Lundqvist (@HLundqvist30) January 26, 2014
Lundqvist recorded 34 stops, including a penalty-shot save in the final seconds of regulation, to seal New York's 3-2 victory over Philadelphia in the 2012 Winter Classic at Citizens Bank Park.
"I felt like I calmed down in the second and third periods and played my game, but it was fun," said Lundqvist, of Sunday's win. "I was walking out to warm-ups, and it was just a great feeling and taking in the crowd's reaction and it was a very special moment. I really enjoyed it."