JAY PANDOLFO RETIRES AFTER 15 NHL SEASONS
Two-time Stanley Cup champion Jay Pandolfo announced his retirement from the NHL today after 15 NHL season and 899 career games.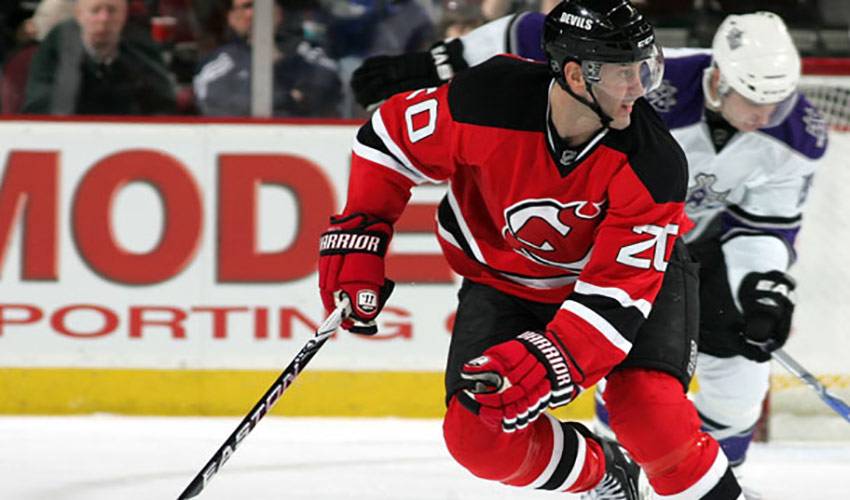 TORONTO (January 30, 2014) – Jay Pandolfo announced his retirement from the National Hockey League (NHL) today after 15 NHL seasons.
Pandolfo, a native of Burlington, MA played 899 NHL games, scoring 100 goals and 126 assists for 226 career points. His career was highlighted by two Stanley Cup championships (2000, 2003) with the New Jersey Devils, the team he spent the first 13 seasons of his career with. After playing one season with the New York Islanders, he played last season with the Boston Bruins. Over the course of his career, Jay also saw action in 131 playoff games, scoring 33 points.
"I was very fortunate to live my dream of playing in the NHL. I was lucky to be part of three great organizations and would like to thank the New Jersey Devils, New York Islanders and Boston Bruins," said Pandolfo. "I would like to thank all my teammates, coaches and staff for all the memorable experiences together. I'd especially like to thank my family for all the support they have given me throughout my career."
Drafted by the Devils in the second round, 32nd overall, in the 1993 NHL Entry Draft, Pandolfo had an exceptional four-year college career before he reached the NHL. At Boston University, he amassed totals of 78 goals, 89 assists and 167 points, and in his senior year he was a Hobey Baker Award finalist, NCAA East First Team All-American and was named Hockey East Player of the Year.
Pandolfo made his professional hockey debut in the 1995-96 season with the Albany River Rats. On November 14, 1996, he played in his first NHL game with the Devils, and two days later he recorded his first career NHL point – an assist. Pandolfo's first career NHL goal came on December 28, 1996 vs. Anaheim. He played in 46 games with the Devils as a rookie, scoring six goals and 14 points, and he also enjoyed his first appearance in the playoffs by playing in six postseason games in 1997.
After splitting time between New Jersey and Albany in 1997-98, Pandolfo played in 70 games with the Devils in 1998-99 – his first full NHL campaign – and he set a career-high in goals (14) and points (27). Following the 1999-00 regular season, he was a key playoff contributor in helping the Devils capture the franchise's second Stanley Cup in six years. The following spring, Pandolfo played in 25 playoff games as the Devils came within one win of back-to-back championships.
He lifted the Stanley Cup for a second time just three years later as the Devils topped Anaheim in 2003. He played in all 24 playoff games that spring, and notched a balanced six goals and six assists – a personal best for a single postseason. In 2003-04, he began a personal ironman streak that saw him play in all 82 regular-season games for three consecutive seasons.
Pandolfo's teammates voted him the Devils' Unsung Hero in five of his 13 seasons in New Jersey (most in franchise history), and he was also named the team's Players' Player in three straight seasons (tying him with Scott Stevens for most all-time among Devils players).
Following 13 seasons with the Devils, and part of one season with the Springfield Falcons of the AHL, Pandolfo signed in October of 2011 with the New York Islanders where he played 62 games. He signed in Boston part way through the 2012-13 lockout-shortened season and played 18 games with the Bruins, in what would be his final NHL campaign.
During his career, his teams qualified for the playoffs in 13 of his 15 seasons; he scored 19 game-winning goals in the regular season and two game-winning goals in the postseason; he recorded a career plus-minus of -1; and he averaged over 15 minutes in ice-time in both the regular season and playoffs. Known for his responsible defensive play, Pandolfo was a finalist for the Frank J. Selke Trophy in 2006-07. Internationally, Pandolfo represented the United States at the 1994 World Junior Championships and the 1999 World Championships.
Jay resides in Winchester with his wife Juliane and their two children.