The King Reigns Outdoors
Henrik Lundqvist adds another outdoor win to his resume after sweeping the recent Stadium Series contests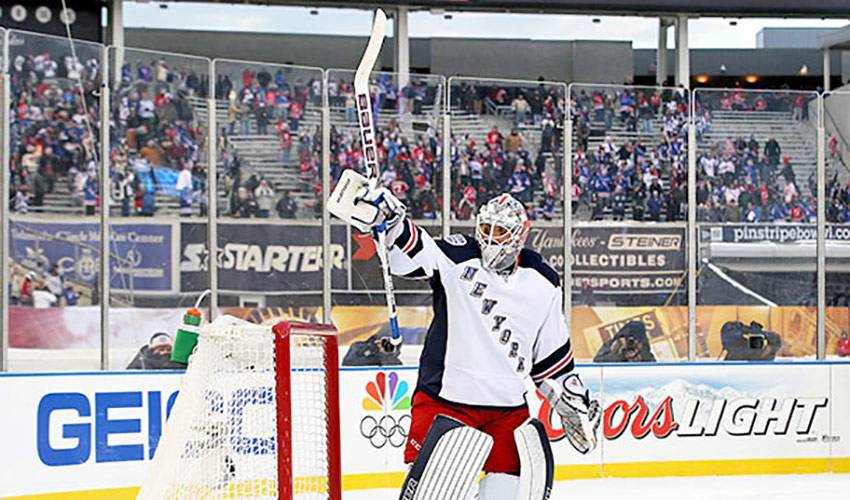 When it comes to holding court in NHL outdoor games, it's good to be the King.
This past week, for the second time in four days, Henrik Lundqvist netted a win at Yankee Stadium, earning a 2-1 win over the New York Islanders on a frigid (-5.6 Celsius at puck drop) Wednesday evening at the historic ballpark.
With the victory, Lundqvist, who'll represent Team Sweden at the upcoming Winter Olympics in Sochi, took sole possession in the most wins (three) in NHL outdoor games category, breaking a deadlock with Ty Conklin.
Lundqvist has a 2.00 goals-against average and .933 save percentage in his three outdoor appearances, a 3-2 win over Philadelphia in 2012, coupled with a 7-3 triumph over New Jersey on Sunday and his Wednesday win.
"It was another amazing night," said the 31-year-old. "You're just thankful to get this opportunity. And everyone's showing up tonight to make it so special. I said out there on the ice, it's a great stadium, but you need the fans to make it special. They showed up."
2 unforgettable games. A memory for life. Thank you all fans and thank you @NHL for making this happen! #StadiumSeries

— Henrik Lundqvist (@HLundqvist30) January 30, 2014
And so did the goalie known as King Henrik.
"It was a little cold, but it was awesome again," said Lundqvist. "Little different type of game tonight. I thought we played really smart. We just kept making really good decisions without the puck and that kind of won us the game, I think.
"This one and against the Devils are games you will remember for the rest of your career," he continued. Who knows if we'll get another opportunity to play here, but it will definitely stick with me the rest of my career. It's two great memories."
Not surprisingly, talk turned to the Olympics after the Rangers victory.
Lundqvist, who helped lead Sweden to gold at the 2006 Winter Games in Turin, is hoping for a similar story in Sochi.
"The Olympics is definitely in the back of my mind," offered Lundqvist, who won silver with his country at the 2003 and 2004 World Championships. The closer we get, obviously, the more we think about it. You start talking to teammates. It's getting closer. We still have a few games to go here, but it's going to be a quick turnaround. So, you definitely have to be ready mentally and physically when it starts and you travel over there."
A king-sized task, but one that Henrik Lundqvist is always up for.