The Latvian Locomotive
A beloved figure in his home of Latvia, a country that never sleeps when Zemgus Girgensons is playing the game.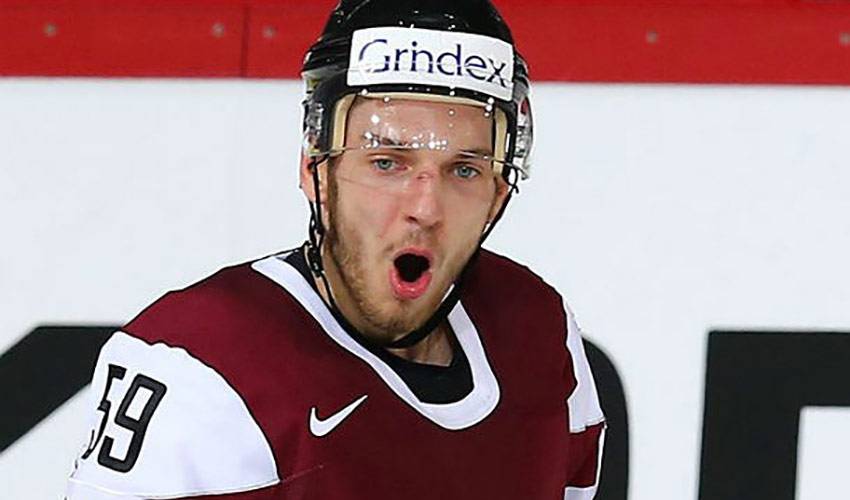 He is a beloved figure in his home of Latvia, a country that never sleeps when Olympic-bound NHLer Zemgus Girgensons is playing the game.
Holding the distinction of being the highest drafted Latvian in NHL history (14th overall in 2012), the 20-year-old kid from Riga is a household name in his native land, especially in his hometown of Riga.
And despite games airing at 2 or 3 in the morning local time, thousands of loyal Latvians gather around their televisions to watch Girgensons, in his rookie campaign with the Buffalo Sabres, take on the top players on the planet.
"It's a really nice boost," said Girgensons, who played for Dinamo Riga before heading to North American at the age of 15 to pursue an NHL career. "It's a good feeling to know that you are making your country proud. I feel very lucky to have so many people support me."
The country of just over 2-million people, bordered by Estonia, Lithuania, Russia, and Belarus, will no doubt be tuning in to watch Girgensons and his teammates compete in Sochi.
"You feel an enormous sense of pride, not pressure, but something that really gives you more and more confidence," said Girgensons, whose father, Aldis, was a defenceman for Dinamo Riga. "It's a very big deal for me."
Ranked 11th in the world, the Latvians played in Group C, against Switzerland, Czech Republic and Sweden.
Girgensons, who made his national team debut in the 2013 World Championships against the U.S., and scored his first international goal against Slovakia, has been lauded for his work ethic.
Ted Nolan, head coach of the Sabres, compared his preparation to the legendary Wayne Gretzky.
Girgensons, dubbed by one media member 'The Latvian Locomotive' for his penchant of skating through the opposition rather than around them, covets his hockey fortune. He's appreciative of praise, but motivated to achieve more.
"There are no barriers to being a better player," offered Girgensons. "The top players in the game still push themselves and that's what makes them great. I want to continue to be better, to improve in every way."
Now, he'll have a chance to show the world what he's all about on a global stage.
"We have crazy fans back home," Girgensons said with a laugh. "They are great. They will go on Twitter and give me notifications about when they see me play, or to wish me good luck. It really means everything to me to wear the sweater of my country."