Toews and Sharp Jumpstart the 'Hawks at Soldier Field
Might as well jump - Jonathan Toews and Patrick Sharp were as good as gold (again) at Soldier Field.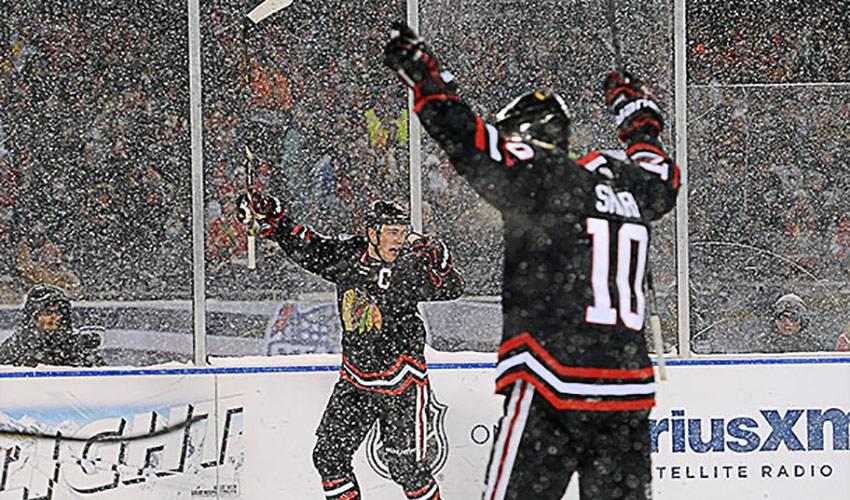 For two Chicago forwards, a pair of high-profile players who recently came back from the Olympics wearing gold medals, Saturday night's outdoor game at Soldier Field had them jumping for joy. Literally.
Jonathan Toews and Patrick Sharp each played their part in helping Team Canada rule the roost in men's hockey at the 2014 Winter Games. On March 1, the duo were back at it again, giving the Blackhawks a solid one-two punch in a convincing 5-1 win over Pittsburgh in their Stadium Series clash.
While wintry conditions made for tough sledding in front of 62,000-plus fans, Toews, who had two goals and an assist, and Sharp, who had one tally and a helper, were in a celebratory mood in front of the hometown faithful.
"I think the celebration on the first goal, Sharpie, I already saw a funny picture where I knew he was going to jump into me, and I think Nick Leddy got caught right in the middle," said Toews. "Like I said, we were just excited to score a goal in the first. It was a great feeling to be able to get our team on the board and the excitement just kind of carried on for the rest of the game. I guess I definitely got caught up in it a little bit."
So, too, did Sharp.
"I honestly thought that was the game, 1-0," offered the veteran forward. "The way the conditions were out there, it was tough to get the puck anywhere near the net, and those guys defend well. So, our team took this game seriously. We wanted to win. But at the same time, we were out there having fun. Second time a lot of us have been through this experience with the game at Wrigley in 2009. Had a blast playing that one as well. Only difference was we won this game. We were just trying to have fun and enjoy the experience."
Which is what they were able to accomplish in Sochi, capped off by a 3-0 Canada win over Sweden in the championship game.
And whether it's on the world stage or on a snowy Saturday night in Chicago, Toews is humbled by it all.
"It's been really cool," said the Chicago captain. "Just to think about all the different situations we've been in over the last year, couple of years. You know, there's always something great going on. I think it was exciting for us as players to be a part of this and play at Soldier Field. We've played in a couple different venues now in Chicago, and it's pretty amazing to think. But this is probably even more so great for the fans. I think as a team we're super happy. We're able to find a way to win, and not only win, but put on an exciting game for the fans, just like the weather."
A short rest – Chicago plays host to Colorado on March 4 – was indeed a welcome one for Sharp, who along with Toews, has won the Stanley Cup twice (2010 and 2013).
"It will be nice to go home, relax, see the family, check in with my kids," said the alternate captain. "I think they've got their driver's license by now, I haven't seen them in so long. But some pretty special games in a short period of time. We're definitely excited about our final 20 games here."
After their exuberant display on Saturday night, it goes without saying Toews and Sharp would jump at the chance to play for Lord Stanley again.