#ThePlayers Show Support for Rich Peverley
The Players took to Twitter to send their well wishes to fellow player, Rich Peverley, following his medical issue on Monday evening.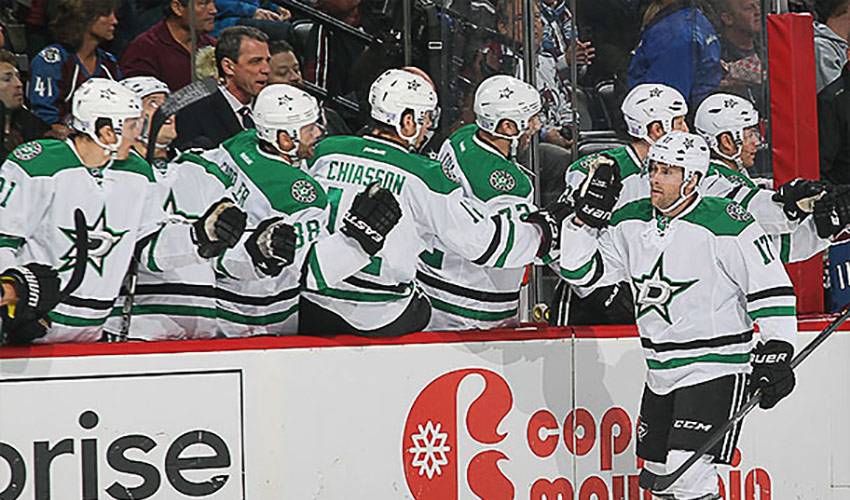 On Monday night, during the Dallas Stars' game against the Columbus Blue Jackets, Stars forward Rich Peverley collapsed on his team's bench in the first period. Peverley was treated by on-site medical staff and transported to a hospital. The game was postponed.
Though they are rivals on the ice, players across the league are a tight community, so it didn't take them long to send their thoughts and well-wishes to their fellow player following the scary incident:
Wins and losses aside the NHL is a small community. I think we can all say our thoughts are with Peverley and his family. #getwell

— Bobby Ryan (@b_ryan9) March 10, 2014
Thoughts are with Peverly and his family

— Jason Demers (@jasondemers5) March 11, 2014
Thoughts & prayers w/ Rich Peverly and his family. Played with Rich with Canada in '10, awesome player & guy. Wishing him a speedy recovery

— Matt Duchene (@Matt9Duchene) March 11, 2014
Hope all is well with Rich Peverly. Doesn't matter who you cheer for, let's all think about him and his family at this time.

— Gabriel Landeskog (@GabeLandeskog92) March 11, 2014
RT @TBLightning: Our thoughts and prayers go out to the @DallasStars and Rich Peverly.

— Edward (Ted) Purcell (@teddypurcell16) March 11, 2014
Everyone take a moment to think about our dude rich peverly...what a warrior!

— Joel Ward (@JRandalWard42) March 10, 2014
My families thoughts and prayers go out to the Peverley family hoping for a speedy recovery. #brotherhood

— James Wisniewski (@jameswisniewski) March 11, 2014
Sad to hear about a great past teammate in Rich Peverley. Extremely glad he is okay! Thoughts and prayers are with you! #PrayForPeverley

— Evander Kane (@EKane9JETS) March 11, 2014
March 11, 2014
Thoughts are with Rich Peverley and his family right now. Let's hope for a speedy recovery.

— Sam Gagner (@89SGagner) March 11, 2014
RT @LAKings: Our thoughts are with Rich Peverley. Hearing he asked "how much time was left in the period" when he woke up. Hockey players e…

— Dustin Penner (@Dustinpenner25) March 11, 2014
Praying for Rich Peverley and his family!

— Brian McGrattan (@bigern10) March 11, 2014
Thinking about you Rich Peverley. Get well soon

— Eric Nystrom (@enystrom23) March 11, 2014
Remember hockey is just a game. Thoughts and prayers go out to the health of Rich Peverley and his family. #getwellsoon

— Nate Thompson (@NateThompson44) March 10, 2014
Scary scene in Dallas tonight, thoughts and prayers to Rich Peverley and his family

— Robert Klinkhammer (@Bobbyklink) March 10, 2014
Prayers for rich peverley

— Chris Stewart (@CstewSTL25) March 10, 2014
Thinking about the Peverley family on this tough night

— Marc Savard (@MSavvy91) March 10, 2014
RT @mackattack_39: Thoughts and prayers go out to Rich Peverley and his family #NHL

— John Tavares (@91Tavares) March 10, 2014
RT @mnwild: We join the NHL and hockey community sending our thoughts and prayers to Rich Peverley and his family.

— Matt Moulson (@MMoulson) March 10, 2014
Thoughts and prayers go out to Rich Peverley and his family #NHL

— Brett MacLean (@mackattack_39) March 10, 2014
Love my buddy Rich Peverley. Scary stuff and hope he recovers well. Thinking of ya #pevs. From the Armstrongs #roomie

— Colby Armstrong (@armdog) March 11, 2014
Thoughts and prayers are with Rich Peverley and his family on a speedy and safe recovery. Tough hearing that this can happen to anyone!

— Luca Caputi (@Lputi17) March 11, 2014