1,000 Reasons To Recognize Handzus
Michal Handzus has added to his list of career achievements by skating in his 1,000th NHL game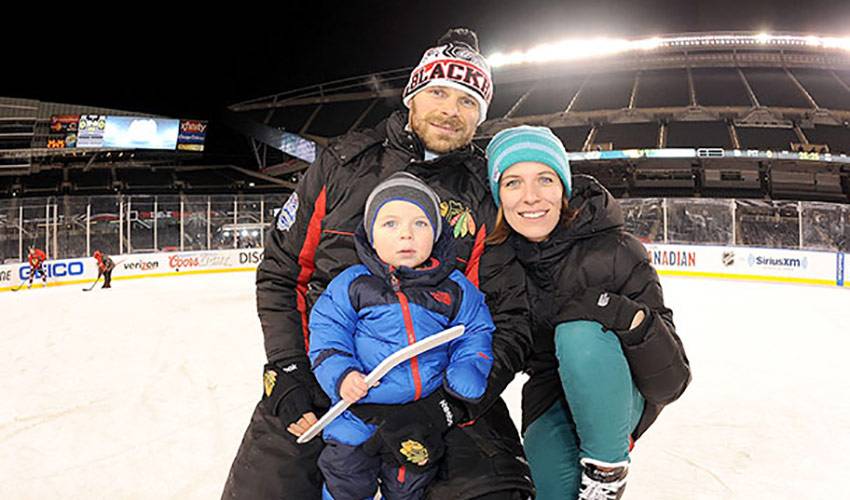 When he skated in his first NHL game in 1998, Michal Handzus never anticipated he'd be in-line for a major milestone 16 years later.
On Wednesday night, the 37-year-old veteran, in his second turn with the Chicago Blackhawks, played in his 1,000th regular season NHL contest, a home game against St. Louis, the team that drafted him 101st overall in 1995. Handzus and the Blackhawks skated away with a solid 4-0 victory.
"When you make it to the NHL, you hope to play as long as you can," said Handzus, who has suited up for six teams over his big-league career. "But, I never would have imagined playing 1,000 games. Of course, you hope for certain things, but for me, I put the individual things aside. You want to score goals, but it's always about the team."
Handzus experienced the pinnacle of such team success last season, when the Blackhawks bested the Boston Bruins in six games to deliver the Original Six club its fifth championship.
"There was a moment when I was sitting on the bench in the final game and I thought about my first game, which also happened to be in Boston," recalled Handzus, who appeared in 66 games for the Blues in 1998-99, before breaking out with 25 goals the following campaign. "It was strange that it happened to be in the same city. I remember my first year was Wayne Gretzky's last one. I really felt very lucky to be on the same ice as so many great players."
Handzus also hasn't forgotten a former teammate, linemate and fellow Slovakian, a player that helped him immeasurably in his early NHL days in St. Louis.
"What he did for me, I could never thank him enough," said Handzus, of his close friend, Pavol Demitra. "I wouldn't be where I am now without him. He was a great person. He had a big heart.
"I don't try to put it out of my mind or forget, but what happened to him and everyone was just awful," continued Handzus, in reference to the air disaster of September 7, 2011, that killed Demitra and other members of the KHL Lokomotiv Yaroslavl hockey team. "I think of how, in so many ways, I am lucky. He wasn't. Everyone in Slovakia, or anyone who knew him, had great respect for him."
It comes as no surprise that aside from the ceremony to recognize his achievement, Handzus' main focus was helping the Blackhawks secure an importatnt two points on Wednesday evening.
"I'm happy to play 1,000 games, that feels good," he admitted. "But, I'm more proud of being part of a winning team, where everyone comes together to share success. That's what I enjoy the most."
Handzus, who won gold for his country at the World Championships in 2002, will make it two straight years a Slovak will be feted by the Blackhawks for playing 1,000 games. In March of 2013, Marian Hossa reached the mark.
With his decorated career, his continued contribution to one of the top teams in the NHL and his loving and supportive family by side his, Handzus is aware that he is a very fortunate man, something he acknowledged prior to hitting the ice on Wednesday.
"I have a lot to be thankful for."