Enthusiasm Abounds For Torey Krug
The Bruins' highly-skilled young defenceman is a key-part of the teams success & commitment to excellence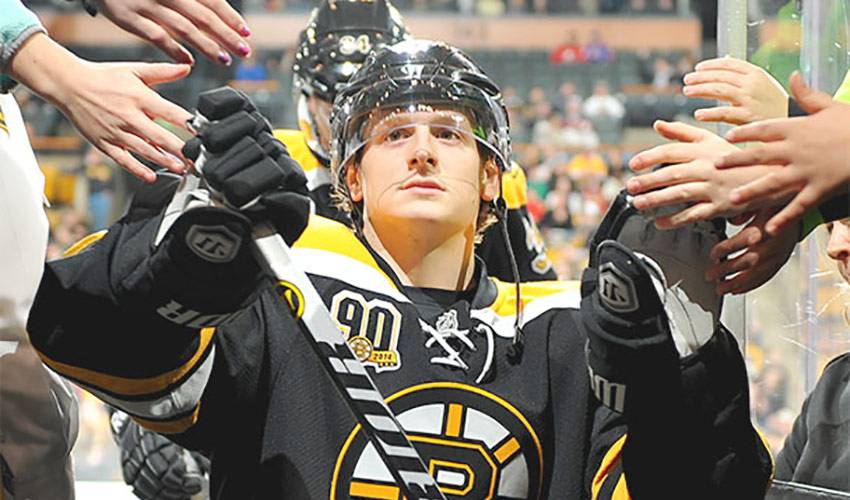 Boston's double-digit win streak came to an end on Monday night, but it hasn't dashed defenceman Torey Krug's hopes for a big year from the boys from Beantown.
The Bruins quest for thirteen straight victories was halted by a 2-1 home shootout loss to Original Six rival Montreal. Boston was one game shy of their longest winning streak (set in 1970-71) and two away from the team record set in 1929-30.
The defeat did little to dampen the enthusiasm of the 22-year-old Krug.
A solid first full big-league season, a dozen consecutive triumphs, and the possibility of a second straight Stanley Cup appearance would bring a smile to any NHL players face.
"You really couldn't ask to be in a better situation," Krug told NHLPA.com. "Obviously, we're playing really well, but the one thing I learned about this team from the moment I came aboard is that every guy is demanding of himself and there is a commitment and will to succeed."
Before he made the jump to the NHL ranks, Krug carried the reputation of being a highly skilled offensive defenceman. When you net 83 points over three collegiate campaigns, something he achieved during his years at Michigan State, people tend to take notice.
It made Krug one of the most sought after undrafted free agents on the market, a mobile, point-producing rearguard any team would covet. In 2012, less than three weeks before he turned 21, he signed with Boston.
But, the former Spartan-turned-Bruin, in his first full NHL season, is proving he's anything but a one-dimensional player.
"I wanted to show that I was more than just an offensive player," offered Krug, who appeared in two regular season games with the Bruins in 2011-12, spending the majority of the next year with Providence of the American Hockey League. "Being strong defensively is very important to me. I want to be seen as a reliable player, someone who can be on the ice when the other team's top guys are out there. I enjoy that challenge."
Krug, who won the 2009 Clark Cup with the Indiana Ice of the United States Hockey League, has been a welcome addition to one of hockey's top blueline corps, one that includes Zdeno Chara, Adam McQuaid, Johnny Boychuk and Dennis Seidenberg.
He also feels right at home, on and off the ice.
"The moment I walked into the dressing room for the first time, the guys were amazing," recalled Krug, who played in one regular season contest in 2012-13, before skating in 15 playoff contests. "It was a trial by fire to be in the lineup for the playoffs last year. But, everyone was very supportive and that makes you feel comfortable and confident. I couldn't ask for a better situation to be in."
Averaging 17-plus minutes of ice time, along with 14 goals and 23 assists in 70 games (while playing for the Eastern Conference's top team), has Krug feeling pretty good these days.
"I'm very fortunate in a lot of ways," said Krug, who was married (his wife's name is Melanie) last July. "Hopefully, there are even better times to come."
The good times could start rolling on Thursday, when Krug and the Bruins take on the Chicago Blackhawks, the team that bested them in last year's Stanley Cup final.