Enjoying The Milestone Moment
Vincent Lecavalier recently notched his 400th career goal & is helping the Flyers gear-up for a playoff run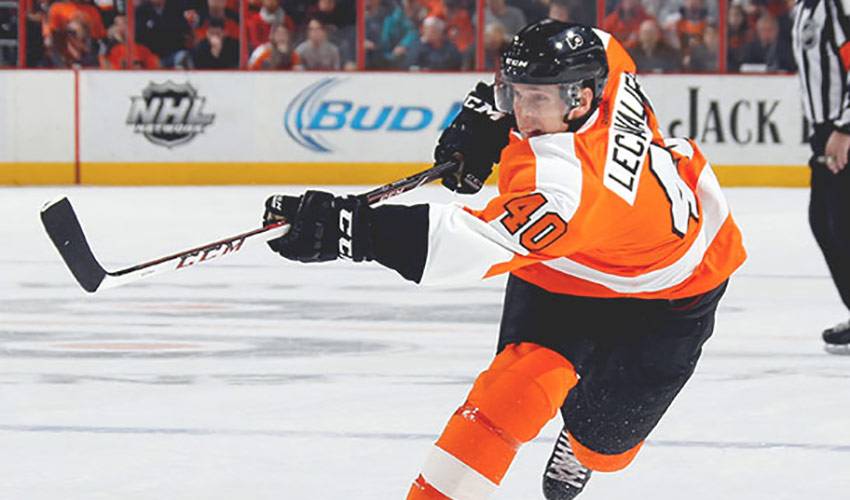 When it comes to netting personal milestones, Vincent Lecavalier maintains a simple philosophy: Enjoy the moment, then move on.
Just over five minutes into Philadelphia's March 30 home game against Boston, Lecavalier ripped home a shot that gave the Flyers the lead and delivered the centreman his 400th career tally.
He also added a late-game goal that sent the game to a shootout. Boston went on to win by a 4-3 count.
"It felt great," said the 33-year-old, of his opening-frame goal that made him the 90th player to hit the mark. "But, just like any time you experience an individual accomplishment, you have to move on. When I first started playing in the NHL, I never thought I would be able to get to these type of milestones."
Nearly 1,100 games, one Stanley Cup, a World Cup, a Maurice 'Rocket' Richard Trophy and King Clancy Memorial Trophy later, Lecavalier has achieved more than he ever anticipated.
However, like his big-league brethren, the first overall pick of the Tampa Bay Lightning in 1998 has always been focused on team successes.
That said, Lecavalier is grateful and humbled for a career that is now in its 16th year.
"When you start out, you hope that you can play a long time, but there are no guarantees," said the native of Ile Bizard, Quebec. "You know there will be ups and downs, but you hope that working hard, being a good teammate and doing whatever it takes to win, leads to good things."
He laughs when he thinks back to his first season, 1998-99, one year removed from a 115-point campaign with the Quebec Major Junior Hockey League's Rimouski Oceanic, where he played alongside Brad Richards (the current New York Rangers forward, who was also a member of the Lightning).
"It really does go by fast and that's what so many people tell you when you start," said Lecavalier, who played in his 1,000th NHL game on January 21, 2013. "Now, I'm the one saying it to the younger guys."
And they'd no doubt listen to the highly respected Lecavalier, who is hoping his first season with the Flyers yields a shot at winning the Stanley Cup.
"Your biggest objective, before the first game of the season is played, is to get to the playoffs," offered Lecavalier. "That's what you work toward, to have that opportunity to win it all. It's something that motivates you every year."
Reaching a notable milestone along the way isn't too bad either.
"It's a great honour when you are able to experience something like that."
And then, in Vincent Lecavalier's own words, it's time to move on.