Nyquist Driving The Wings
Gustav Nyquist has excelled down the stretch just when the Red Wings have needed him the most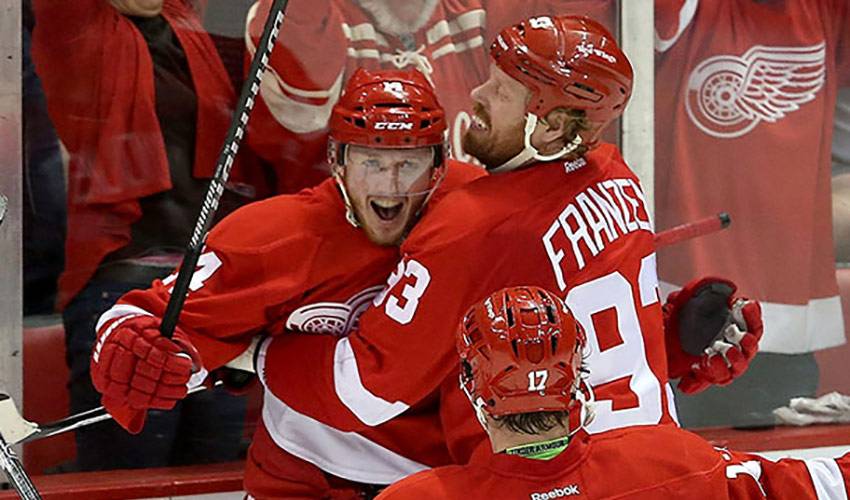 He's a red-hot Red Wing, the player known to his teammates as Gus, and someone who could play a major role in keeping Detroit's longstanding playoff appearance streak intact.
His tally recently against Tampa Bay, one that will surely get major consideration for goal of the year honours, hardly took Nyquist's teammates by surprise.
It's something they've seen time and again over the course of the season.
After shaking loose from a rival, it appeared the slick-skating Swede had lost the opportunity to get a shot off. Nyquist stuck with it, but found himself at a seemingly impossible angle, beside the net, having little room to work with.
With a quick spin, the 24-year-old did what not many could, lighting the lamp in jaw-dropping fashion.
"He's a guy with great speed and good touch with the puck," texted teammate and countryman Jonas Gustavsson.
And a guy who has made the hockey world stand up and take notice.
In early February, Nyquist netted his first hat-trick against Washington.
Turns out, he was just getting warmed up.
On March 24, he was named First Star of the week. Nyquist led all players with six goals and tied for the lead with seven points in four games.
He was given Second Star of the Month honours for March. Nyquist ended the month with the second-most goals (12) and tied for fifth with 18 points. He scored in nine of 15 games, highlighted by a six-game goal streak, the longest by a Detroit player since 2010.
For good measure, Nyquist also had a career-high four-point night on March 7.
Past history suggests none of it is a surprise.
The native of Halmstad (Sweden's 20th largest city, by population) was the main man at the University of Maine for three seasons, starting in 2008.
Nyquist played three campaigns for the Black Bears and led the team in scoring in every one of those seasons. In 2009-10, he was the NCAA regular-season scoring leader, the same year he was selected as a Hobey Baker Award finalist.
After appearing in 40 games for the Red Wings from 2011-12 to 2012-13, Nyquist, the team's 121st overall pick in 2008, is in the midst of a brilliant breakout season.
His 28 goals, as of April 3, have helped keep Detroit in the post-season picture.
The Wings have made the playoffs in 27 of the last 29 seasons; their playoff streak currently stands at 22 in a row (1991–2013), the longest current streak of post-season appearances in all of North American pro sports.
On Wednesday night, Nyquist scored with 7:12 left in the third period on his only shot of the game, giving Detroit a much-needed 3-2 win over Boston.
"I think he is a really smart player that can really use his speed," said teammate Tomas Tatar, who is also enjoying a strong season. "We've had lots of injuries and he got lots of ice time. His confidence went up and he is playing great hockey."
All of which adds up to a very happy Gus.
"He always has a smile on his face," offered Gustavsson.
Why wouldn't he?