Wingels Flying For San Jose
Tommy Wingels' beard may not be impressive yet, but his play certainly has been so far in the 2014 playoffs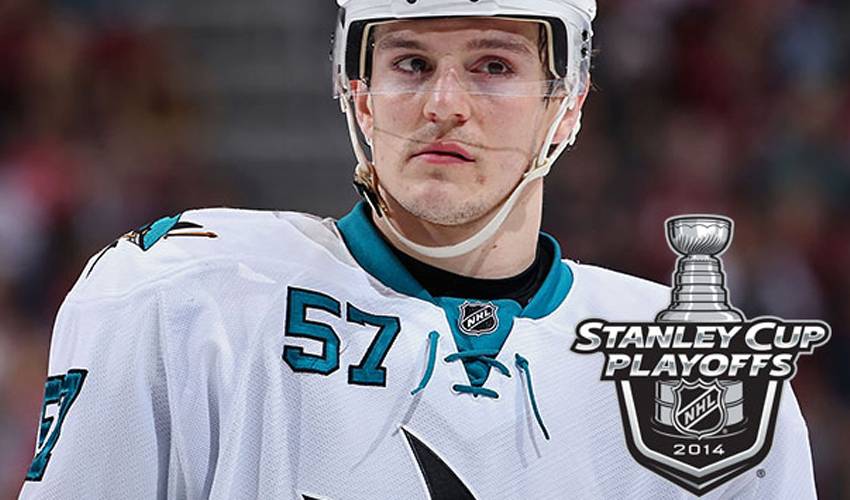 Tommy Wingels got his playoff game face on, so to speak, a little bit ahead of schedule.
When the 26-year-old San Jose Sharks forward made the decision to grow his version of the traditional playoff beard, it wasn't a tactical choice by Wingels, to get a head start on his teammates.
The idea was, instead, brought to him.
"Let's just say that I was encouraged by some of the guys to start my beard a little bit before the playoffs got underway," Wingels told NHLPA.com. "We've got some guys who have pretty impressive beards – Joe Thornton, Brent Burns, Joe Pavelski – so, I think it was more about me trying to keep up with them."
Two days before San Jose launched their bid for the organization's first Stanley Cup, Wingels, who had an outstanding regular season for the Sharks, offered vague information on the status of his facial hair.
"I don't think my teammates have anything to worry about when it comes to me rivaling their beards," said the Illinois native, who had 16 goals and 38 points in 2013-14. "I'll give it my best shot."
While that part of his pre-game preparation might be a challenge, there's no doubt Wingels is ready for primetime.
In Game 1 of San Jose's quarterfinal clash against state rival Los Angeles, he had one assist, two shots and four hits in 17:49 of ice time.
Wingels added a helper in the next game, a dominant 7-2 Sharks win, and assisted on the game-tying goal in an eventual 4-3 OT win in Game 3. On Thursday night, a 6-3 loss, he had three shots on net and a team-best five hits in nearly 16 minutes.
"It's a time of year where you micro-manage your game," said Wingels, who dished out six hits, had one blocked shot and two takeaways in Game 2. "You approach things on a shift-to-shift basis, looking at how you can make an impact in terms of individual matchups, what you can achieve by doing the little things.
"It's a dream come true to be in this position," he added.
And, for Wingels, it also offers an opportunity to build on a solid regular season.
"For myself, I wanted to step up," he offered. "I wanted to contribute in every aspect of the game, to carry the load, to be seen as someone that could be relied upon, that when I hopped over the boards, my teammates would have confidence in me."
Confidence has been a constant theme for a Sharks team hungry to erase a litany of playoff disappointments over the years.
"Right from training camp, you could see it was a confident group, very focused on putting together a strong season," recalled Wingels. "That confidence in one another never wavered. Now, we're at the most intense time of the year and we need to stay focused on what we wanted to achieve from the outset."
Wingels is certainly comfortable playing his part, even if he doesn't quite look the part.
"If I'm still wearing a beard two months from now, I guess I won't care what it looks like," he said with a laugh. "All that matters is that I still have one."