Bourque Can't Stop Watching
With the Habs waiting to start round 2, Rene Bourque is enjoying being a super-fan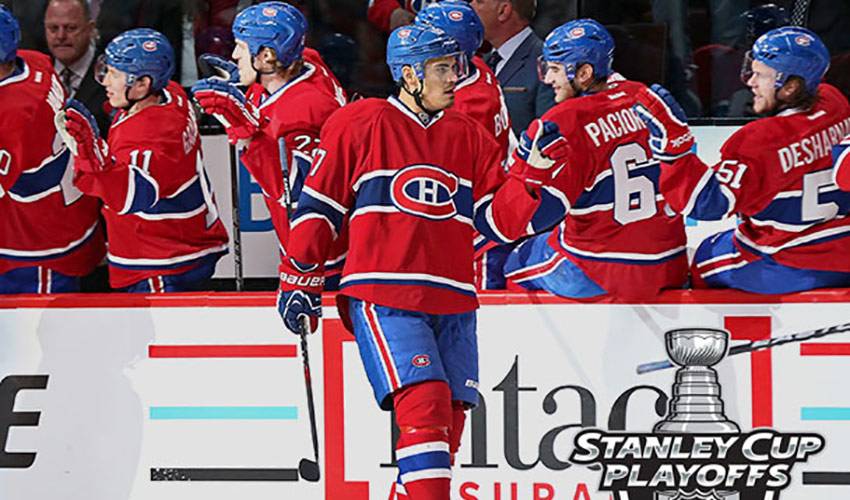 What do you do to occupy your time after a first-round playoff sweep? If you're Rene Bourque, you transition from player to fan.
When Max Pacioretty netted the series-winning tally in the waning seconds of Game 4 against Tampa, it delivered the Montreal Canadiens a second-round date with either Boston or Detroit (the Bruins ousted the Wings in 5), plus some coveted time off before they resumed their Stanley Cup push.
"It was an amazing finish," recalled Bourque, who has three goals in the 2013-14 post-season. "We were up 3-1, they tied it up and then 'Patch' scored late. I was actually the first one on the bench, closest to Tampa's net, when the goal went in. So, in some ways, I had the best seat in the house, in terms of the players. It was hard to tell if it went in, but when I saw him celebrate and the referee point, it was incredible."
For the past while, Bourque has once again found himself with the best seat in the house, this time as a fan.
"I don't watch a lot of hockey during the regular season, but this year, I can't stop watching it," said the 32-year-old with a laugh. "The games are really compelling. Some of them start late, but even if it goes to overtime, I don't want to miss what happens."
Bourque, however, isn't just a casual observer.
"You don't get a chance to see a lot of the guys play, so in some ways, it's like pre-scouting, seeing the tendencies of the players, the things that make them tough to play against," said the undrafted forward, who was born in Edmonton. "You watch it because it's exciting, but you also can take something away from what you're seeing."
Bourque, who had a grand total of 10 games of NHL playoff experience coming into this season, is hungry to keep adding to that number.
"When you experience that type of feeling, the atmosphere in the building, the passion of the fans, it's hard to describe," said the graduate of the University of Wisconsin. "This is my third playoffs (2009 with Calgary and 2013 with Montreal). Winning a playoff game is a great feeling and you don't want it to end."
It is a confident, yet focused Montreal team that will take to the ice for the Eastern Conference semifinals.
"It's all those things that you expect this time of the year," said Bourque, who was traded to the Habs in 2012. "Everything is magnified and you need to be able to stay on an even keel, win or lose. In the last game against Tampa, when they tied it up, it was obviously tense. But, there was also a sense that we could find a way to dig in and turn things around. And we are able to do that."
Which afforded Bourque the chance, at least for a short period of time, to go from being in the thick of the action to seeing it in a much different way than he's used to.
Bourque will only have a few more opportunities to be just a fan of the 2014 playoffs, as he and his Canadiens teammates will soon be back in the action themselves, when they begin their Eastern Conference semifinal series against the Bruins.