TOM POTI ANNOUNCES RETIREMENT AFTER 14 NHL SEASONS
Poti, an All-Star defenceman and Olympic silver medalist, played in 824 career NHL games with the Oilers, Rangers, Islanders and Capitals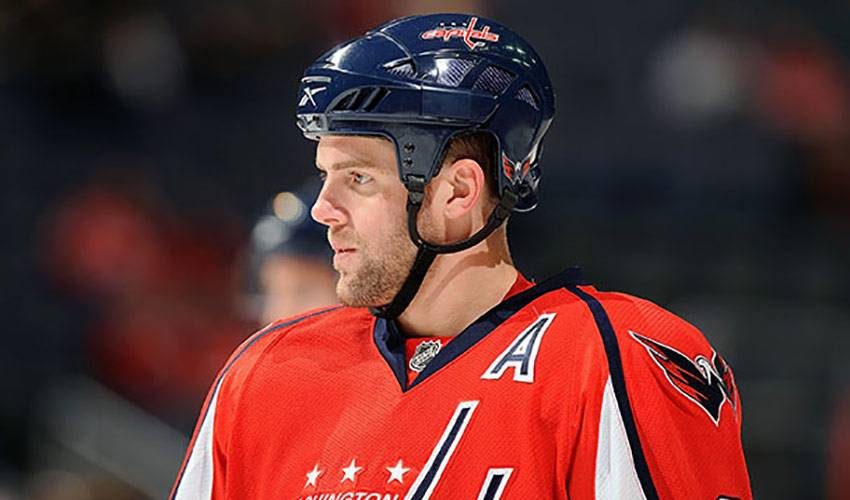 TORONTO (May 1, 2014) – Tom Poti, an All-Star defenceman and Olympic silver medalist, announced his retirement from the National Hockey League (NHL) today after 14 NHL seasons.
Poti played in 824 regular NHL games with four teams in his career: the Edmonton Oilers, New York Rangers, New York Islanders and the Washington Capitals. He amassed career totals of 69 goals and 258 assists for 327 regular season points. Poti also played in one NHL All-Star Game (2003) and represented the United States in the Olympics (2002).
"I was very fortunate to play in the National Hockey League for 14 years. It was a dream come true and I had an awesome ride and met so many great people along the way," said Poti. "I'd like to thank my family and my wife and children for all their love and support."
Poti was drafted in the third round, 59th overall, in the 1996 NHL Entry Draft by the Edmonton Oilers. He had an outstanding two-year college career at Boston University (BU), where he scored 63 points in 76 games played. In 1997, Poti helped lead BU to the NCAA Championship game and he was also named to the All-Tournament Team. In 1998, he was selected to the Hockey East First All-Star Team and to the NCAA East First All-American Team.
Following his successful collegiate career, Poti debuted with the Oilers in October of 1998 and he scored his first NHL goal against the Detroit Red Wings on November 18, 1998. In his rookie season, he led the Oilers in plus-minus (+10), and scored 21 points in 73 games on his way to being named to the NHL All-Rookie Team. In 2000-01, he recorded career high totals in games played (81) and goals (12), while ranking second among Oilers defencemen in points scored (32) for the second straight season. He helped the Oilers reach the playoffs in each of his first three seasons.
Partway through the 2001-02 NHL season, Poti was traded to the New York Rangers. He played the following three full seasons with the Rangers – including the 2002-03 season when he scored a career high in points (48) and led the team in assists (37). In 2003-04, he set a career high in game-winning goals (5) which also led the team. Poti helped the Rangers make the playoffs in 2005-06 while he also led the team in blocked shots (123).
In July of 2006, Poti signed as a free agent with the New York Islanders. In his only season on Long Island, Poti set a career high in assists (38) and logged a personal best average ice-time per game (25:43) – most on the team.
Poti moved on to the Washington Capitals in 2007, signing as a free agent on July 1 and was a member of the Capitals organization for six seasons. In his first season in Washington, he ranked second on the team in average ice-time per game (23:29), blocked the most shots on the Capitals (119) and scored the second most points among team defencemen (29). In 2008-09, Poti averaged the most shorthanded ice-time per game on the Capitals (4:22) – fifth most in the league – and he scored seven points in 14 playoff games. In 2009-10, he recorded a career high in plus-minus (+26) – ranking fifth among NHL defencemen. Poti's 2010-11 season was cut short by injury after just 21 games, the same injury which forced him to miss the entire 2011-12 season. In the owners' lockout-shortened 2012-13 season, he played 16 games in his final season before his year ended due to injury.
At 6'3", 190 lbs., Poti was a dynamic defenceman throughout his career, as a steady point-producer on offense, but also a consistent team leader in shot blocking and penalty killing. He averaged 22:34 in ice-time per game, recorded a plus-minus of +44 and also accumulated 586 penalty minutes. Poti also helped his teams reach the postseason on seven occasions, averaging 22:56 in ice-time per game and recording 19 points in 51 playoff games.
Poti's international playing experience was highlighted by the 2002 Olympics in Salt Lake City where he helped the United States win a Silver Medal. He also represented his country twice in the World Junior Championships (1996, 1997), which included the Silver Medal-winning U.S. team he was a part of in 1997 in Switzerland.
He served as an NHLPA player representative in 2006 as a member of the Rangers.
Tom, 37, currently resides in Sandwich, Massachusetts, with his wife Jessica and their two children.