EA SPORTS NHL 15 STARTS A NEW GENERATION OF HOCKEY VIDEOGAMES THIS FALL
Fans Decide the Face of NHL 15 with the Cover Vote Starting Today on NHL.com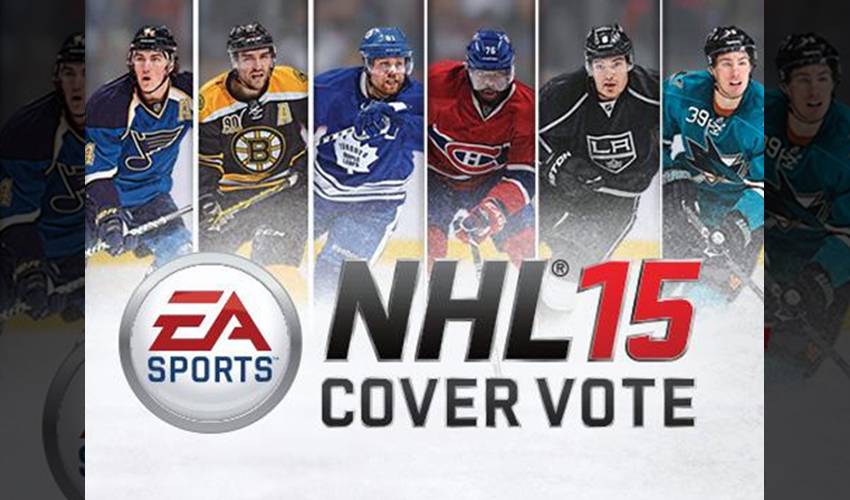 REDWOOD CITY, Calif., - May 5, 2014 - Electronic Arts Inc. (NASDAQ: EA) today announced EA SPORTSTM NHL® 15, the first title in a new generation of hockey videogames that boldly changes everything you know about the award winning franchise. Experience the hard hitting chaos and unpredictability of the sport as real-world physics are extended to all 12 players on the ice, as well as the puck itself. Look, move, play and think like a real hockey player with all new authentic player modelling and an evolved arsenal of tools, including the Superstar Skill Stick and Vision AI that allow for an unprecedented level of control and elevated player intelligence. Take in the emotion of every play as you immerse yourself in authentic arenas across the National Hockey League. You'll play in front of a full house of fans created with 9,000 dynamic and individual crowd models, the most ever in a sports videogame. Finally, witness the most realistic broadcast package to date, as NHL 15 overhauls the look of the game with the new NBC Sports Game Day Presentation featuring the commentary team of Mike 'Doc' Emrick and Eddie Olczy. TSN analyst Ray Ferraro will also provide insights at ice level.
From the ice, to the fans, to the presentation, NHL 15 brings to life the sights, sounds and feel of the fastest team sport on the planet like no other game before. Watch the debut NHL 15 – Official Teaser Trailer now.
NHL 15 will hit stores worldwide this fall for Xbox One, PlayStation®4, Xbox 360® video game and entertainment system, and the PlayStation®3 computer entertainment system. Full feature descriptions at the bottom of the release.
NHL 15 Cover Vote
In partnership with the National Hockey League (NHL®) and the National Hockey League Players' Association (NHLPA®), starting today fans get to decide the face of a new generation of hockey videogames with the launch of the EA SPORTS NHL 15 Cover Vote Campaign on NHL.com/CoverVote. From a pool of eight superstars, fans worldwide are encouraged to visit NHL.com to vote as often as possible to ensure their favorite player advances through the weekly elimination rounds.
Fans can double their voting power by using these player-specific hashtags on "Twitter Vote Thursdays" and can join the conversation by using #NHL15CoverVote. The winner will be unveiled as the EA SPORTS NHL 15 Cover Athlete at the 2014 NHL AwardsTM on June 24 at the Wynn Las Vegas in Las Vegas.
NHL 15 Cover Athlete Candidates
| | | |
| --- | --- | --- |
| Team | Player | Player Hashtag |
| Boston Bruins | Patrice Bergeron | #NHL15Bergeron |
| San Jose Sharks | Logan Couture | #NHL15Couture |
| Los Angeles Kings | Drew Doughty | #NHL15Doughty |
| Colorado Avalanche | Matt Duchene | #NHL15Duchene |
| Ottawa Senators | Erik Karlsson | #NHL15Karlsson |
| Toronto Maple Leafs | Phil Kessel | #NHL15Kessel |
| St. Louis Blues | T.J. Oshie | #NHL15Oshie |
| Montreal Canadiens | P.K. Subban | #NHL15Subban |
15 Features for Xbox One and PlayStation 4:
True Hockey Physics:
• 12 Player NHL Collision Physics – For the first time, real-world physics affect every player through every on-ice collision with the new 12 Player NHL® Collision Physics. Utilizing the power of the new consoles, and building off the critically-acclaimed NHL Collision Physics system, every player on the ice is governed by physics at all times. Feel the hard-hitting chaos of NHL hockey through true-to-life secondary collisions, net scrambles and player pileups, capturing the desperation of every shift.
• Real Puck Physics – The puck is one of the most complex items in the game to authentically replicate and it finally gets its due in NHL 15. Completely rebuilt puck physics result in a more realistic feel to every puck interaction. Everything on the ice, including the ice surface itself, is live which leads to the unpredictable and authentic puck spins, rolls and bounces seen in a real NHL game.
The Next-Generation Hockey Player:
• Authentic Player & Equipment Models – The Next Generation Hockey Player has been rebuilt from the ice up. Now player models have three distinct layers - the body, equipment, and jersey. Each layer interacts independently, making every contact with the puck or other players even more realistic. Dynamic Cloth technology adds an extra layer of realism as it reacts to the player's movement as they explode up the ice, helping bring the speed of the game to life.
• Unprecedented Player Likeness – Powered by the same technology that brought the most realistic representation of the athlete to EA SPORTS UFC, NHL 15 delivers groundbreaking player likeness, emotion and animation. From the strides a player takes to get across the ice to the emotion on their face after scoring a game-winning goal, the players are as real as they've ever been.
• Superstar Skill Stick – Now all the tools of an NHL superstar are in your hands. The revolutionary Skill Stick has evolved to give even more control to the player. Protect the puck, receive passes without breaking stride, and discover an arsenal of new dekes, all with an intuitive right stick control scheme that is easy to use but packed with depth.
• Vision AI – An elevated level of player intelligence, Vision AI features evolved awareness with players reading and reacting to potential plays. Scoring area recognition, pass anticipation, and enhanced team breakouts all improve the flow of the game.
NBC Sports Broadcast Package:
• A New Commentary Team – New voices for a new generation. NHL 15 welcomes the NBC Sports commentary team of Mike 'Doc' Emrick and Eddie Olczyk to the broadcast booth. TSN analyst Ray Ferraro will provide game insights at ice level. Leveraging the same Vision AI foundation that the players have, and just like a live broadcast, Doc, Eddie and Ray will anticipate plays and ramp up their intensity to match the action on the ice with more than 35,000 lines of brand-new commentary.
• NBC Sports Game Day Presentation – The most realistic broadcast package in a video game to-date is possible because of a new partnership with NBC Sports. Set the scene with the NHL on NBC crew welcoming you to the city during the game intros and immerse yourself in an experience that matches what you see on television with NHL on NBC graphics and branding.
• Real Life Broadcast Integration – When we say Doc and Eddie are in the game, we mean really in the game. Taking commentary integration to the next level, NHL 15 will feature real world pre-game video commentary with Doc and Eddie. Set against NHL 15 in-game visuals, the result is a revolutionary step forward in sports videogames, where the lines between the real world of sport broadcast and the game are blurred.
Unrivalled In-Arena Experience:
• Over 9,000 Crowd Models – NHL 15 sets a new standard in videogames with more than 9,000 individual crowd models with 4x the animations of previous generations. Take a look through the glass and you'll see fans hold up signs with your name on them, costume wearing superfans, or even sections full of team rivals rooting against you.
• Living Crowds – The crowd is alive. Feel the crowd behavior change after dropping the gloves, landing a big hit, or scoring a clutch goal. Individual behaviors are mapped to each person in the crowd, as they anticipate the play, taunt players, clap to music from the dynamic Jumbotron or even take a quick break from the action to snap a selfie and immortalize their experience.
• Authentic Arenas – There is no feeling like being there, and we are giving you the best seats in the house. The power of the next-gen consoles finally allows the NHL franchise to capture every detail of an NHL arena. Unique arena elements from more than 19,000 seat capacities to lighting and player entrance tunnels are captured with a level of detail not possible on the previous generation. Now those home games will truly feel like home.
Assets:
To download assets, please visit the EA press site at http://info.ea.com. Visit the EA SPORTS NHL 15 website for more details.
NHL 15 is in development at EA Canada in Vancouver and has not yet been rated by the ESRB or PEGI; visit www.esrb.org and www.pegi.info for more information. Become a fan of EA SPORTS NHL on Facebook and follow us on Twitter.
EA SPORTS is one of the leading sports entertainment brands in the world, with top-selling videogame franchises, award-winning interactive technology, fan programs and cross-platform digital experiences. EA SPORTS creates connected experiences that ignite the emotion of sports through industry-leading sports videogames, including Madden NFL football, EA SPORTS FIFA, NHL® hockey, NBA LIVE basketball, PGA TOUR® golf, SSX™ and EA SPORTS UFC. For more information about EA SPORTS, including news, video, blogs, forums and game apps, please visit www.easports.com.
###
NHL® 15 is an Officially Licensed Product of the NHL and the NHLPA.
NHLPA, National Hockey League Players' Association and the NHLPA logo are trademarks of the NHLPA. © NHLPA.
NHL, the NHL Shield and the word mark and image of the Stanley Cup are registered trademarks of the National Hockey League. NHL and NHL team marks are the property of the NHL and its teams. © NHL 2014. All Rights Reserved
About Electronic Arts
Electronic Arts (NASDAQ: EA) is a global leader in digital interactive entertainment. The Company delivers games, content and online services for Internet-connected consoles, personal computers, mobile phones and tablets. EA has more than 300 million registered players in over 200 countries.
In fiscal year 2013, EA posted GAAP net revenue of $3.8 billion. Headquartered in Redwood City, California, EA is recognized for a portfolio of critically acclaimed, high-quality blockbuster brands such as The Sims™, Madden NFL, EA SPORTS™ FIFA, Need for Speed™, Battlefield™ and Mass Effect™. More information about EA is available at www.ea.com/news.
EA SPORTS, The Sims, SSX, Need for Speed, Mass Effect and Battlefield are trademarks of Electronic Arts Inc. and its subsidiaries. John Madden, NFL, NCAA, NHL, NBA, PGA TOUR, UFC and FIFA are the property of their respective owners and used with permission. "PlayStation" is a registered trademark of Sony Computer Entertainment Inc.